I've got ambitious plans that will probably not be finished.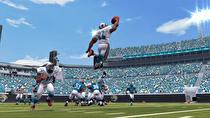 I've tried in the past to create a weekly log of what games I played. I usually began it at the beginning of the year, and updated it weekly until about February or March. It never made it past that. So, here I am, putting this concept in the public eye. I'll rattle off what I played throughout January 2012. Remember, this is more for me than for you, but feel free to play along. I'll understand if your January log is incomplete.
Swapnote (3DS, Download) - This was the first game I turned on in the New Year. After January 1, I opened it once during a recording of Connectivity. Swapnote is dead to me now.
Bionic Commando (3DS, Virtual Console) - I have grand intentions of going back to this surprisingly decent Game Boy game. It takes Bionic Commando for NES and boils it down into handheld form. It's frustrating from time to time, but I enjoyed what I played. I'm about halfway through.
Mario Kart Wii (Wii) - Sporadically throughout the month, I played this with friends. My wife and I raced together one night. Another time a good old-fashioned Mario Kart brawl broke out among friends. I stand by this being one of the best games in the series (for me).
Madden NFL 12 (Wii) - What better way to soothe the Packers' loss than to march through a season in Madden? I think I only made it through Week 10 or 11, but my team's flawless record helped me get over the giant egg my beloved team laid in the playoffs. Madden on Wii might be my most-played game in 2011.
Pikmin: New Play Control (Wii) - One night, I played this for like a half hour.
Mario Kart 7 (3DS) - I checked out the SpotPass and StreetPass stuff I accrued since December. I like this game, and I'd love to get back online with it sometime. Community Night, anyone?
The Legend of Zelda: Ocarina of Time 3D (3DS) - One night, I felt like beating the Deku Tree in Master Quest. So I did.
Mighty Switch Force (3DS, Download) - I've been methodically working my way through this game. Still need to beat it completely, but it's not like it's going anywhere.
Cave Story 3D (3DS) - It's Cave Story. In 3D! I only really like playing with the sprites, because the new models blend in with the background too much for me. I'm not very far in this, but I intend to go back to it.
NFL Blitz (Xbox 360, XBLA) - An unsung amazing game. NFL Blitz is an early candidate for, no joke, my favorite game of the year. My friends and I have gotten insanely competitive over this, leading to near fights, epic tournaments, and rage.
Trine 2 (Xbox 360, XBLA) - Played the demo of this. I want to get it at some point, but I might wait for a Steam sale.
Okamiden (DS) - Got this on Target clearance and played about an hour of it. I got stuck somewhere and put it down. Maybe I'll go back to it? I don't know.
WarioWare (3DS, Virtual Console) - I occasionally break out my favorite ambassador game as my "comfort game."
Tetris (3DS, Virtual Console) - Like WarioWare, this is a comfort game.
Mario Kart: Super Circuit (3DS, Virtual Console) - I turned this on one time. Played it for half a race. Turned it off. I hate this game.
Super Mario 3D Land (3DS) - Cleared out my StreetPasses. StreetPass really does the trick of getting me to come back to games I beat or put down.
Skyrim (Xbox 360) - I only put a few hours into this, and then put it down. I realized I'm never going to play it again, so I sold my copy. I've got my eye on Kingdoms of Amalur: Reckoning, though...
Zen Pinball 3D (3DS, Download) - Got this when it came out on eShop and put some time into it before I realized I suck at pinball compared to my 3DS fans. I'll likely play it from time to time, but my pinball wizard dreams are dashed.
Shinobi (3DS) - I wish I could say I was clearing out StreetPasses, but that's not the case. I just like playing this game. It's a fun 2D action platformer. Reminds me of Ninja Gaiden for NES, which I adore.
Batman: Arkham City (Xbox 360) - I had this grand plan of 100%-ing this game when I got it back from a friend I lent it to. I played it for about 20 minutes and then watched all the secret stuff on YouTube. I'm weak and not (as much of) an achievement whore anymore.
Super Mario 64 (Nintendo 64) - I hooked up my Nintendo 64 and decided to play Super Mario 64. I never owned this game for N64, and that my game collection has merged with my wife's, I do. This game is freaking magical. Go watch those speed runs with jaw agape.
Super Mario Galaxy 2 (Wii) - Had to show off the retro level to my wife. Somehow, I just wanted to go back and play Super Mario 64 after this. The last 20 or so stars in Galaxy 2 are mostly stupid.
Mutant Mudds (3DS, Download) - Mutant Mudds came. Mutant Mudds saw. Mutant Mudds conquered. I love this game. It hit all the right buttons for my platforming love. I wish it was a little quicker, but speed would alter the style so much.
Shadows of the Damned (Xbox 360) - Played about two or three hours of this. Ended up getting cut short because I started playing Sakura Samurai for review. I regret that. This game was looking to be much better. I need to go back and play more of this.
Sakura Samurai: Art of the Sword (3DS, Download) - Read my review. I was very nonplussed by this game. It really let me down.
Mario & Sonic Demo (3DS, Download) - Awful.
Paper Mario (Nintendo 64) - I played the first hour of this. It's super slow. I want to go back to it, but man, it starts off so slow! I hope the 3DS sequel hits the ground running.