TYP finds himself playing Radio Trivia in the middle of an educational bird show.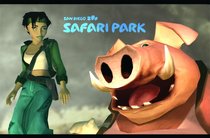 So I was doing the tourist thing in San Diego this weekend and stumbled upon a rather interesting phenomenon. While patronizing the San Diego Wild Animal Park (recently re-branded the San Diego Zoo Safari Park), I saw the "Frequent Flyers" avian dinosaur bird show.
Now, normally this wouldn't exactly be something worth mentioning on a video game website. But during the show's introduction, while the host trainer was talking about how the show's critters would flying in our faces, my ears perked up. Being the host of NWR's Radio Trivia podcast, I couldn't help but notice that the background music was suspiciously familiar. Indeed, after half a minute or so, I was certain of it: the background music was none other than "Hyllian Suite" from Beyond Good & Evil.
After the show was over, I busted out my iPod and confirmed my claim.
Reflecting on this unexpected phenomenon, I realized that this was perhaps the first time I had heard a song from a video game used completely outside of its original context. Video games are chock-full of licensed music from other media, and I've certainly heard covers of gaming music by bands and orchestras. I've heard video game music in the background and bought it in the foreground in Akihabara, Tokyo. The Super Mario Bros. theme is a pop-culture staple. But in all of these instances, the gaming reference is overt or at least a punch line: it is being played because it is from a (popular) game.
Christophe Héral's song is being used simply because it is good music that fits well within the context of the bird show. How else could this be explained? No one would come to this show to appreciate video game references, and if the San Diego Zoo employees wanted to throw in a gaming reference, they probably would have selected a song from a game that wasn't a commercial failure. Did someone on staff stumble upon the song in some digital music archive or happen to play this game? Whatever the case, I suspect I'm one of very few audience members for which the song has registered at all.
Has anyone else inexplicably stumbled upon a video game song in the wild?