Patch Land comes to life at Nintendo.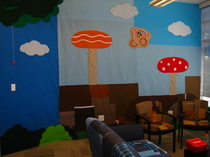 For their most recent Kirby demo, Nintendo had video game artists i am 8-bit do a little redecorating of their game demo room. I have to say I was a little disappointed, as I was promised a room made of yarn, but instead, I saw a room made of felt! In all seriousness, they did an great job recreating the environment of Patch Land from Kirby's Epic Yarn. Just don't pull that button, lest the entire room come crumbling down...
Why did they do this you ask? I don't know; it's just part of the light-hearted fun they have at Nintendo's offices -- they also had a Western-themed potluck and other events going on while I was there; suffice it to say, I was offered a lot of leftovers. It also gives us a chance to show you Nintendo's Redwood City demo room, albeit with extra flair.
After my demo, they had me draw on a quilt square to be included in Kirby's Epic Quilt, along with squares from Nintendo's employees and other media outlets. As soon as they have that assembled, I'll be sure to get photos. Check out photos from the room in the gallery below.
Update: See i am 8-bit construct the room in this time-lapse video!