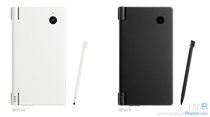 For the longest time, Nintendo has always dubbed itself a "games only" company. Every piece of hardware it made was strictly for playing video games, and that was it. Nintendo never considered media players, cameras, or any of that other stuff to be integral to the enjoyment of playing games (preferably its own games). Yet, starting with the Wii and now the DSi, Nintendo has seemed to realize that that extra functionality is beginning to come essential when it comes to creating a value proposition for hardware.
For as long as I've owned portable devices, I've found that the portability aspect of them is a misnomer. Yes, you can take them anywhere you'd please, but most of the time there's little reason to do so. For instance, of the portable devices I have—including an original Nintendo DS, a Game Boy micro (yes, I know), a PSP, a point-and-shoot camera, and my trusty iPhone—I only carry my phone with me on a regular basis, and have absolutely no reason to take anything else anywhere I go. The iPhone is essentially all of the above: Obviously, it's a smartphone I can use to get on the Internet, but I can also take pictures and play games on it. Although it's not the best camera I own and it's not the best game player I own, the simple fact of the matter everything I could need is all in one device. That means I only need to take one device with me, instead of two or three. Portability only works when it's convenient, and hassling with carrying more than one "portable" makes things less than convenient.
In light of this, the Nintendo DSi, and Nintendo itself, seems to be headed in the right direction. Although cameras have been tied with game systems for a while now, including Nintendo's own Game Boy Camera, the fact that Nintendo built cameras in to the hardware means the feature needs to be taken seriously. Not just because there's a camera facing the user for gameplay purposes, but that the outward-facing camera was put there with the specific purpose of taking pictures of whatever happens to be around. Everyone in Japan has a better camera than what's in the Nintendo DSi, including the one that's likely housed inside of their keitai, or mobile phones. But now that's it's there, people will use it, which gives people one more reason to use their DSi day-in and day-out.
The reason why Sony has always pushed the PlayStation brand as an all-in-one set-top box solution is because it feels that having one device, for one price, will meet all your home entertainment needs. As the global economy worsens and money becomes an issue for many people, this line of thinking makes sense. Granted, paying $400 for anything when money is tight is a stretch to begin with, but when it comes time to put that money down, you'd want a device to do as much as possible, i.e., why buy a $500 Blu-ray player when you can get a Blu-ray player, game console, Internet hub, media player, and George Foreman grill for the same price? This is why the PlayStation 2 took off. It was a value proposition, even at a high price. The PS3 should begin to come charging back for the same reason. People pay for things that offer them convenience, something that Sony hinges its entire hardware strategy on.
Nintendo is surely starting to realize that if it stays games-only, it's not going to be a major player. The Wii is still primarily a games-only device, but Nintendo is pushing it as something you'd want to put in your living room and have the whole family use. The photo channel and the SD slot built-in to the Wii, along with the Internet Channel and other various utility channels, showed that Nintendo was beginning to expand the functionality of what its hardware could do. Nintendo will say that stuff is in there so the users can have more fun, but ultimately it's in there so Nintendo won't fall behind in the consumer electronics world and be stuck in the one-trick pony business model. Nintendo took the initiative with the Nintendo DSi and broke out of that model in a way that few expected them to, giving the system a multi-use purpose without abandoning its core functionality.
Which brings me back to the Wii. Many years from now, we're going to look back at the Wii and realize how utterly brilliant Nintendo was with its design and marketing. I guarantee you this will be taught and brought up in marketing and advertising classes in the not-too-distant future. What I'm starting to realize about the Wii—and the Nintendo DSi helped me see this—is that Nintendo is using the Wii as the starting point for its inevitable global takeover. No joke: Because Nintendo is reaching out to so many new consumers and telling them how great the games experience is, and also showing them that the Wii can do a little more than just play games, Nintendo is basically training people to believe that Nintendo is the way to go for home entertainment in the future. The features that Nintendo is adding to the Wii gives that many more people an excuse to use the console every day, which Nintendo is absolutely hell-bent on seeing happen. Ditto for Internet features.
Point is, when Nintendo decides to roll out Wii 2, Wii HD, Twii, Xii, or whatever Nintendo is going to call it, a throng of new consumers will have been so used to using the Wii and Nintendo's services that they will first look to Nintendo for the next version. To make sure Nintendo cashes in on this captive audience, it's going to need to put in more functionality in it than ever before (while still keeping the price reasonable, obviously) so that it can stay relevant in the living room of the future. Nintendo is already experimenting with streaming television and movie delivery services in Japan, and this is being done through a console that people said was just two GameCubes duct-taped together. Just think of what Nintendo might be able to do when it tapes on a third.