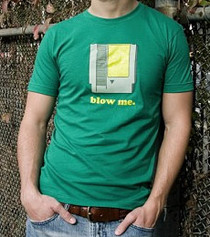 So what? I'm proud to say it. I scribbled it to fellow pictochatters right before Nintendo's E3 2008 Press Conference. I am a Nintendo fanboi. And life is great.
I've always been irked that fanboyism has such a negative connotation out there in the wilderness of the Internet. It's not that I necessarily disagree with how unique fanboyism can get: it does approach fanaticism, it does relate to loyalty, it does lead to some of the most ridiculous flame wars ever. I'll admit that there were times in my early fanboyism where I've had never-ending arguments exploiting the weakest logical statements in defense of my banner.
There's no question that feelings of rivalry and competition lay at the beginning of many fanboi identities, but fanboyism can mature into something beyond that. To be a Nintendo fan is to follow the wildest company in the industry: it's not for the timid or weak-hearted. It means always having to redefine what a videogame is, whether you're talking about Mario Paint or Brain Age. It means acknowledging a world that's bigger than you: from the children who saved videogames when the NES came out, to the grown adults who seek out fun in their busy lives through games like Bejeweled, World of WarCraft, or Dr. Mario. It means that technology doesn't expand in only one direction (faster, stronger, and more expensive) but in all directions (more accessible, more humble, and more relevant).
Some define fanbois as people who compete with other diehards to win arguments. But I define fanbois as people whose focus allows them to challenge themselves. They may know and treasure their history, but they don't stand still. They allow themselves to grow, through life, through their games, through how they view the world around them. I've never believed that fanboyism should be stagnant because that way lies death: opinions that never change, games that never innovate, lives that never progress.
Others define fanbois as blindly loyal. But how can anyone hope to really learn when they don't think for themselves? How can one really remain close-minded when Miyamoto himself says that his way of making games is not the only way? How can one know that they're having fun with a videogame without first knowing when they're not having fun, even if with a Nintendo game? And wouldn't a Nintendo fan, or any videogames fan, be curious about what makes games fun for some people, even if it isn't fun for themselves?
Finally, some also see fanbois as people who want to prove that they've chosen a "winning team." But my happiness is not tied in any way to the current marketshare that Nintendo has in the market. I'm not a dependent: I can take care of my own fun and happiness, thank you very much. That's because eventually fanboyism means following more than the console… it means following the ideas behind it.
Being a Nintendo fanboi never really meant owning a SNES instead of a Geneses, an N64 instead of a PlayStation, or a Cube instead of an Xbox. It really meant following the tenets of fun, discovery, excitement, and innovation that Nintendo has always engendered and is always trying to inspire the rest of the industry with.
Just ask the NWR forumgoers: I buy third party games. When games from other sources can be just as radical, inspired, and enjoyable as Nintendo games have always shown they could be, when the rest of the industry makes good games, fun games, games for people ages 2 to 92, that's when a Nintendo fanboi should be most proud.