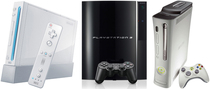 Logically anyone who is invested enough in gaming to pick a side, is invested enough to care about gaming in general. So with that type of an investment why even bother exclusively picking a side? If you are open-minded and accepting, chances are you will find a greater amount of things to like across all platforms and genres.
By cutting a game, genre, or system out of your repertoire just for the sake of being on a side is cutting off your nose to spite your face. You can continue to have a preference for something (that is a normal human trait) while still enjoying things outside of your preference. That doesn't make you a traitor, it makes you logical.
Of course this is a Nintendo driven website, so the preference of most readers of the site is Nintendo. However, as fans of Nintendo, it's ok to experience non-Nintendo systems and games and still be a fan of Nintendo. It is frustrating for me to read comments on a wide variety of sites where every discussion devolves into console wars, or franchise wars, or genre wars. It's foolish nonsense and it is closed-mindedness.
Fanboyism can be an easy trap to fall into, but remember its only hurting one person, and that's you.