The boys talk Pikmin, Slime-san, and Nintendo World Championship. Then break down the e-Reader in the return of Compatible.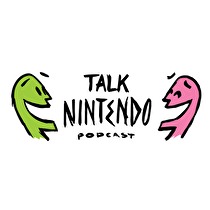 Hey! We kick off the show with some Pikmin talk. Perry took a deep dive a few episodes back, but we lost that so the boys kick the tires on the discussion again. The early game isn't grabbing Casey, but Perry insists with more Pikmin types available, there's more fun to be had. Just as we use our words on this podcast, Perry's been playing the newly released Switch game, Use Your Words. This single party game doesn't offer as much as a Jack Box Party Pack game, but what it does, it does well, for the most part. It seems just like yesterday we heard word of Slime-san coming to the Switch, but now the boys have gotten their hands on it and boy, does it deliver.
Another week, another Neo Ge … wait a second. That's not a Neo Geo game. Strikers 1945 isn't a Neo Geo game, but it is a cool looking arcade game for the Switch. It begs the question, where's the dang ol' Virtual Console Nintendie?! Before heading to the News we take a graceful pit stop at the Villa de Discount. After watching the rolling tumbleseeds go by we stop by the YouTube Saloon, and then straight on into the News. This segment includes game announcements, release dates, Samus Returns hard mode talk and of course the Nintendo World Championships! (Also, Perry predicted Revelaitons Switch last week)
We take a look back in time with our latest installment of Compatible. This time we talk a look at the ill fated (or was it?) e-Reader. We take a look at its history, how it faired in American and Japan, the games it had, the strange technology and how it might have just been an early form of amiibo. It's a fun piece of hardware to look back at and while it might not have been the best, it holds a spot in Casey's heart for better or worse.
As always, we have two new YouTube videos for y'all to check out. Perry busts out his retron in this week's Mini-Play taking a look at Super Mario Bros Deluxe. Then the boys grab their guns and duke it out 1v1 in Splatoon 2 Rainmaker mode. It's another close one, but who comes out on top?!
Check out our YouTube Channel!
If you have any questions, comments or concerns please contact by tweeting us or by send us an email!
The boys talk Pikmin, Slime-san and Nintendo World Championship. Then dive into e-Reader in the return of Compatible https://t.co/TOs7uyDWXj pic.twitter.com/t27dRiqVDZ

— TalkNintendoPodcast (@TalkNintendoPod) August 11, 2017