We've been good this year! We swear!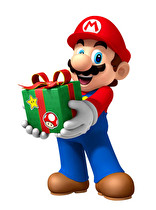 Christmas is upon us and you know what that means? Hot cookies in the oven, festively decorated trees, awkward family get-togethers and, of course, Christmas wish lists!
When posed the question "What do you want for Christmas?" the guys behind NWR have given their answers. Take a look!
Anything you want to see this holiday season? Let us know in the comments below!
Neal "St. Nicholas" Ronaghan
A Green Bay Packer playoff appearance.
Justin "Olive the Other Reindeer" Berube
For Wii U to sell 9 million units in December.
J.P. "Dreamin' of a White Christmas" Corbran
For the Sounders to sign a top tier right midfielder.
Scott "Twas the Night Before" Thompson
The Packers to make the playoffs to make up for Neal's shitty month.
Alex "Krampus" Culafi
A flagship Nintendo Wii U retail game that isn't a sequel or successor.
Zack "Hermey- the Elf who wanted to be a dentist" Kaplan
A good Family Guy game, on the Wii U, that pays you to play it.
James "Yukon Cornelious" Dawson
A shirt with Mazinger Z and Gypsy Danger being bros on it.
Justin "Ghost of Christmas" Baker
A DS player for my Wii U already! Come on, Nintendo, I know you have one!
Andrew "Rudolph" Brown
GBA and N64 Virtual Console. How about cross-platform already?
Zach "Abominable Snowman" Miller
For Monoclonius crassus to be confirmed as a valid taxon.