Nothing says "holidays" like using regional insults to tell your least-favorite podcast host how you feel.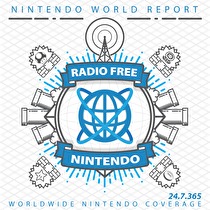 Subscribe via iTunes (Please rate and review, too!)
We're finally back to business as usual over at RFN. Guillaume kicks-off New Business with a flood of games: Blaster Master Zero, Katamari Damacy REROLL, and the SEGA Genesis Classics. Greg and James then continue talking Super Smash Bros. Ultimate, both of them have dug deep into World of Light, and spend a lot of time talking about that mode.
After the break, we pick up a duo of Listener Mail. This week we cheat and pick winners and losers. You can badmouth Code Name: S.T.E.A.M. by sending us an email.
This episode was edited by Guillaume Veillette. The "Men of Leisure" theme song was produced exclusively for Radio Free Nintendo by Perry Burkum. Hear more at Perry's SoundCloud. The Radio Free Nintendo logo was produced by Connor Strickland. See more of his work at his website.
This episode's ending music is The Chase, from de Blob 2. It was requested by MyNameIsNotSam. Composition by John Guscott. All rights reserved by THQ Nordic AB.