Sisyphus looks on in admiration...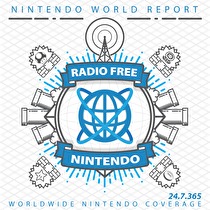 Subscribe via iTunes (Please rate and review, too!)
Jon is out doing something more productive than this, so we delayed the first round of our WiiWare RetroActive (You, Me, and the Cubes; Bansai Barber) until next week. James forgot he actually had New Business, leaving the opening segment to Guillaume and Greg. Gui has a look at adventure/platformer Night in the Woods, now on Switch. It's a game driven entirely by its wit and charm, which thankfully it has in spades. He also gets limber with Wii Fit U, in anticipation of its cardboard-focused replacement. Greg concludes this rather paltry New Business with some thoughts on the demo for Radiant Historia: Perfect Chronology (now finally headed for Europe).
After the break we bowl through a huge number of emails. This is a lie...we get through three. This week we: identify the best remake candidates; kill off Nintendo franchises; and create a New New Super Mario Bros. You can demand blood via our inbox.
Just as a reminder, next week is our first set of WiiWare RetroActive games. As mentioned earlier, the games are Bonsai Barber and You, Me and the Cubes. You can post comments in their respective talkback threads.
We're also ready to announce our NEXT WiiWare RetroActive: Alien Crush Returns. We are going for a quick turnaround on this one; we'll be recording the segment on Episode 560, so get your thoughts in now.
This episode was edited by Guillaume Veillette. The "Men of Leisure" theme song was produced exclusively for Radio Free Nintendo by Perry Burkum. Hear more at Perry's SoundCloud. The Radio Free Nintendo logo was produced by Connor Strickland. See more of his work at his website.
This episode's ending music is selected by Greg: To the Top, from Bayonetta 2. All rights reserved by their respective holders.