This is not especially observant; it's always a word worth finding.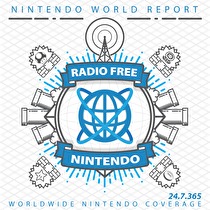 Subscribe via iTunes (Please rate and review, too!)
E3 is mere weeks away, and RFN is largely ambivalent. With little to do in the way of predictions ("They're going to show a new Zelda game!"), and a one week delay of the previously-scheduled RetroActive, this week's episode is a traditional serving of Radio Free Nintendo.
As such, Greg kicks off New Business with some concluding thoughts on Mario & Luigi: Paper Jam [Bros.], before moving on to Ultimate NES Remix. The price curve for this strangely retail-only remix of previously remixed, previously digital-only games finally dipped under The Greg Leahy Buy Threshold (we're trying to find a catchier name along the lines of "Mendoza Line"). As one would expect, he's found playing these portable-sized games on a portable device to provide fitting enjoyment. Jon has hands-on impressions of the new arena shooter everyone is talking about, Blizzard's Overwatch. Early impressions are positive, if you can trust the impressions of a controller-using plebeian. Guillaume's foray into the dark annals of "licensed Star Wars games that lived in the shadows of a more successful N64 title" continues this week, with impressions of Star Wars Racer Revenge. The PS2 sequel to Star Wars Episode I: Racer proves fun, despite the Star Wars trappings not adding much to the experience. James rounds out New Business with concluding thoughts on Bravely Second: End Layer (and an apology for evoking Tales of Symphonia: Dawn of the New World) before segueing into his feature topic: Crisis in the Land of Run-and-Shoot-Man. Mighty No. 9 looks stupid, the new Mega Man cartoon looks horrifying, and fans of the Blue Bomber are left in tears. James tries to find solace in the arm-cannons of 3DS eShop titles with a double dose of Anime Happenings: The Legend of Dark Witch and 3D Gunstar Heroes.
After the break it's Listener Mail. This week we discuss: if Nintendo's next mobile app "needs" to be a game and if it must feature mascot characters, why the NX must be a portable and console system, our console identities, and why Indies are often omitted in conversations about Nintendo's third-party relationships. You can be our Amiga CD32 mascot platformer by sending us an email.
Next week, it's finally time to slay Dracula. Again. We will be doing our RetroActive on Castlevania: Rondo of Blood for the TurboGrafx-16. There are still a few days left for you to post your comments in the talkback thread for possible use on the show.
This episode was edited by Guillaume Veillette. The "Men of Leisure" theme song was produced exclusively for Radio Free Nintendo by Perry Burkum. Hear more at Bluffs Custom Music's SoundCloud. The new Radio Free Nintendo logo was produced by Connor Strickland. See more of his work at his website
This episode's ending music is Holy Spring from Opoona. It was requested by Mastearl. This track was composed by Kimihiro Abe. All rights reserved by Koei Tecmo Games.