We brought in an eShop developer to advise RFN as we launch our hot new banger.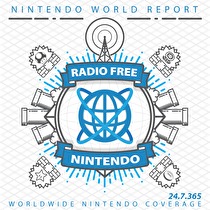 Subscribe via iTunes (Please rate and review, too!)
This week we're pleased to be joined by Lewis Pugh, developer of the upcoming Wii U eShop exclusive Twisted Fusion. We've had Lewis on the show once before, but we thought it would be nice to touch base with him to see how his game is coming along and talk about making games in general. But first, it's New Business. As the guest, Lewis leads off with thoughts on eShop title Super Robot Mouse, before talking about his experience with the so-old-it's-timely-again Bravely Default. Greg reports from the Land of the Big Ape, with Donkey Kong Country 2 on the New 3DS VC. We talk about the "pixel-perfect" mode, and why it works well with the strange resolutions of SNES-era games. Jon names our grunge-rock revival band, with eShop experience Epic Dumpster Bear. The realism is staggering. Guillaume finishes up the segment by thinking outside the box, with Thomas Was Alone.
After the break, Lewis answers our questions about developing games for the eShop, getting into game development, iterating on game concepts, running a Kickstarter, and more. We even spend a little time talking about tools you can play with if Super Mario Maker left you with a game design itch of your own. If you've got an itch you'd like us to scratch, you can give us a shout by using our inbox.
Lastly, it's time for the next RetroActive. Apropos of nothing more than James being enraptured by the door sound effect in Rondo of Blood's music, we decided to do a Castlevania-themed RetroActive. We tried to take your suggestions and build a list that is representative of the series as a whole. Your candidates are:
Super Castlevania IV (1991/SNES)
Castlevania: Rondo of Blood (1993/PC Engine)
Castlevania: Aria of Sorrow (2003/GBA)
Castlevania: Order of Ecclesia (2008/DS)
Castlevania: The Adventure ReBirth (2009/WiiWare)
You can vote now. Voting runs through the end of the month.
Thanks to Lewis for joining us. You can see progress updates for Twisted Fusion on his website.
This episode was edited by Guillaume Veillette. The "Men of Leisure" theme song was produced exclusively for Radio Free Nintendo by Perry Burkum. Hear more at Bluffs Custom Music.
This episode's ending music is Gate (Animal Crossing: Sweet Day) from Nintendo Land. All rights reserved by Nintendo.