I'll just say it: the "Bravely" series is weird.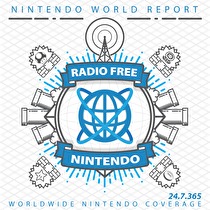 Subscribe via iTunes (Please rate and review, too!)
This week's episode was cut short unexpectedly (blame James; it's okay, he writes this article), so we only had time for a New Business segment before he was rendered completely incapacitated. However, this singular focus leaves the RFN Action News Team best positioned to report from the center of the 3DS JRPG Nor'easter. Jon kicks off with coverage of the storm's progress as it travels across the Kanto Region of Pokémon Yellow, now available on the 3DS Virtual Console. Did having a monochrome electric mouse following his avatar around teach him to love again? It would have, if he had a heart. Guillaume reports from the research desk, giving up a historical primer on past JRPG waves, with his thoughts on SNES classic Breath of Fire (Wii U Virtual Console). It's a bit primitive for his tastes, and James agrees but seems unwilling to admit it. James continues to track the progress of the Fire Emblem Fates low pressure system, as he reaches the tail end of Birthright. Worryingly, it looks like there are two more storms on his horizon. Lastly, Greg switches it up with the human interest story that is Twilight Princess HD, the remake of the recently RetroActive'd GameCube and Wii Zelda game. He then puts on his rain slicker to join the rest of the RFN Action News Team in the center of the maelstrom with Bravely Second, the sequel to the never-ending Bravely Default.
RFN Action News will continue to report on the JRPG Storm of the Century next week, but we'll also have a report on your email. You can send us a tip via our inbox.
This episode was edited by Guillaume Veillette. The "Men of Leisure" theme song was produced exclusively for Radio Free Nintendo by Perry Burkum. Hear more at Bluffs Custom Music.
This episode's ending music is "Hinadori" (Baby Bird) from Bravely Default: Flying Fairy. It was composed by Revo. All rights reserved by Square Enix.