All inventory will be accompanied with a unique boutique price.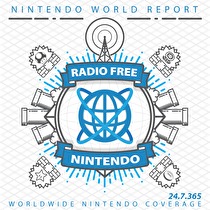 Subscribe via iTunes (Please rate and review, too!)
After a long absence, Jon is back! It is up to you to determine if that exclamation indicates joy or fear; please reserve judgment until episode is complete - he has earned such caution.
Guillaume starts off New Business this week with Zack & Wiki: Quest for Barbaros' Treasure, Capcom's early Wii point-and-waggle adventure game, now available for download on the Wii U eShop. He follows it up with early thoughts on Final Fantasy Explorers, the Monster Hunter-inspired 3DS spin-off. Expect more involved impressions in the coming weeks. James takes his role as host of Radio Free NINTENDO very seriously, respecting the time you devote to listen to the show by talking about Suikoden, a 21 year old PlayStation JRPG. Striding the gulf in time between the the 16 and 32-bit eras, it's a curious title that still has him excited about the gameplay implications for future entries, coming soon to a pachinko parlor near you. Jon makes his triumphant return to New Business with the anti-Xenoblade Chronicles X, The Order: 1886. His segment seems rendered in glorious detail, but I think the content of it is pretty shallow. Lastly, Greg pulls us out of a New Business tailspin with impressions of indie darling, the Sega Master System-era throwback Freedom Planet. While the Sonic parallels are self-evident, the GENESIS of some of the other allusions represent a MASTER class in 90s Sega gaming (I have no regrets).
Following New Business, Now Playing makes its return after an absence from the show, appropriate since the segment itself is something of an abcess on the show.
After a musical interlude, it's time for Listener Mail. Topics covered this week include: finding the right Pokémon for a Shin Megami Tensei fan, paid DLC in Super Mario Maker, Nintendo's future retail plans, and open world as a gameplay design versus open world as a marketing tool. Here's where we use this article as a marketing tool to get you to send questions, comments, end music suggestions, and whatever strikes your fancy to our mailbag.
As a reminder, our next RetroActive segment is coming up. We're going to be playing Viewtiful Joe for the GameCube. The discussion thread is open, and just waiting for your comments. We'll be doing this RetroActive in three weeks, so get started soon if you want to play along with us!
One final plug: Guillaume has finished Xenoblade Chronicles X, which means we're going to be doing our Spoilercast sometime in the near future. What's that mean for you? We want your reactions, fan theories, thoughts, etc. sent to our mailbag. In order to insulate others from spoilers, please use email instead of forum posts. For those of you that haven't played or completed Xenoblade Chronicles X yet, we will do some other spoiler-free content. No one escapes the reach of Radio Free Nintendo for even a week.
This episode was edited by Guillaume Veillette. The "Men of Leisure" theme song was produced exclusively for Radio Free Nintendo by Perry Burkum. Hear more at Bluffs Custom Music.
This episode's ending music is Mysterious Murasame Castle Medley, from Super Smash Bros for 3DS/Wii U, requested by TOPHATANT. All rights reserved by Nintendo.