The end leads back to the beginning. Predictions become beloved games, or comedic failures.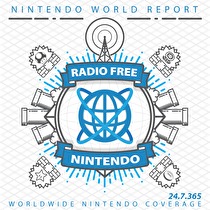 Subscribe via iTunes (Please rate and review, too!)
It's been two weeks since RFN last released an episode, and in the intervening time we've celebrated the holidays and inaugurated a new year. With the conclusion of 2015, RFN's team of Jon, Greg, Gui, and James celebrate the last year of games by naming their individual Top Five games. The two weeks without getting to talk games results in a particularly feverish discussion. Thankfully, no effort is made to hash out Radio Free Nintendo's "Game of 2015," because that is a losing proposition.
Speaking of losing propositions, after a lonely Now Playing, the team christens 2016 with our annual predictions. Funnily enough, while there are plenty of NX predictions to go around none of them deal with what the NX actually is. Instead, topics covered include the likes of Mario Galaxy 3, Splatoon clothing, and the return of Pokémon. Come for the well-reasoned predictions, stay for Guillaume's Seussian visions of the future.
Next week we'll be returning to the normal New Business/Listener Mail format. It's a new year, so let's get some new emails in our inbox.
This episode was edited by Guillaume Veillette and James Jones. The "Men of Leisure" theme song was produced exclusively for Radio Free Nintendo by Perry Burkum. Hear more at Bluffs Custom Music.
This episode's ending music is the Pollyanna (I Believe in You) vocal theme from the Mother soundtrack. All rights reserved by Nintendo.