Even the Lords of Thunder take off for the holidays.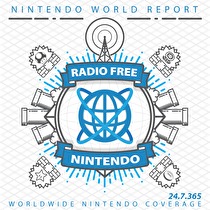 Subscribe via iTunes (Please rate and review, too!)
The Thanksgiving holiday forced some changes to the Radio Free Nintendo recording schedule, so this week's episode is an mailbag-only thunderish episode. Greg, Gui, James, and a late-joining Jon attempt, and ultimately fail, to thunder through a collection of emails covering topics from the future of RPGs on NX to playing old RPGs on retro consoles. We cover the fullness of time on RFN. You can let us cover your fullness by sending an email to our mailbag.
We won't be recording RFN next week because THIS SATURDAY Nintendo World Report will be having our 6th Annual Telethon for Child's Play. Starting at 11:30 AM EST, we have up to 13 hours of content coming to you. The more donations we collect, the longer the show. Team RFN will be starting us off at 11:30 with a live Now Playing, followed by an hour conversation on franchises stuck in 2D. At 3:00 PM, James and Jon will be back to have strategic conversations on the future of business. And, if we hit our $6000 goal, team RFN will host a live Hot Takes-off. You call in with your hottest takes, and the person swinging the deepest fire wins the Hot Takes trophy. There will be an actual trophy - of sorts.
We're doing this for a good cause, so if you can't afford to donate right now, please try to get the word out about the show. It's the most fun thing NWR does all year. We hope you can join us. We will make the recordings available on the RFN RSS feed next week.
Lastly: yesterday we announced the first RFN stretch goal. If we get 12 donations before RFN starts their noon segment, Greg, James, and Jon will do an NFL playoff podcast, leading into Wild Card Weekend. Send an email to the mailbag with proof of your donation to let us know you're donating for that.
What's a Hot Take? Take a look!
This episode was edited by Guillaume Veillette. The "Men of Leisure" theme song was produced exclusively for Radio Free Nintendo by Perry Burkum. Hear more at Bluffs Custom Music.
This episode's ending music is the unlockable arrangement of Big Blue found in F-Zero GX, requested by Steven via e-mail. All rights reserved by Nintendo.