Join us this week when we make our own E3 predictions, and be sure to join us next week when we distance ourselves from said predictions.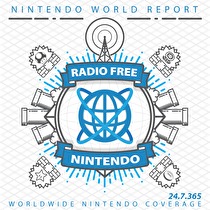 Subscribe via iTunes (Please rate and review, too!)
My "out-there" prediction: A good Wii game from Ubisoft!

Jonny continues to spurn his listeners and fellow RFN cast members, so the rotating hosting duties finally land in the lap of Nintendo World Report European Correspondent, Greg "Sexy Pipes" Leahy.
With the gear-up to E3, this very special RFN focuses on what we know will be at E3 and what our intrepid panelists: Greg, Jon, and James expect to see there. A short segment is devoted to speculation on theoretical DS titles, but the majority of the time is given to the Wii.
This week also features 11 instances of Ubisoft hate, and is unusually bereft of Jonny jokes.
*ding*
Credits:
This podcast was edited by James Jones.
Music for this episode of Radio Free Nintendo is used with permission from Jason Ricci & New Blood. You can purchase their new album, Rocket Number 9, directly from the record label, or download it from iTunes, or call your local record store and ask for it!