Relax and enjoy some PIX3D.
The 3DS eShop is full of pixelated puzzle games. But while some like Pushmo and Picross challenge the player's intellect, PIX3D seems more concerned with relieving stress than creating it.
There isn't much to say about PIX3D in terms of gameplay. The game includes several level packs with unique themes, like food and Japan. Your objective is to take a mess of pixels and return them to their organized artwork state. To do this, you simply rotate a 3D view of the collection of pixels using the Circle Pad or touch screen until you form the image. The kick is, however, that each puzzle is a short experience, lasting only a few seconds.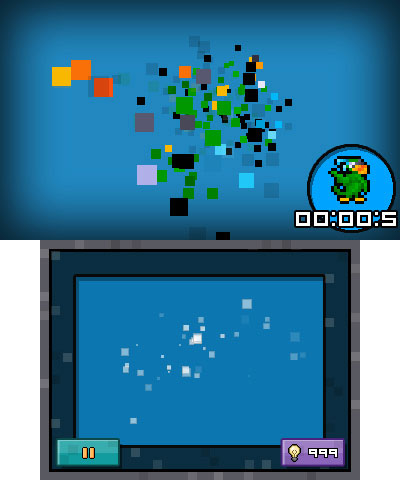 This wouldn't be a problem if the game became more challenging as you progressed, but nothing ever changes, save the pixel art. Of course, there is a time limit associated with each level, and completing a puzzle under two seconds generally gives you a three star ranking, but there is rarely any challenge in besting the times. The game packs other modes, such as Sprint, which times your whole run through a level pack, but the basic gameplay never changes or opens up in any way.
That said, PIX3D is kind of relaxing, and lets you make your own pixel art via its creation tool. Just don't go in expecting a challenging experience.