Sonic the Hedgehog makes a spectacular return to his 2D roots.
The last 16-bit mainline Sonic game was 1994's Sonic & Knuckles. Through the power of Lock-On-Technology, players could combine that game with Sonic the Hedgehog 3 and create one the greatest platformers of all time, Sonic 3 & Knuckles. While Sega has released an assortment of 2D Sonic games since then, none have come close to capturing the magic of those early Sega Genesis entries until now. Sonic Mania takes players on a nostalgia-filled adventure that feels like the Sonic 3 & Knuckles follow-up that Sonic fans have been forever waiting for.
Sonic Mania features a mix of brand new Zones along with many returning favorites. Just like in Sonic's Genesis debut, players begin the game in Green Hill Zone. It's important to note that the returning stages have been heavily remixed. Bits and pieces of the original level design show up, but for the most part the returning Zones feature completely new layouts in the style of Sonic 3 & Knuckles. The little nods and gimmicks that reference past Sonic games were pleasantly surprising. For example, Green Hill Zone now includes the corkscrew paths that originally appeared in Sonic 2's Emerald Hill Zone. Just because your favorite Sonic Zone is absent from the game's roster, doesn't mean a sly nod to it won't show up at some point. Overall, the level design is extremely strong and does a great job at balancing nostalgia with new ideas.
One of the largest criticisms leveled against Sonic the Hedgehog 4 was the game's physics. The physics are not a problem in Sonic Mania thanks to Christian Whitehead's Retro Engine, which perfectly replicates the physics of the 16-bit Sonic games. The game's 3 playable characters, Sonic, Tails, and Knuckles control exactly like you remember. Sonic does have one new trick in his arsenal, a Drop Dash, where Sonic can perform a quick boost immediately after landing a jump. I rarely used the Drop Dash during regular play, but it is a handy tool for the game's time attack mode.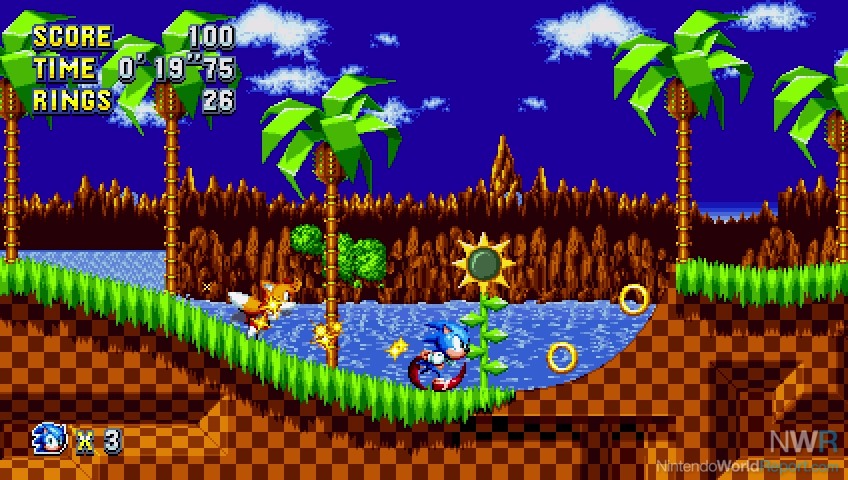 The music is composed by Tee Lopes, who has been creating Sonic remixes for years. Some of the returning songs stick very close to the original arrangements except with fancy new synth instruments. However, Tee Lopes does an amazing job at jazzing up many of the old songs by creating delightful new remixes. Along with the returning favorites, Tee Lopes has arranged a number of brand new songs that sound great and perfectly fit the Sonic aesthetic. The music and sound effects in Sonic titles have always been extremely important for setting the mood and thankfully Sonic Mania does not disappoint in those areas. This is also a beautiful pixel art game, even more so since Sonic and his friends have been enhanced from their 16-bit incarnations with additional frames of animations. Returning stages have subtle new effects at times, while the brand new stages give you a good idea of what a Sega Saturn Sonic game might have looked like.
The new Special Stages in Sonic Mania are discovered in the same fashion as those in Sonic 3 & Knuckles, by finding giant rings hidden throughout the game's levels. In these, players enter a 3D arena and must chase a UFO carrying an emerald. If players run out of rings, the Special Stage ends, so collecting blue spheres to gain speed is integral while keeping an eye on the rings counter. These stages are quite challenging, but also a lot of fun. The Blue Sphere bonus stages, where Sonic must collect the blue orbs on a giant globe, also return. To play the Blue Sphere stages, one must simply have 25 rings when reaching one of the numerous checkpoint star posts. While it's entirely optional to enter the bonus stages, I almost wish the ring count was higher for entering the Blue Sphere stages because you'll constantly be breaking up the action if you enter them at every opportunity given.
While Sonic Mania does so many things right, my biggest issue are the boss battles. That's not to say they aren't very inventive, but a few of them aren't that well executed and many lack any difficulty. I would also argue that the boss battle music doesn't pump you up the same way that previous 16-bit Sonic titles did. In addition, for all the amazing ways the game uses nostalgia as a plus, a brief moment or two cropped up where it almost felt too familiar and I longed for a completely brand new 2D Sonic game.
The Switch version of Sonic Mania was ported by Tantalus Media, the same folks who brought Twilight Princess to Wii U. Having had a chance to play both the PS4 and Switch versions, I can confirm both versions run at a silky smooth 60fps during the high-speed sidescrolling action. The one area where the Switch version takes a occasional framerate dip is in the UFO chasing Special Stages. It's not a giant problem, but it is noticeable, especially when the PS4 version has zero issues in these stages. The game looks great on the Switch screen and I expect I'll be playing Sonic on the NYC subway for months to come.
Sonic Mania is a delightful return to the 2D platforming style that first made the hedgehog a star. The love from the development team for 16-bit Sonic is evident in every moment of the game. Fans of classic Sonic must buy this game, but the excellent level design, music, and graphics will please all people who enjoy a well-thought-out sidescroller.