A quality Battle Mode and other additions help this Deluxe edition avoid blue shells and banana peels.
Mario Kart 8 Deluxe is an upgraded port of the 2014 Wii U game, coming with some new tweaks for its existence on a new platform. First things first: this is the best version of Mario Kart 8. It adds a quality battle mode with a mix of old favorite modes and a stellar new one. All of the well-crafted DLC from the Wii U release is baked in from the start this time, and so many characters are playable that it's almost overwhelming at a glance. Even the system it's on makes it a better game, as the Switch's hybrid design makes it easier to play local multiplayer on either single or multiple systems. Really, the only ways Deluxe might be a downgrade from the prior iteration is that it's now three years older and doesn't offer that much new content for Wii U owners. And I guess you can't use the thrilling "horn" feature on the Wii U GamePad.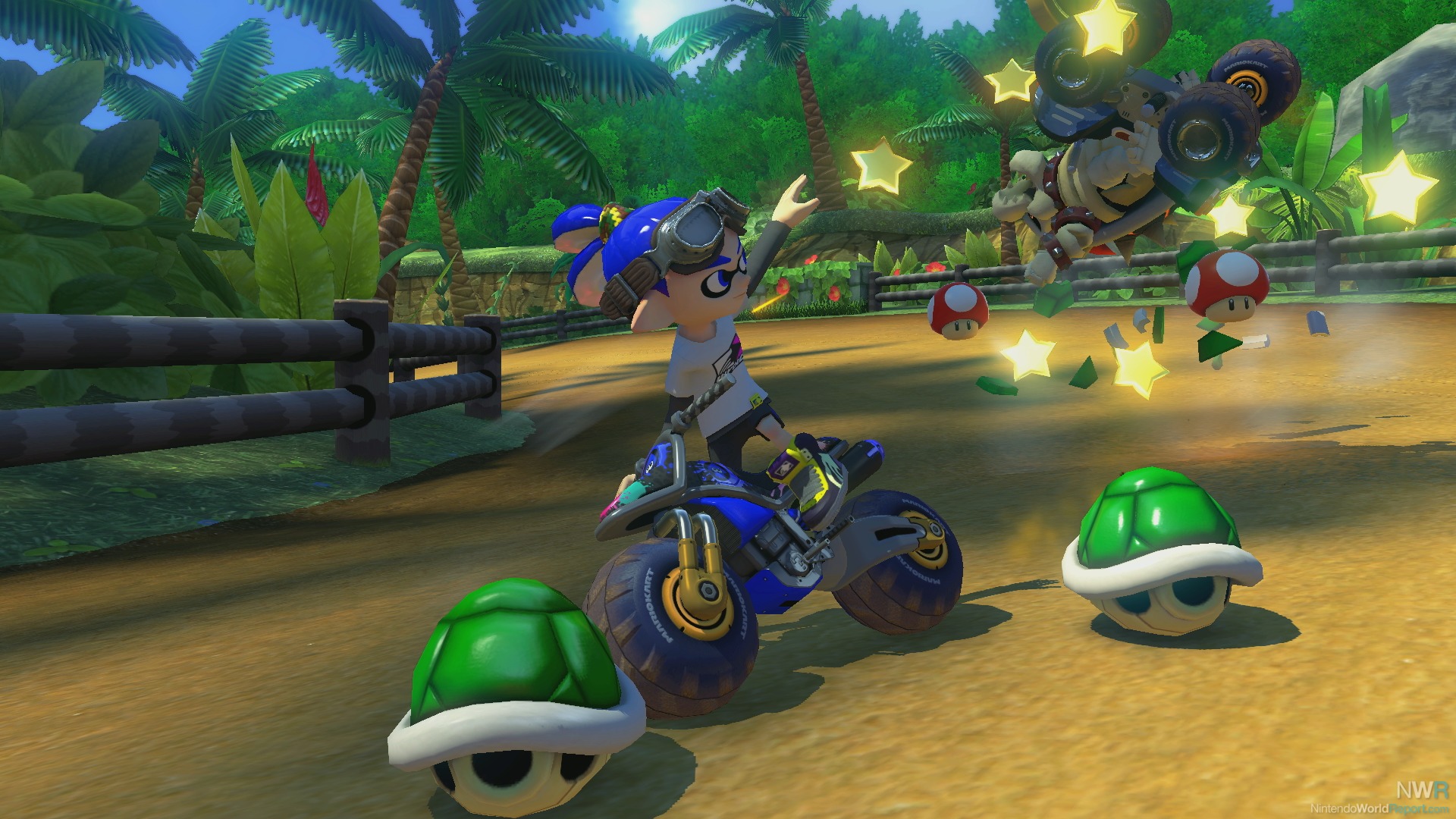 Even with the sense of deja vu, Mario Kart 8 Deluxe is a game I'm enjoying more than I did before, but it's still missing an element that has become more important as the Mario Kart series has evolved: a strong single-player experience. If anything, the fact that all the characters and tracks are unlocked from the start has made the single-player worse, because the only reason to dive into anything by your lonesome is to grind out randomly unlocked kart parts. It's the culmination of a downward trend in the series as single-player has become a lesser and lesser factor since the height of its powers with Mario Kart DS' fantastic Mission Mode. Mario Kart 8 offers little of value as a single-player experience, and while some people might say that doesn't matter, it certainly matters to me.
But my single-player qualms are assuaged by the added variety courtesy of the vastly improved Battle Mode. No longer are the weird circuitous courses the setting of the bastardized Balloon Battle. Instead, eight new Battle Mode courses house the mayhem of five modes, including old standards like Balloon Battle and Shine Thief. Like the Mario Kart 7 iteration, Balloon Battle can only be played in a timed mode, which removes a little bit of the drama and tension. Luckily, the new mode, Renegade Roundup, is designed around the apparent battle limitation of everything needing to be timed. It's a cops-and-robbers setup as one team patrols the arena with Piranha Plants on their karts that will snatch up the other team when they get close enough. Excelling mostly because it's not being shoehorned to fit into Mario Kart's modern form like some of the other modes, Renegade Roundup is a frenetic experience that takes a little getting used to, but once it clicks, it's excellent.
One of the potential unsung additions to Mario Kart 8 Deluxe is the variety of assist features that can help out neophytes, or at least help them hang with the pros a little better. Steering Assist, which is on by default, helps keep the kart on the road, while another assist makes it so the kart is always moving forward. The nice things about these is that they're very helpful but not too intrusive. It's a gentle nudge in the right direction as opposed to a gigantic handicap. These assists are perfect for that friend who missed out on Mario Kart in the past or a younger child trying to hang with older siblings or experienced parents.
The flexibility of multiplayer, thanks to the very design of the Switch, is also a fantastic inclusion to this version. Split-screen is present, though the drop from 60 frames-per-second in one- and two-player to 30 frames-per-second in three- and four-player is noticeable and suboptimal. The split-screen even works in tabletop mode, though, so the Switch becomes an instant multiplayer Mario Kart device wherever you are. Online is still as strong as ever, even letting you hop online with another player on the same system. New local wireless and LAN modes also let you use two-player split-screen with multiple systems. I wasn't able to test those modes out, though it's worth pointing out that no Download Play-like option exists here.
Mario Kart 8 Deluxe makes for a great representation of the multiplayer potential of the Switch, but it still doesn't add too much content to be a simple, slam-dunk purchase for owners of the Wii U version. The content it adds is strong, especially the revamped Battle Mode, though. And even aside from the new, the old stuff is abundant. 48 tracks are available right from the start, and with few exceptions, all are excellent. I might still carry a torch for quality single-player content and progression in Mario Kart, but there's no denying that Mario Kart 8 Deluxe is a step in the right direction for just about every other element.