Nintendo's foray into online shooters is radical and tubular, as long as the servers hold up.
Splatoon is uncharted territory for Nintendo. Removing the flashy Nickelodeon aesthetic and totally awesome "squidcore" soundtrack, this is a third-person shooter with a heavy emphasis on online play. Nintendo rarely makes games that check off both of those boxes. Maybe they should dip into unfamiliar genres more often, because Splatoon is incredible every step of the way, despite a few frustrating limitations and choices. The online is addictive and packed with depth and strategy. The single-player adventure, while short, rightfully earns comparisons to 3D Mario games. This is a full package that contains more unbridled joy and fun than you can shake a squid at.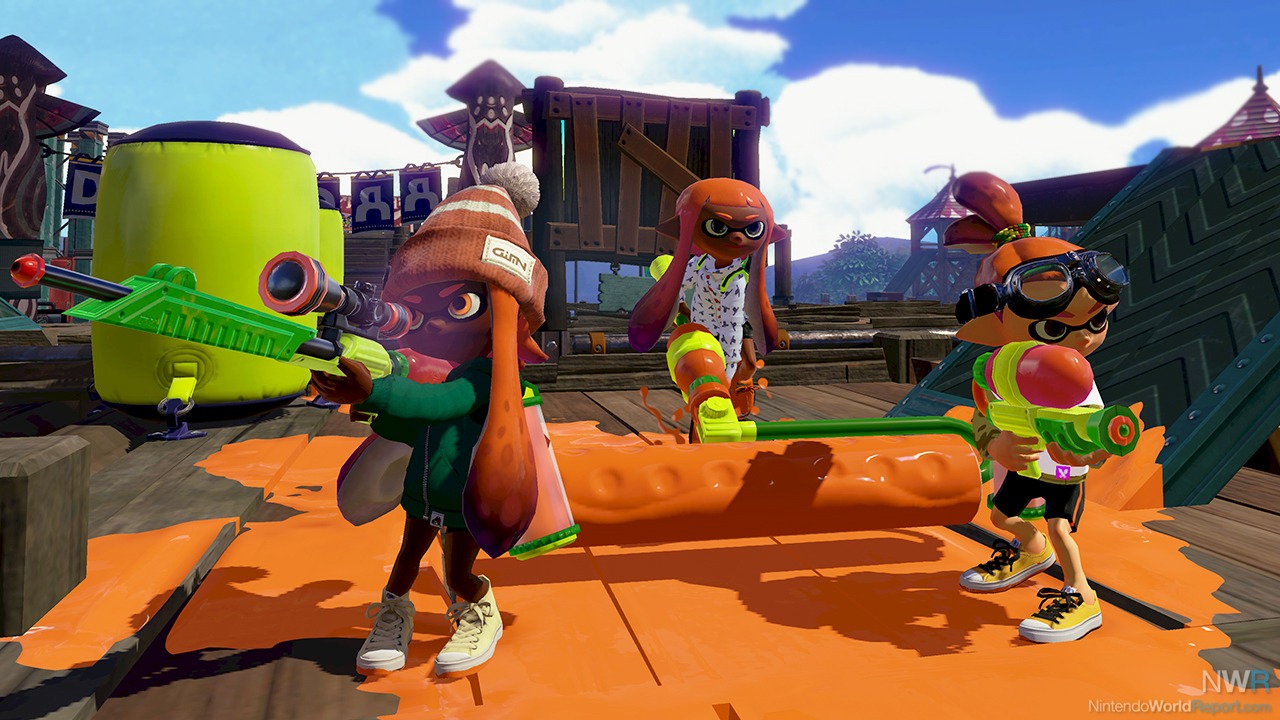 It all starts with the feeling of controlling your Inkling. The hook to Splatoon is that you can switch between humanoid and squid form on the fly. You can only shoot ink while in humanoid form, but you can swim through your team's ink when in squid form. For me, it was a bit of a learning curve to get adjusted to the way the character moves, but once it clicked, it felt freeing, as I jumped in and out of squid form, virtually flying through levels at times.
The centerpiece of Splatoon is the online multiplayer, which is frantic and fun while still requiring skill and strategy. The primary mode is Turf War, which is a four-on-four battle where each side tries to cover more of the ground with their paint color than the opposing team. Currently, the team makeups are randomized, changing after every battle even if you have the exact same players. Surprisingly, this works great. As you learn the ins and outs of each weapon and stage, you can easily see what weapons everybody has so you can figure out the best strategy. Voice chat would be handy in some of these situations, but thanks to smart visual and game design, words don't seem to always be needed to work together in Splatoon. It also helps that, while you are on a team, the act of painting the ground and splatting enemies can be a personal, privately enjoyed experience. Your goal is to cover ground and splat enemies, which doesn't really change whether you're talking with your team directly or not. You can also always see where your teammates are by quickly glancing at the GamePad's screen.
Where the lack of voice chat doesn't totally work is the ranked battle mode Splat Zones. Splat Zones, which will be unlocked once enough players reach level 10, is also a four-on-four battle mode, but the goal is to claim one or two sections in the middle of the map and hold them. Communication is way more important here and the lack of voice chat or any other way to communicate strategy makes this mode frustrating. Especially in comparison to the raw energy and bliss of Turf War, Splat Zones falls flat. This mode requires teams to work together, which they can't necessarily do. Thus, it often just becomes a hapless, maddening mess.
But even with one of the two modes being a bit of a dud, the online experience is still deep and engaging. As you play, you earn experience and money. The experience increases your level (all the way up to 20 at launch) and also unlocks new weapons for purchase. The money can be used in one of four different in-game stores. You can buy new weapons from a variety of different types as well as hats, shirts, and shoes for your Inkling. The different gear gives you different perks, ranging from easy-to-understand boosts such as improved running speed or a bigger ink tank to more interesting buffs such as Ninja Squid, which makes you invisible to other players when you're swimming in ink. The gear itself fits the stylized aesthetic perfectly, as your Inkling can wear big headphones and a pair of pumped-up kicks. It sort of just feels like a bunch of '90s kids threw up neon green everywhere in the best way possible.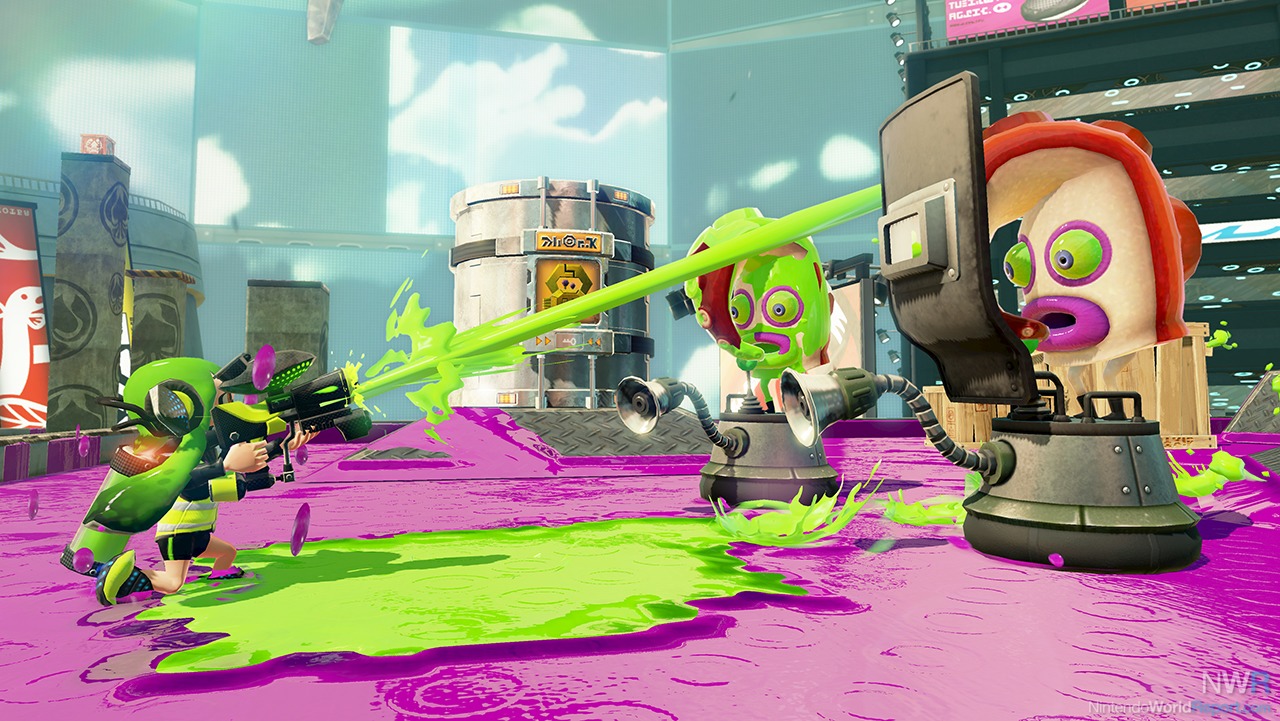 Online play also has a few clever touches that make the game and the lobbies more engaging. In matches, you can tap on the GamePad's screen to Squid Jump to different areas of the map. It really kills downtime when you respawn far away from the action, or even when you just wind up on the opposite side of a big battle. Additionally, while you wait for a match to start, you can play the 8-bit arcade game Squid Jump. Ideally, you won't have to wait at all, but having an amusing high-score-based game to play at all times is awesome. When you're in a lobby waiting for a match to start, however, you can't change your weapon or gear. It's extremely frustrating and decreased my willingness to experiment with offbeat weapon types. The only way to change gear is to leave your current party and back out to the menu.
While it doesn't last too long, Splatoon's single-player is a pleasant surprise. The mode feels like a cross between Super Mario Galaxy and Super Mario Sunshine, as you jump between linear planetoid-like areas while spraying ink to fight enemies and solve light puzzles. The levels are all based around a specific concept or idea, whether it's using your ink to reveal hidden platforms or battling Octolings in arena combat. The few boss battles all feel like they could have been ripped out of a 3D Mario game, as they are epic fights that pit you against huge monsters. In particular, the final battle is spectacular and a true test of your inky prowess. It took me roughly six hours to uncover everything, including the hidden Sunken Scrolls that offer amusing tidbits about the world's back story. It's a shame it ends as quickly as it does, but while it lasts, the single-player provides a nice breather from online shenanigans.
Aside from the single-player, the local experience is otherwise lacking. The one-on-one local multiplayer is amusing but forgettable and while the 8-bit arcade game Squid Jump is novel, it is best used as just a game you play while you're waiting for the next online match to start. You can add to the single-player and the arcade games with the Splatoon Amiibo if you really want to, but that's an added cost (if you can even find the three-pack).
Overall, Splatoon makes for an amazing online game, likely the most engaging online experience Nintendo has ever made. The multiplayer, regardless of its lack of voice chat or randomized parties, is sublime, successfully making a shooter that is easy to hop into but tough to master. The single-player might be short and linear, but it's a wonderful change of pace from the frenzy of online play. Splatoon also represents a change of pace on a grand scale for Nintendo. This isn't something the company normally does and reinforces the notion that maybe they should keep on trying to make new games and worlds and stop remaking old ones. Hopefully, the game is a success, and they'll see this new direction pay off.