The single-player Castle Club mode might not rekindle that old RPG feeling, but the rest more than compensates for it.
Nintendo-made golf games have been around in one form or another for 30 years, most recently with Wii Sports. The Mario Golf games, however, have been quietly dormant for a decade. The newest entry, Mario Golf: World Tour on Nintendo 3DS, brings the same golfing gameplay and zany courses back to the forefront. World Tour presents the classic sport with a goofy, light-hearted twist. Even with game-breaking Bullet Bill and Fire Flower items, the best part of Mario's 3DS golfing debut is just the quality of the game of golf. It shines the brightest when you're sitting back, trying to knock off a stroke or two on the back nine while competing against your friends in an online tournament. World Tour works best as a golf game first and a Mario game second.
World Tour is broken up into a few different modes. The major one is Castle Club, the evolution of the RPG mode in past portable Mario Golf games. It starts off strong, but seems to end prematurely, only taking you and your Mii through three tournaments on normal 18-hole courses before directing you to the other modes. The biggest letdown with Castle Club is that there isn't an interesting way to play through the crazy Mario World courses there. You have to hop online or toy around with the challenge mode to fully experience those six 9-hole courses with intriguing gimmicks and gorgeous locales. Even with that issue, I still spent close to 10 hours playing Castle Club, mostly due to the challenge of some of the final portions. It's mostly unfulfilling, though, because it doesn't integrate a bulk of the game's courses in a meaningful way.
The online play completes the experience, though, giving you a better venue for playing through the courses. While you can play with someone simultaneously locally or online, tournaments make up the bulk of the fun. You don't play alongside anyone in the tournaments, though; instead, you can see opponent's ghosts in a similar manner as Mario Kart time trials or the Trials series. The major tournaments are run by Nintendo and offer unique prizes for entering, as you compete with your region or the world in a variety of different ways. There are your fair share of traditional golfing challenges, but you can also compete for the longest drive, the fastest time, and more. That kind of variety makes the online excellent.
Players can make their own tournaments, too, and those can be shared publicly or privately. Tournaments have tons of options, letting you limit the characters, hand-pick the holes, and mess with the wind. You can even create a community like in Mario Kart 7, but that functionality still wasn't working at the time of review. While the actual golfing gameplay runs smoothly, I have a few concerns over the online when more people are on it, as accessing the online was problematic at times. We will follow up post-release to see how it all holds up.
Even so, the design and structure of each course is totally aces, even in the crazier ones like the underwater Cheep Cheep Lagoon. While the fact that there are three "normal" courses is a letdown, the seven 9-hole Mario World courses expertly straddle the line between functional and ridiculous. It's awesome driving balls down the wooded fairways of Wiggler Park and DK Jungle, and it's exhilarating playing pitch-and-putt on the hidden Sky Island course.
All the variables, including wind and other obstacles, make it so holes are unique and interesting even in repetition. It also helps that after a gentle beginning, the computer opponents don't seem to go too easy on you, requiring you to learn courses and figure out the best way to approach greens to set yourself up to gain a stroke or two on your foes.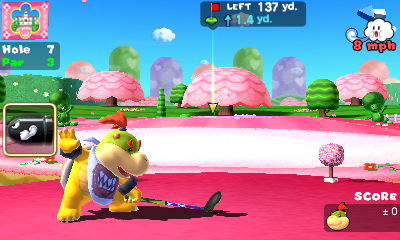 In the Mario World courses, you can use familiar items such as Bullet Bills. Unfortunately, they don't really work that well. In some modes, you can use items that give you various boosts. For example, there is an Ice Flower that allows you to bounce over hazards such as water and a Bob-Omb that will blow up any nearby obstacles. They are too chaotic, though, and I found the items usually did more harm than good. The Bullet Bill item, which cuts through the wind to go an absurdly far distance, would be feast or famine for me, as the slightest kink in its trajectory just ends it prematurely and usually completely screws you over. I found myself ignoring the items except in rare circumstances.
Mario Golf: World Tour succeeds in crafting a stellar golfing experience, one that will likely become a mainstay in multiplayer circles for a long time. The single-player portion doesn't seem fully realized, but the golf gameplay in World Tour is top notch and the stellar online tournaments have the potential to keep the experience fresh for a long time. With a nice variety of courses and lots to unlock, this is another fine entry in the long line of Mario sports games.