It's a Pokémon game in puzzle clothing as opposed to the other way around. Does it blend?
In the past, series-themed puzzle games just took a franchise and plastered it all over an existing game. Kirby's Avalanche is just Puyo Puyo with Kirby characters. Tetris Attack isn't even Tetris; it's just Puzzle League with Yoshi characters. The original Pokémon Trozei is essentially Yoshi's Cookie with Pokémon. The point is that themed puzzle games rarely have anything to do with the actual gameplay of a series. Pokémon Battle Trozei bucks that trend, as it takes the mechanics of Pokémon and manages to fuse it with interesting puzzle mechanics to create a unique experience.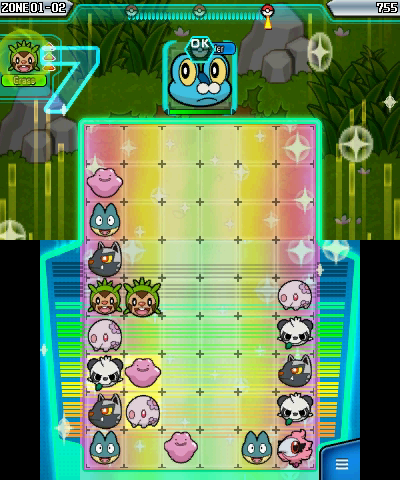 Battle Trozei is split into various zones, each with an assortment of stages. Each stage is a series of consecutive battles against Pokémon where you have the chance to capture them. By successfully matching your assortment of Pokémon in batches of three or more using the stylus on the touch screen, you cue up an attack. It takes on the type of the Pokémon that was matched, and you can strengthen the attack by lining up more matches consecutively. Adding to the depth is that when you match four of one creature and then three of another, you enter "Trozei Chance" where you clear out Pokémon by just matching two of a kind.
Trozei Chance is the best and worst part of the gameplay. Once you realize how it works, your goal in every single stage is to get to Trozei Chance, as it is essentially the only way to quickly do substantial damage. It's a fun, fast-paced twist on puzzle mechanics, but it also removes the setup of a puzzle game. That lovely moment in Tetris or Puyo Puyo where you set up an amazing chain of matches (sometimes by accident) is gone. Instead, it's razor-focused on matching four Pokémon (or five when you're facing multiple creatures) and then frantically shifting around the remaining Pokémon to continuously match two until you clear the board, and then it starts all over again.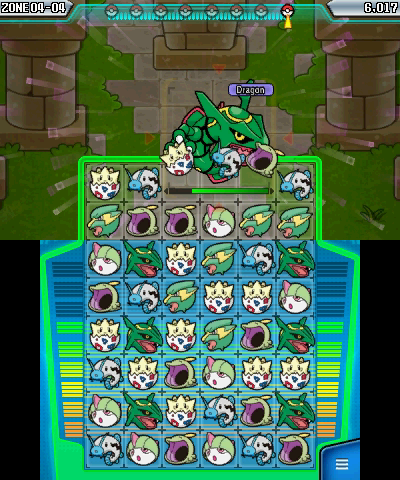 Even though it removes some of what I prefer about puzzle games, Battle Trozei offers a very distinct take on the genre, especially when you get into the idea of Support Pokémon. As you defeat Pokémon, you collect them and then, after a certain point, you can bring them with you into stages, allowing you to match them there and use their attacks. It's often a boon to roll into a stage littered with Fire types with a stacked deck of Water types to unleash. However, there isn't much of a reason to use any weaker Pokémon, as each one has a set attack power (on a scale of one to five stars) and it begs the question: why would anyone ever use a Diglett when Groudon can totally wreck everything?
You unlock new stages and new Pokémon by completing various objectives, most of them revolving around what Pokémon you bring with you or by beating a creature in a specific manner. Sometimes it's a little obtuse to figure out how to unlock things, but it's an enticing carrot for anyone who's ever collected Pokémon before. The replayability is also bolstered because you can go back to unlock specific stages and characters even after you're done. There are even zones, mostly unlocked after the main game, that change the Pokémon available for capture every day.
Battle Trozei is an idiosyncratic puzzle game that makes great use of the Pokémon concept. It captures the "gotta catch'em all" feeling and succeeds in turning the series combat into something that makes sense in a puzzle setting. It's a one-note game at times, but it sure beats another Pokémon game bringing back the style of Yoshi's Cookie.