Farming is better than retail.
The idea of Hometown Story, the new game from Harvest Moon creator Yasuhiro Wada, is way more intriguing than the execution. Returning to your hometown, you begin running your grandmother's shop, which has been closed since her passing. Through interacting with your customers and making their lives better, you develop relationships and learn about each of the numerous character's life stories. These stories are generally clichéd tales that are tiring to listen to, though. In a way, it might simulate the life of a shopkeeper more accurately, but as a video game, Hometown Story is slow and lifeless.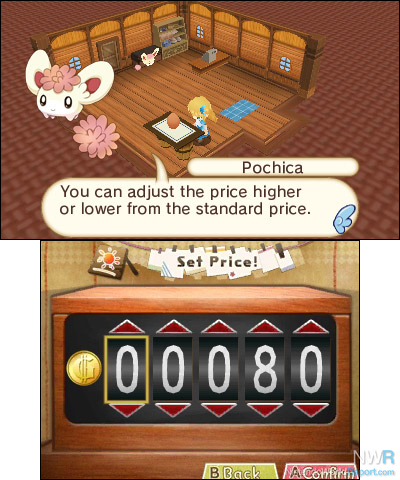 To start, you're given little direction except "operate the shop." You receive an assortment of goods to sell in your store in the beginning, and you have room for only a few tables that can only hold one item at a time. Even if you have five eggs, you can only place one down at a time. When someone buys it, you need to take out another egg and place it down. Most of the time spent with the shop is focused around minute item management and placement, essentially the most boring aspects of shop simulations.
Customers slowly enter the store and aimlessly wander around until they leave or pick up an item to purchase. Sometimes, speaking to them kicks off a side quest or gives a clue to what they want to buy. Too often, however, the customers just spout generic lines that do nothing. The side quests, ranging from helping a restaurant bloom to aiding a blacksmith's production, are poorly tracked. You have to rely on random occurrences and appearances to further them, and if you don't remember what a character said the last time they appeared, the game has no method to easily jog your memory. Furthermore, most every side quest requires specific items, and those items only appear randomly through vendors that come through the town.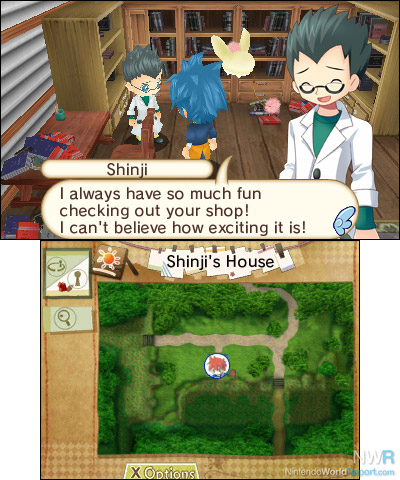 The laborious shop-keeping and frustrating side quests go hand in hand with the humdrum characters you interact with. The entirety of Hometown Story is focused on community interaction, but the characters are all bland, flat, and uninteresting. The biggest issue is the lack of investment in the community. In a game like Harvest Moon, farming seems more community-driven. Everyone depends on each other, even if it's just the idealized video game version of farming because, in reality, your character still does most of the work. In Animal Crossing, you might be selfishly furthering your home and collection, but the characters are well written and community involvement is rewarding. Hometown Story is devoid of all that; speaking to characters and working with them is just a lame means to a disappointing end. Over the course of Hometown Story, I found myself not caring so much about the characters and their struggles, but instead of thinking of how this affected my shop's bottom line. And I even barely cared about that.
Hometown Story is a woeful game that promises much and delivers little. Running your shop isn't fun or rewarding. With the lack of any sort of quest system, character interaction is an inconsistent crapshoot that is hurt even more by characters devoid of much personality. Hometown Story as a game concept has potential, but that potential is squandered in the product that came out. With so many similar and better alternatives to this style of game on 3DS (and other systems), Hometown Story is worth skipping. This isn't the successor to Harvest Moon; it's just disappointing.