You may have a tear in your eye as you say goodbye to Hershel Layton.
It is hard to believe that we have come to the end of our journey. A journey of six games in which we have met new friends, solved mysteries and encountered countless puzzles. It is all thanks to one man in a top hat, his young apprentice and his assistant that made it all totally worth it. Today, we close the book on the Professor Layton series, which isn't a simple thing to do for sure. But how well does this one stack up against the rest of the bunch? Does it tie up the loose ends between the first and second season of games? I pondered these questions during my first steps into this final journey and I didn't come away disappointed.
The game's introduction doesn't take too long as you meet with one of Layton's friends. He shows Layton a girl now has been stuck in the ice for ages, yet seems to be mostly fine. Eventually they free her, but it isn't long before a mysterious figure kidnaps her. What follows are the best opening hours to any Layton game yet, truly a stunning series of events.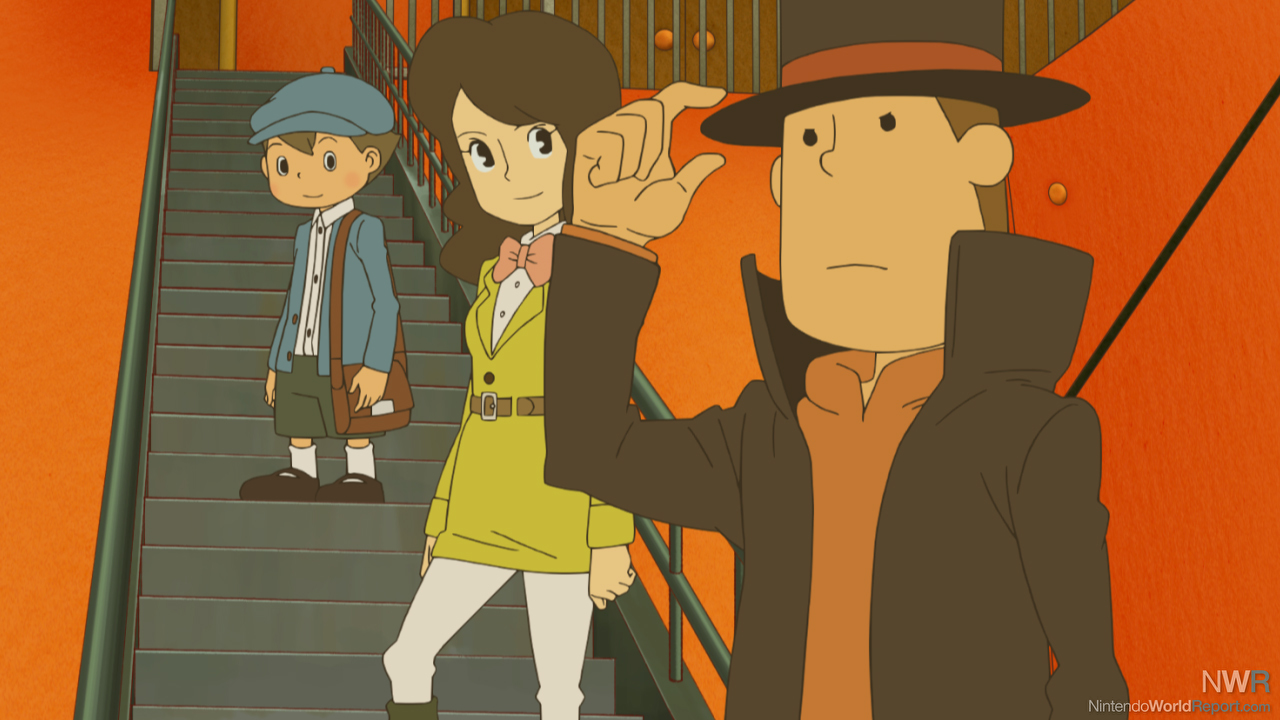 After freeing the girl and understanding what is going on, the crew embarks on a worldwide journey. As you try to understand the secrets of the Azran population, you are tasked with collecting five eggs from various different locations. The banter and puzzles presented in these places are interesting, but it does drag a little bit and sometimes steps away from the overarching plot. Players may be a bit disappointed by this deviation, which causes the game to get a bit slow moving at times. However, the clever writing and characters help lift up the boring parts. When everything is said and done, the plot does tie up things in a very nice manner and you get an ending that is up there with the better entries in the series.
If you ever played a Professor Layton game before, you do quite know what is in it for you. You move across various points on a 2D map and you find new places by correctly interacting with characters and the environment. You explore these points on the top screen, while moving about with the stylus on the touchscreen. By tapping on points of interest, the professor and his friends will make a simple comment or engage with the various elements. Next to developing the story further, it also gives you access to extra puzzles and hint coins, which can help you to understand said puzzles. Even though this stuff was shown its full potential in the Miracle Mask, it still makes the traversing quite an enjoyable element.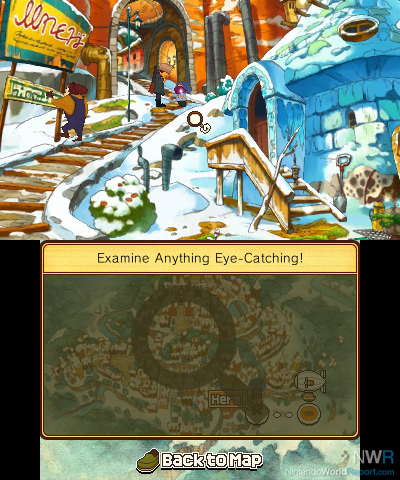 The game largely follows the same formula that fans will remember from previous entries. The same can be said of the many, many puzzles present as well. There is a good mixture in there and it tests your skills on various levels. The puzzles still focus heavily on logic instead of factual knowledge. People who always go after the correct numbers or search too deeply in the wording will find themselves lost easily. Luckily there are the hint coins to always guide you back on the correct path and, if you are completely lost, you can always decide to come back to the puzzle later. It is however a more ideal situation to figure them out on the your first go, considering it does really give players a feeling of accomplishment. By clearing puzzles, you can collect Picarats whose amount is based on the difficulty of the puzzle. If you collect enough of these precious points, you unlock bonus content in the secret area and this only unlocks after clearing the game.
There are also plenty of other things to do besides going through the regular course of action. Just like the Miracle Mark before it, you will get daily puzzles from Nintendo through SpotPass that will keep you engaged long after your adventure has been concluded. StreetPass also provides special challenges. In these, you have to locate three items in the world and, by doing so, you can get access to various rewards like more hint coins. If you are not keen on StreetPass features, you can also use Play Coins and get more challenges that way.Finally, there are some mini-games that you unlock along the way. You can, for example, step in the shoes of advisor and help characters select the perfect outfits for them. They have limited appeal, but they are fun while they last.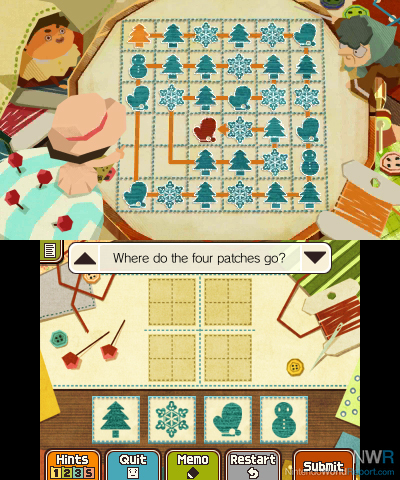 The game looks great on the screens of the Nintendo 3DS, much like they did in Miracle Mask. The important story bits are guided by beautiful animated cutscenes, which shine in 2D and 3D. Next to this, the environments still hold a strong 2D feel yet are rendered to support the stereoscopic elements of the system. In the front of it all you will see characters discussing things back and forth in a full polygonal rendering. Despite constantly using different graphical styles, it really comes together well. The usage of vibrant colors is strong in this and that makes it a gorgeous piece of software. The same quality applies to the music and the voice acting, though I do feel that the voices are a bit sparse. It is a bit of a shame, considering it would have to see some of bigger side characters come to life.
Professor Layton and the Azran Legacy completes the era of Hershel Layton quite well, with plenty of interesting backstories as you get close to the end. It helps that the puzzles and exploring parts are still enjoyable and still make the adventure worth traversing. The game does have some portions that feel padded out, but it doesn't become something to be truly enraged by. I have similar thoughts about the voice acting, which is done well, but I just wish there was more of it. Beyond the game, there is plenty of secret stuff to keep you entertained for a while, so you don't have to say goodbye to the professor as soon as you finish the story. Azran Legacy brings the two seasons of games together while answering many questions. Overall, it's a fine conclusion to a fine series.