A house party never felt warmer than this entire package.
When I played Wii Party back in 2010, I thought it was one of the more entertaining party games around. Not to say that Nd Cube's Wii debut instantly threw Mario Party to the curb, but it was a unique package filled with fun. Three years and another console later, its sequel, Wii Party U, is now hitting Wii U. Indeed, it is a fine sequel to Wii Party, and even though there is a ton to like, it only barely surpasses the original. Wii Party U doesn't reinvent the concept, but it's still a fine crowd-pleasing party game.
Just like the original, Wii Party U has a wide variety of modes. TV Party, which is most similar to Mario Party, has five multiplayer fun houses. The star is GamePad Island, where players move across a compact board, using mini-games to move around each turn. One has players playing slots, while another uses a bow and arrow. TV Party features four other modes, Highway Rollers, Mii Fashion Plaza, The Balldozer, and Teammate Madness (Team Building in North America); they are all fun with friends and family, but they aren't as expansive as they were in the original. Luckily, the rest of the game features more than the 2010 Wii game did.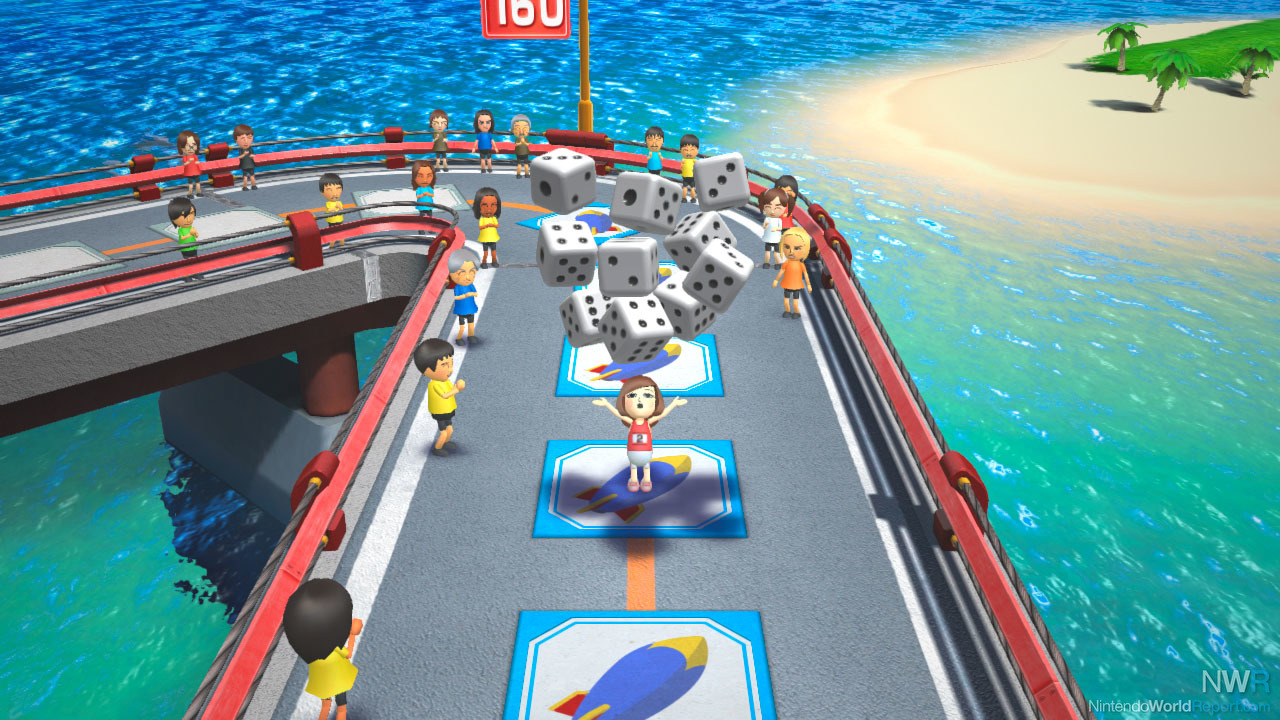 House Party returns in Wii Party U, and the number of games has been increased, offering a wider variety of gameplay experiences. A personal favorite is Lost-and-Found Square, where the GamePad player has to describe the environment they are looking at in game, while other people with Wii Remotes have to find that player in the game world. The interplay between players is hysterical, and a replay is available at the end that shows what all the players did. Button Battle (Button Smashers in North America) is a crowd pleaser as well, as it is pretty much co-op Twister with Wii Remotes and the GamePad. In general, all of the House Party games are awesome.
The lone brand-new mode is GamePad Party, which features a selection of experiences playable just on the Wii U GamePad. The highlights are the addictive Tabletop Football (Foosball in North America), Tabletop Baseball, and Tabletop Gauntlet that all feature intense one-on-one gameplay with simplistic inputs. Another interesting two-player game is Mii-in-a-Row, which is a unique take on Connect 4. In addition to the competitive GamePad games, a few co-op games are included, including Animal Matchup, which is a two-player game of memory, and Puzzle Blockade, where players work together to bring a tile-based puzzle to life.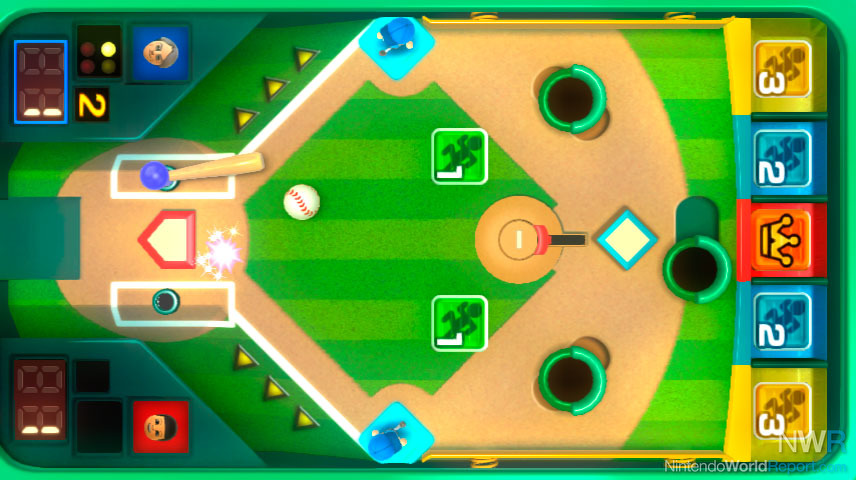 The mini-games section is our final stop in this grand tour; it includes different ways to enjoy the mini-games in the package. The option to play mini-games individually is there, but a few other ways to play them are also available. Bridge Burners is a mode where players work together to collect as many points as possible, putting a different spin on the mini-games. Woefully, the competitive options are a bit shallow. They don't go further than simple mini-games tournaments and don't add interesting layers like the original Wii Party and Mario Party 9. Quite frankly, it is a bit of a bummer.
As far as single-player options go, there isn't much. Mini-games can played in a special tournament setting or in Freeplay challenges. The sad part is that only five mini-games are playable in single-player Freeplay. The number is paltry, but even still, the playable ones are fine while they last. Demolition Row is fully featured puzzle games with 50 puzzle challenges, an endless mode, and even a versus mode. Freeplay Balloon Boppers, Freeplay Snap Judgment and Freeplay Apple Scramble are high-score attacks, though some have limited value as they have a hard limit for high scores. Finally there is Big Bang Blasters, where you shoot blocks away and try to compete up to four players. It is a fun multiplayer joint where you compete in ten rounds for the highest score. Nothing more, nothing less.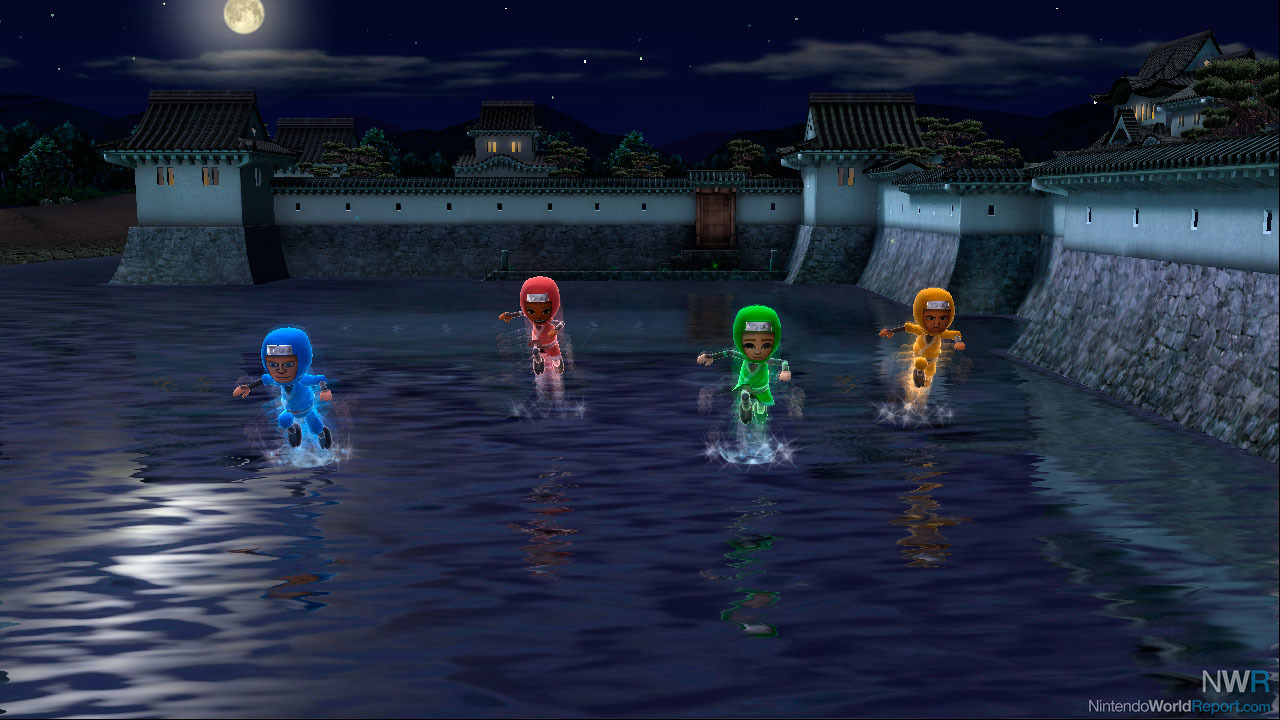 Wii Party U has a clean look to it, but it isn't exactly graphically impressive. The Mii characters still have a puppet-like look to them, though they still are extremely charming in the way that they move. The game features various pleasant locations, but they aren't the best what Wii U has to offer. The music is, however, as striking as ever, with fun music that sets the tone of the games well.
Overall, Wii Party U is a very fun party game, but the mini-game options aren't as attractive as in the original and Mario Party 9. It is way better to play them in the TV Party mode, which offers more varied experiences and a cleaner progression. Single-players are limited in what kind of partying they can do in Wii Party U. Of course, fun can still be had, but laughing and playing with others makes a huge difference. The GamePad and House Party games are really worth checking out, though, and show some really clever uses of the tablet controller. For all the smaller missteps that Nd Cube took, there is no doubt that Wii Party U proves that great times are ahead.