It's a good game that should have been great.
Assassin's Creed III is the fifth game in the smash-hit franchise. A series selling itself on exploration, stealth, and cool kills, Assassin's Creed spans centuries, telling the tale of the Assassins and Templars. In the newest iteration, our hero Desmond leaves the shoes of his European ancestors and enters those of an assassin during the American Revolution.
The story follows Desmond Miles, a modern Assassin, as he tries to stop the 2012 apocalypse by jumping into the animus machine once more. The new ancestor is a half-Native American, half-British man named Ratonhnhaké:ton (later given the adoptive name Connor) over decades of his life. The story follows the events of the American Revolution while the Assassin-Templar war quietly rages in the background.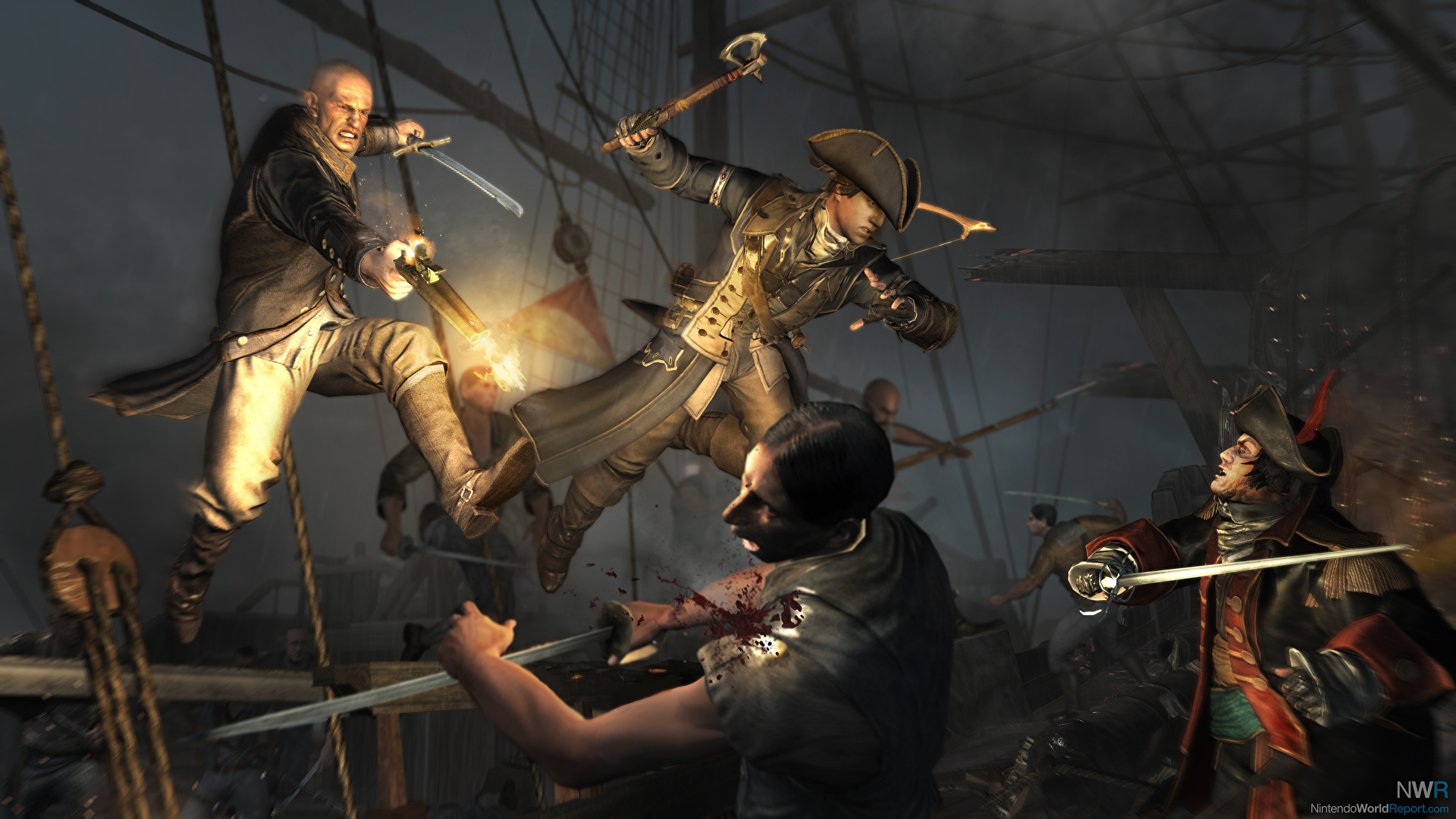 The most interesting parts of the game come into play when Connor finds himself in historically significant situations, meeting historically significant people. One scene finds Connor commanding the battle of Lexington and Concord, while another places an assassination on the scene of Bunker Hill. During the game, Connor will meet people from George Washington to Benjamin Franklin and beyond. These scenes are so carefully written and presented that the game actually seems surreal at times, as if it were truly offering a glimpse into what really happened. More importantly, the entire cast of characters is colorful and diverse, and while providing a slow start, the game quickly becomes very engaging, as the war grows heated.
It takes a bit too long to get to this point, however, as much of the first third (in which you play as a younger Connor as well as another character) is far too slow, and it almost turned me off from the whole game. It is all worth it once you get past this point, but poor pacing is hard to ignore.
Of course, the entire game is also home to a series of present-day sequences where Desmond is going toe to toe with modern Templars, but it would be better to avoid saying more due to heavy spoilers. There is no shortage of plot here for fans of the series.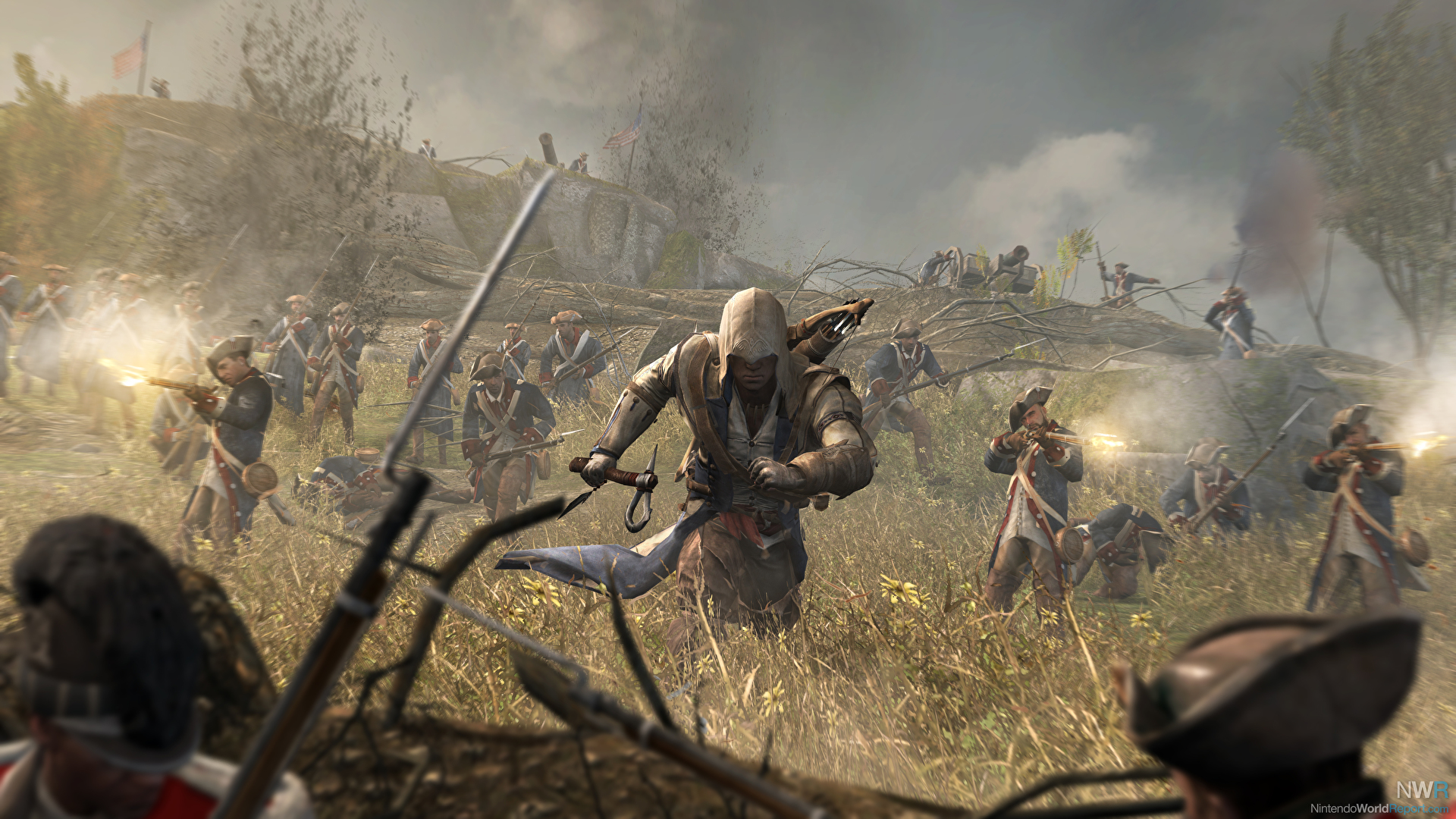 Like any Assassin's Creed game, gameplay is spread out across various fronts. Divided into "Sequences", main missions are usually endeavors of sneaking, fighting, and exploring across the massive open world, which spans throughout the northern colonies. Sneaking past enemies requires climbing over rooftops and hiding in crowds or bushes, while the combat feels quite similar to the Batman Arkham series. Guards are mapped to the A button, while the B button counters, and the X and Y buttons act as primary and secondary weapons, respectively (from blades to guns, and even some tools like traps). The combat relies heavily on getting all of the attacks you can in while parrying almost equally as often. It's simple, yet effective.
While the game is a lot of fun to play, and combat is really addicting, the mission structure can be quite a bit wonky at times. Especially on missions with evading soldiers or following colonists, the game comes up with arbitrary rules as to whether you are successful or not during a mission. Sometimes, I can run straight past a British soldier with no consequence other than brief suspicion. Other times, I can be escorting an NPC across town and a British soldier spots me from the other side of the building. The stealth never gets too horribly broken, and it does hold up a majority of the time, but these types of situations were popping up at least once for every hour of play.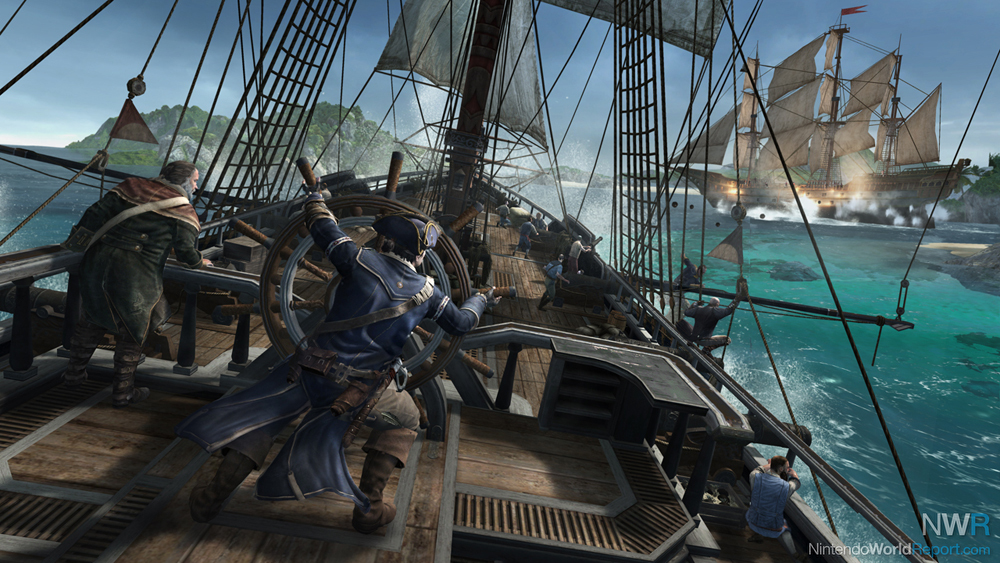 The game also incorporates a Free Run mechanic. By simply holding down the ZR trigger, Connor can run, climb up buildings, and jump. The mechanic works, but it can prove unwieldy. When climbing up buildings, Free Run does so much of the work that Connor can occasionally jump off a building or run the wrong way. It is never too problematic, but it can be an issue. What's more serious is that, in doing a lot of the work for you, Free Run can actually cause problems during missions. While trying to evade British soldiers by climbing and jumping throughout one of the cities, accidentally pressing the wrong button while in Free Run can trigger Connor jumping onto one of the soldiers and effectively killing them, raising notoriety and creating a major annoyance.
As is the case in all Assassin's Creed games, there are tons of side objectives to occupy your time outside of the story. There are tabletop games a la Red Dead Redemption, assassination missions, and plenty of collection and fetch quests. All these activities work as well as ever, but two important ones worth touching upon are naval missions and hunting.
Around halfway through the game, Connor will gain access to a boat to carry out naval missions with gigantic ships, whether it be for combat or escort. Either way, these always involve ship-to-ship battles. Taking place on the open seas with Connor at the helm, you have access to change the sail, maneuver cannons and guns, and fully control the ship at any time. These battles are incredible affairs of combat and strategy, with the combat as beautiful, exciting, and smooth as something out of a pirate movie.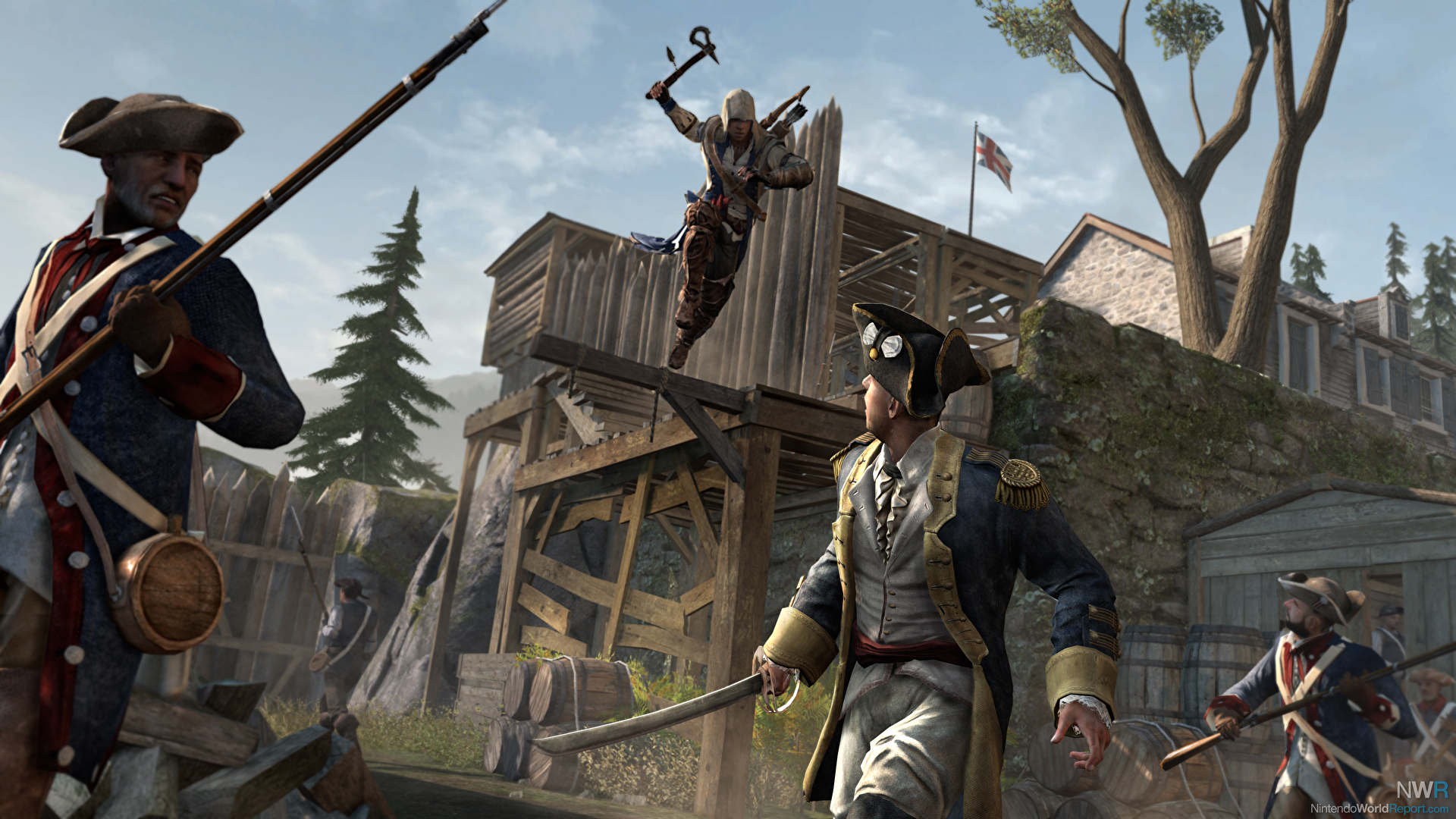 Between expeditions to Boston, New York, and so on are huge, forested areas that can be explored or hunted. Hunting likewise takes a cue from Red Dead Redemption, allowing Connor to use his skills to bait, trap, and kill animals for their parts. Although the game provides hunting challenges to keep the idea fresh, the activity never grows to be much fun in relation to everything else in the game.
Like so many launch games, Assassins Creed III doesn't take too much advantage of the GamePad. The controller offers a mini-map and a way to call your horse with a press on the touch screen, and the entire game can be pushed onto the GamePad. The Wii U port is identical to the other console versions, outside of these things.
The game is incredibly inconsistent on a technical level. While the animation is really excellent, and some aspects of the visuals are incredible (specifically some character models and the entire naval experience), the game maintains some really bad pop-in at times, as well as some poor textures (especially in forested areas). Even more notably, the game is hardly free from glitches. Subtitles can glitch (with a sentence of text appearing that was never actually spoken), the game froze once or twice, character models can get stuck in the geography, and the body of a guard I killed actually bent backwards once he hit the ground. None of this is impossible to manage, but it gives the game the serious impression of being unpolished.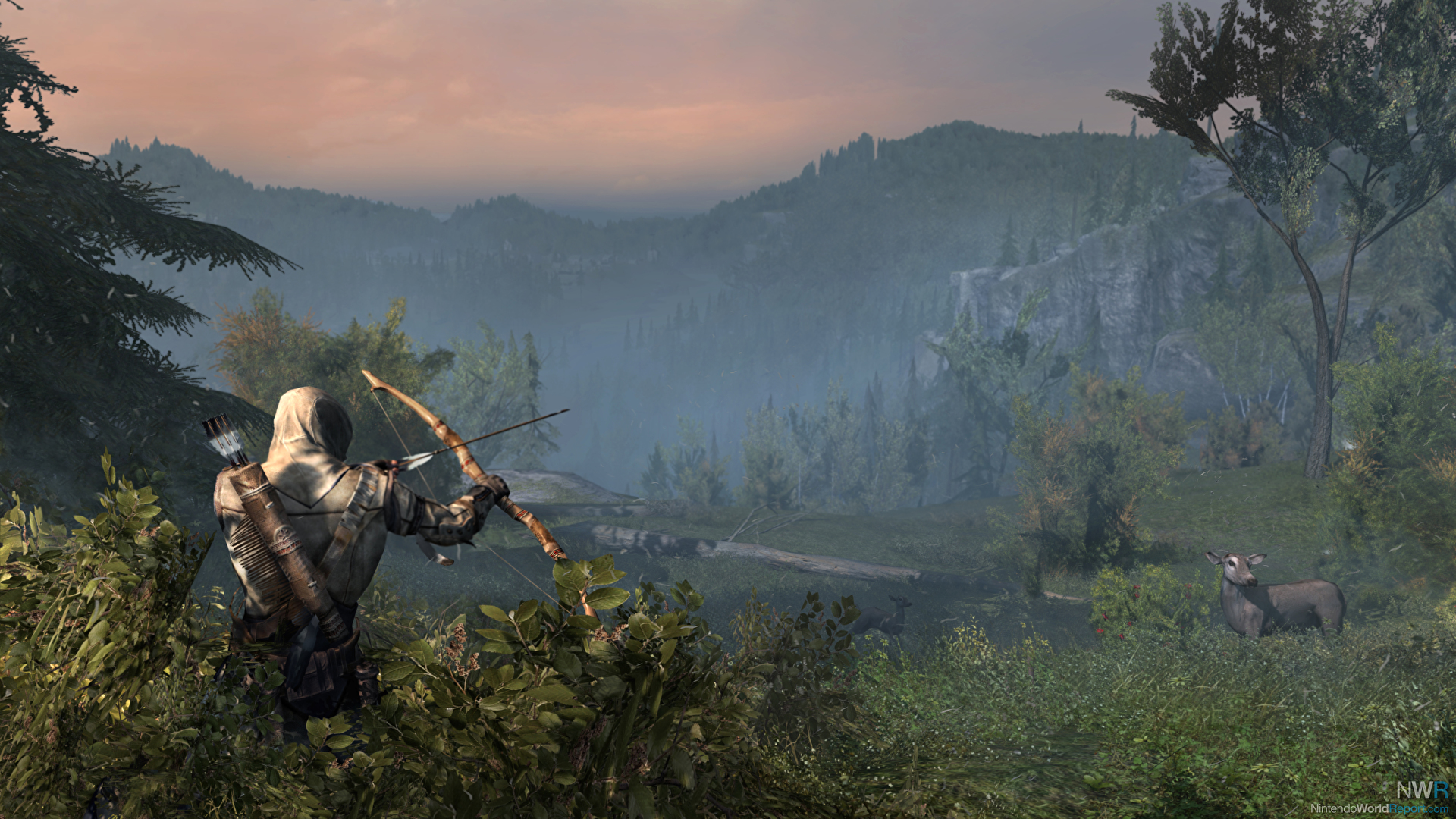 The online multiplayer in Assassin's Creed III is very fun, and maybe even a highlight of the entire game. Wolf Pack mode is a new cooperative, score-building mode in which you and a partner assassinate NPCs through a combination of teamwork and sneaking. This is fun at times, but I much prefer the returning Assassinate mode, in which you are competing against other players to remain hidden (and safe) while trying to sneakily kill another player. It's really fun, and a fourth of my time thus far has been in Assassinate mode.
At its core, Assassin's Creed III is a very big game with an amazing setting, great exploration, solid gameplay, and a wonderful story. However, it constantly pokes holes in this experience with poor pacing and a myriad of minor issues. Despite this, I still recommend this game to every person who has an interest in the series or its revolutionary setting. It is a good game, but it could be so much better.