Why does Mario shun his friends in his latest adventure?
Nintendo's latest 2D side-scroller, New Super Mario Bros. 2, saw strong sales in Japan after launch and is on the cusp of worldwide release later this month. The franchise is no doubt a moneymaker for the Big N, and is poised to have similar success in Western markets. Regardless of the game's prowess as a hard hitter for the company financially, New Super Mario Bros. 2 is Nintendo's latest play at combining the nostalgia of classic Mario titles with a new coat of paint. While the game does quite a bit right, it comes up short in several instances.
Even without a familiarity with any of the classic Mario titles or the NSMB games, the concept and the controls in New Super Mario Bros. 2 aren't hard to grasp. Go from left to right in each stage, and save the princess. Of course, it's a little more complicated, but that's the long and short of it. While intricate stories have never been a selling point of the series, the controls in Mario titles were always something other game developers strove to match. New Super Mario Bros. 2's tight, smooth controls make navigating Mario through levels a complete joy. Simply put, they work phenomenally well.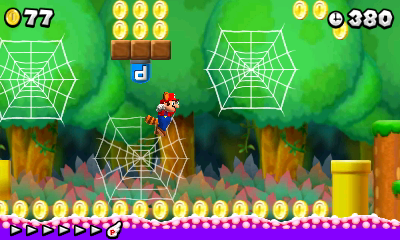 NSMB2's level design complements its fantastic controls. Although it features quite a few areas and worlds from previous classic and NSMB titles, the levels are impressive, providing challenges for even the most adept Mario aficionados. While a bare bones run through the game takes somewhere between four and six hours, there are still quite a few secrets and Star Coins to scour the levels for.
There is no question that the gameplay mechanics in New Super Mario Bros. 2 are some of the best, if not the best, on the 3DS. The same cannot be said for other aspects of the game. The visuals are a significant leap over those of the original DS game, and are at least on par with New Super Mario Bros. Wii. The assets and overall theme of the game, however, remain largely unchanged, and don't really add anything new. Past Mario titles (with the exception of The Lost Levels) did a great job of distinguishing themselves from other entries in the series, whereas New Super Mario Bros. 2 looks and even sounds exactly like past NSMB games. I know this is part of a being in a running series of games, but I was still hoping for something more than just the focus on coins to set this game apart. The music also seems uninspired, sounding much like a copy and paste job from the previous two games in the series. The original Super Mario games always brought so much to the table in terms of different visual and music aesthetics, and I was disappointed Nintendo didn't break from the NSMB mold and deliver something outstanding in that respect.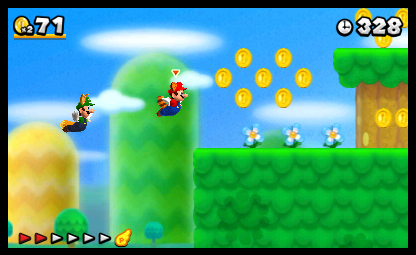 New Super Mario Bros. 2 supports both StreetPass and SpotPass, a decision that opens doors for all kinds of possibilities that Nintendo only delivers partially on. With StreetPass, the game allows players to share their best run from the Coin Rush mode with other 3DS owners they pass. While it is great to receive a new challenge from other players (and get tons of coins in the process), it would have been even better to somehow compete with the people on your friends list. This is a lesson I had hoped Nintendo would have learned from Mario Kart 7. Even having some kind of online leaderboards to check progress in comparison with friends would have been a great inclusion. SpotPass, while used in the game, is pretty dull—the only thing I've received from Nintendo is quick message telling me how many coins have been collected worldwide.
Multiplayer is another area that is somewhat deficient in New Super Mario Bros. 2. If you and a friend both have a 3DS and a copy of the game, you have the option to play together via local wireless play. The mode is flawless in the fact that there is absolutely no lag between you and the other person. My biggest problem was with the camera fixing on only one player. This isn't really an issue for stages where Mario is climbing up in a castle, for example, but can be problematic when going through horizontally oriented stages. I found myself either rushing forward too fast in a stage and losing my friend, or vice versa. The penalty isn't severe, as you don't lose lives, but it made for a choppy experience. The mode feels tacked on, as if it were included to put a bullet point on the box.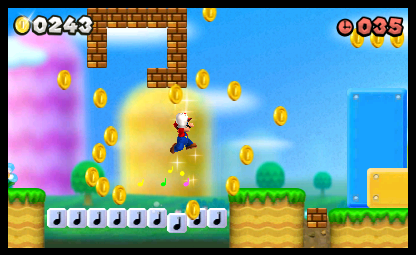 Although there are a few disappointing parts to the New Super Mario Bros. 2 experience, Coin Rush is unique and interesting. The mode puts player through three different stages at random (with only one life) and challenges them to collect as many coins as possible in a short period of time. The result is a frantic, fun dash through the stages while trying to avoid dying and picking up as many coins as you can. If the controls or level design weren't as perfect as they are, Coin Rush would have fallen flat on its face. If there were better ways to share your Coin Rush achievements other than with total strangers, the mode would have been perfect.
New Super Mario Bros. 2 is a technically sound game with fantastic controls, great level design, and a fine new mode in Coin Rush. Other aspects of the game, such as the recycled visual aesthetic of the NSMB games, the music, and the complete exclusion of connecting with your friends for Coin Rush, keep the game from being something truly amazing. Fundamentally, this is a great game, but it could have been so much more. While I had fun with New Super Mario Bros. 2, I can't help but feel a little dissatisfied with its identical aesthetics and lack of connectivity.