Mario doesn't settle for bronze.
With the exception of its gold aesthetic, most of the pre-release footage of New Super Mario Bros. 2 made the game seem like a retread of its DS precursor. To an extent, the sequel is just more of the same, but with a pervasive cleverness that makes this new 3DS game more than the sum of its parts.

NSMB2's focus on gold tweaks the structure of its levels. Coins are everywhere; they're out in the open and nestled away in numerous hidden locations. The million coin chase is kind of ridiculous (even the most coin-hungry players should barely get to 100,000 on their first run through the game), but the ongoing counter gives you enough of a tangible tease of progress. It'd be nice if more rewards were tied to the counter—without them, the reward is merely finding a hidden area or a new trick and uncovering an embarrassment of riches.
The Coin Rush mode adds an interesting high score mechanic that lengthens the experience beyond the single-player quest. Your mileage may vary, but if you're a high score fiend, it could consume your life, especially if you can find StreetPasses to give you more high scores to chase. Unfortunately, there are no online leaderboards, which is a big missed opportunity.
Aspects of the game make it seem like the developers might be making light of some series tropes. The music, mostly borrowed and/or remixed from previous games, features a stupid amount of the synth voices that everyone hates so much. Lives, often lamented as outdated in modern times, are basically made fun of, as the number you gather soars into the hundreds even if you aren't that good at the game. Fortunately, the developers also took note of legitimate complaints about the New Super Mario Bros. series. The Star Coins are generally more hidden, and the game features many secret levels and alternate exits. NSMB2 isn't as hard as some of the first side-scrolling Mario games, but it keeps up a decent difficulty curve.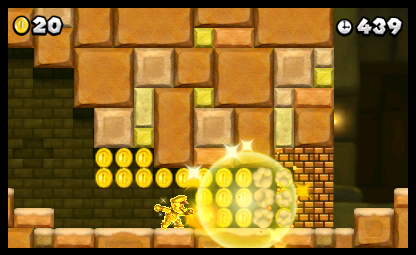 New Super Mario Bros. 2's level design is surprisingly creative, with labyrinthine ghost houses and challenging, offbeat levels. With fewer power-ups and a more focused direction, it lacks some of the intricacies of Super Mario Bros. 3 and Super Mario World, but stands up well next to Mario's superlative works.
The game isn't that long at first blush, with six worlds and some hidden stuff along the way. You can do a basic, no-nonsense playthrough in around five hours. However, if you look for the secrets, collect Star Coins, and dabble in Coin Rush, New Super Mario Bros. 2 could last you much longer—somewhere around the 15-hour mark, or more.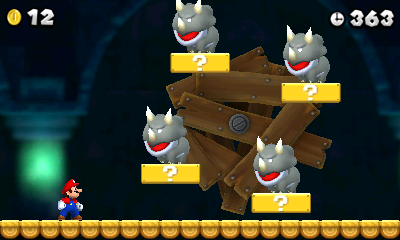 Graphically, NSMB2 doesn't seem like much more than a cursory upgrade to New Super Mario Bros. However, the 3D effect is actually kind of awesome in certain levels. It blurs the background, creating the illusion of depth. In open environments, it doesn't look as sharp, as the background is already far away. In castles and ghost houses, it's excellent, showing different layers of the background. The 3D doesn't add anything to the gameplay, but it's endearing enough that I played most of the game with it on.
New Super Mario Bros. 2 doesn't rewrite 2D Mario games, and is certainly not as inventive as last year's Super Mario 3D Land, but using that as an excuse to write it off would be remiss. New Super Mario Bros. 2 is a fine, quality Mario title that deserves a mention in the same breath as Nintendo's finest 2D platformers. It doesn't hit their highest highs, but comes much closer than the other games in the New Super Mario Bros. series.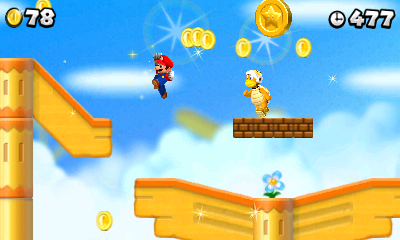 Note: Since I do not have any access to another 3DS and a second copy of the game, I was not able to test the co-op multiplayer.