It's a rhythm game that's good at everything... except being a rhythm game.
For a while now, Rhythm Thief & the Emperor's Treasure has been seen as the 3DS answer to Elite Beat Agents, with quirky settings, fantastic style, and great gameplay. Unfortunately, only two of those assertions proved to be correct.
Rhythm Thief is a Sega published-and-developed rhythm game that takes place in a relatively modern Paris, France. The story follows Raphael, an adolescent who steals objects of rarity as the mysterious Phantom R with his dog Fondue. As the story develops, Raphael meets a mysterious girl Marie, faces off against the local police force, and tries to stop a man who claims to be the resurrected Napoleon Bonaparte. The story and presentation are both absolutely excellent, complete with great pacing despite a short length of six hours.
Like the Layton series, anime cut scenes are frequently used to push the story forward, and likewise, the animation is stunning. Furthermore, Raphael progresses across Paris using in an almost-identical static screen format as Professor Layton, all the way down to "tap everything to find secrets" trope. There are also some non-rhythm puzzles to keep the story sections fresh, and they are really cool (despite a total lack of difficulty).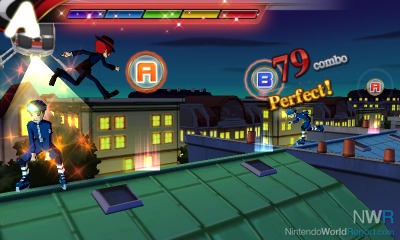 With that said, the gameplay is not nearly as refined as the presentation. Rhythm Thief features 50 rhythm games, ranging from "swipe the touch screen in a direction to do an action to the rhythm" to "press buttons to take out enemies." Of course, the game features plenty of diversity, like a one-off Samba De Amigo inspired game and a very competent sword-fighting affair, but the games still generally fall into those two camps.
This in itself isn't problematic, as the game still has a ton of diversity, but it's apparent that, in coming up with so much variety, almost none of the games feel fully developed. The fun and polished ones are overly simplified affairs of tapping the touch screen to a beat, while an equal number of games (specifically the gyro-controlled ones) feel so clunky that I was actually upset when the game required them to progress the story. This is only assisted by a horribly broken grading system, where slipping up for a moment can immediately bring you from a perfect score to a near-fail. Even at its best, the games in Rhythm Thief don't feel fun enough to warrant replay, and likely won't even be the parts you remember when all is said and done.
Despite this, the music throughout is outstanding, featuring hip-hop, folk, classical, upbeat jazz, and more. With so much diversity and excellence, I was especially surprised that I could barely remember any of the specific songs after I turned the game off. The music is good, but it's not memorable.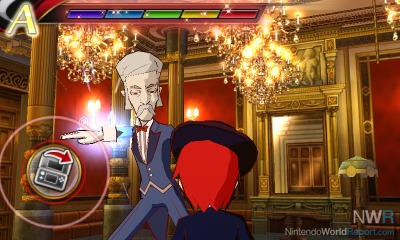 Outside of the story, there are tons of collectibles. Two major side quests task you with finding paper scraps and sound clips throughout the game, and collecting all of either unlocks a bonus chapter that further fleshes out a relationship in the game. There are also songs and movies to collect, StreetPassing to accomplish, an incentive for clearing every song with a high grade, and a competent multiplayer component featuring both local and download play. Even if the gameplay doesn't necessarily inspire replay value, the urge to replay for bonus chapters and a complete collection of stuff is clearly prevalent.
While I had a good experience with Rhythm Thief, it is not a fantastic game. With the lavish presentation, the intriguing story, and the assortment of collectibles, it is so disheartening to see gameplay that ranges from "kind of okay" to "pretty broken." And though I recommend that everyone experiences Rhythm Thief & the Emperor's Treasure, the whole package is disappointing and not worth rushing out to get.