We can give him hell for saying it so much, but Pit was right. We weren't ready yet.
When Kid Icarus: Uprising was revealed at E3 2010 and subsequently shown off at other trade shows and events, there were often more questions than answers. The demos were just timed affairs that highlighted Sin & Punishment-esque sequences. It didn't seem like there was much meat to Masahiro Sakurai's first non-Smash Bros. game since 2005. However, Kid Icarus: Uprising is far greater than that first impression, and more robust than nearly every other game on the 3DS. If you've been looking for that wholly original game to get on 3DS, Pit's return to the spotlight is just that. Simply put, there isn't really anything else like Uprising out there, and that is a wondrous fact.
My favorite part of the game is the completely insane and crazy story. The game begins as you'd expect a Kid Icarus game to: traveling through Greek-esque locales to fight Medusa. However, you wind up going everywhere, from the underworld to space, as you fight tons of humorous and difficult enemies. Along the way, you're treated to superb dialogue involving Pit, the goddess Palutena, and a variety of friends and foes. It's kind of dumb, but it's some of the wittiest game dialogue I've been privy to, including meta references to Dr. Mario, Nintendogs, and the economy. The best part is you're rarely forced to sit through cut scenes. They are present occasionally, but most of the story is told as you play. It can be a little distracting, but it's never an irritable distraction because the humor is so prevalent and sharp.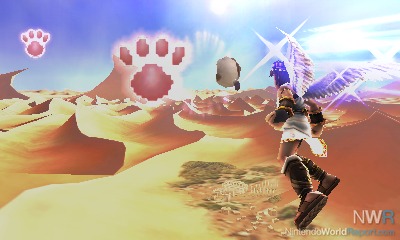 Gameplay-wise, Kid Icarus: Uprising is a hybrid of a rail shooter and a third-person shooter. At the beginning of each of the game's many chapters, Pit starts off by flying and shooting at enemies. Everything about the rail shooter segments is sublime; the 3D pops right off the screen, and using the Circle Pad to move, and touch screen to aim works wonderfully.
Roughly halfway through every chapter, Pit heads to the ground, and the game turns into a peculiar third-person shooter that feels similar to Smash Bros. in a weird way. The controls remain similar to the rail segments, but you can move freely and your attacks vary between melee and ranged. You can also do "smash" attacks by slamming the Circle Pad into a direction while attacking. These sections are usually the longer parts of the game, and feature some light exploration to gather more loot. To end each chapter, you fight a boss, which is almost always a wonderful experience since these enemies are huge, interesting, and fun to go up against.
Unfortunately, sometimes the controls betray the third-person areas. The touch screen controls are a little odd, and in the game you're told to approach the mechanic as if "spinning a globe," which takes some getting used to. If you can conquer the learning curve, you can use the touch screen with deft and ease. Even still, Pit controls very loosely and can be a little slippery. Luckily, the majority of the game takes place in open spaces where this isn't too much of an issue. There are a few moments where Pit has to nimbly walk across a narrow path or you have fight enemies in close quarters that sully the experience.
There are myriad control options that allow you customize and tweak the inputs to your liking, which helps the perceived issues. The Circle Pad Pro is almost required for lefties, though all it does is make the added Circle Pad do the same thing the main Circle Pad does. There is also a no-stylus mode, but that can only use the face buttons for character movement and the Circle Pad for aiming. Personally, I loved using the Circle Pad Pro, but the no-stylus option was dreadful.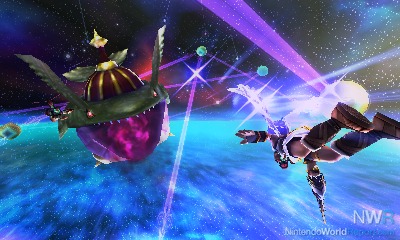 In addition to the single-player, there is multiplayer, which is basically Smash Bros. from the third-person perspective. You can participate in Free For All or 3 vs. 3 team battles across a variety of stages, complete with requisite crazy items (Atlas' foot is my favorite) and a high degree of customization. You can even create different loadouts for your character, so you can easily change your style when you hop online or play your friends locally.
The loadouts feature different powers and weapons you can equip. Weapon fusion is one of the wonderful collectable parts of the game. You can take two weapons and fuse them together to make a new, usually more powerful weapon. With eight different weapon types and a ton of unique weapons in each type, the system is addictive, rewarding, and fun. For the most part, every weapon is kind of ridiculous, from the Skyscraper Club that is, well, a club with a skyscraper on the end of it, to the Bowl Arm, which allows you to shoot bowls of miso soup at enemies. Outside of fusion, you can find weapons in chapters and also buy them with hearts you acquire by playing the game. There's even a whole StreetPass and SpotPass component I haven't been able to scratch the surface of. You can also unlock even more weapons by completing different achievements in-game.
The other collectable aspect of the game is the AR cards and idols. The AR cards are used for two things in game: a lame battle simulator and unlocking idols, which are similar to trophies in Smash Bros. The idols can also be acquired by playing a peculiar Egg Toss game, so you're not doomed to have an inferior collection if you don't have access to the highly sought-after AR cards. In addition to that, there are even more collectables and unlockables restricted by an embargo, but we'll detail everything in our Kid Icarus: Uprising guide.
Then there's the Fiend's Cauldron, which effectively gives the game 99 different difficulties. Depending on where you set the slider (from 0.1 to 9.0 in increments of 0.1), you face harder enemies and get more loot. It gets very tough, meaning that even if you've beaten the game, you can still go back and face a stiffer challenge with more enemies. The latter is the best part, because it's not just going through areas with enemies doing more damage; instead, the difficulty just ratchets up the amount of enemies and the craziness.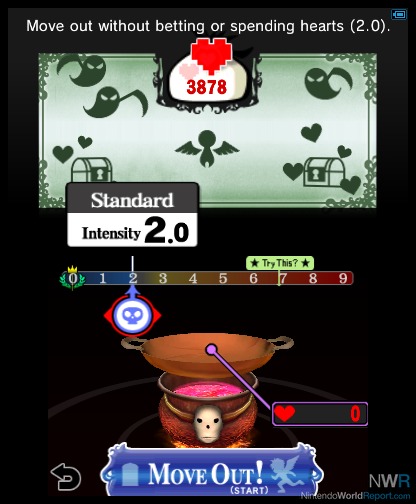 Kid Icarus: Uprising is jam packed with content, and outside of the control issues, is an amazing game. The 21-year wait for a new Kid Icarus game was completely worth it, because this is one of the craziest and most original games released by Nintendo in a while. If you have a 3DS and are even remotely interested in this game, I highly recommend that you seek this out.