A whole lot of Brawl music.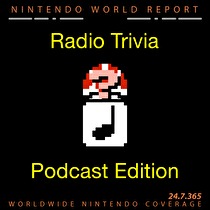 Subscribe via iTunes (Please rate and review, too!)
Enjoy an entire episode of Radio Trivia dedicated to music from Super Smash Bros Brawl. (Warning: Spoilers)
This week we didn't use any requests, but we invite you to continue sending us game requests ! If we like your request, it may be the third game next Radio Trivia: Podcast Edition! Heck, throw in a question and specific songs if you want. Just remember, it has to be a game found on a Nintendo system in North America (unless we say otherwise)!
Credits:
This podcast was edited by Michael Cole.
All game music used during Radio Trivia is copyright their respective owners. Yes, Super Smash Bros Brawl music is awesome.