In celebration of Labor Day, we're giving American games a break in this set of games released in PAL regions, but not North America!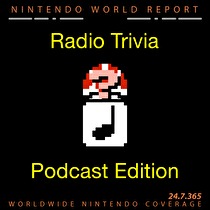 Subscribe via iTunes (Please rate and review, too!)
Usually having been released in North America is a prerequisite for games on Radio Trivia. However, Brad and I made a special exception in this sneaky batch of international-only (to us) releases. PAL region gamers usually get the shaft; this episode highlights what they got that we didn't!
Did you like the third game? Let your fellow listeners know! Think you've got a better choice? Send it my way and your request may be the third game next Radio Trivia: Podcast Edition! Heck, throw in a question and specific songs if you want. Just remember, it has to be a game found on a Nintendo system in North America (unless we say otherwise)!
Credits:
This podcast was edited by Michael Cole.
Music for this episode of Radio Trivia: Podcast Edition is used with permission from Jason Ricci & New Blood. You can also purchase their album directly from the iTunes Music Store.
All game music used during Radio Trivia is copyright their respective owners.