It's like Jeopardy, but our clues come in the form of some sweet game music.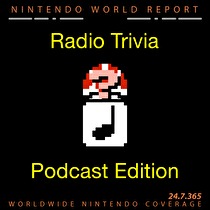 Subscribe via iTunes (Please rate and review, too!)
Welcome back for another exciting round of Radio Trivia. In this episode, Michael Cole and I challenge you to another set of five games. We play three songs from each game and you try to figure out which Nintendo game that song is from. Pretty easy, no?

Don't forget to check back with us next week when we play the live version of Radio Trivia in our chatroom. If you like this, you'll probably like the live version even more!
Credits:
This podcast was edited by Steven Rodriguez.
Music for this episode of Radio Trivia: Podcast Edition is used with permission from Jason Ricci & New Blood. You can also purchase their album directly from the iTunes Music Store.
All game music used during Radio Trivia is copyright their respective owners.