Downloadable Radio Trivia returns!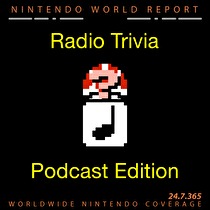 Subscribe via iTunes (Please rate and review, too!)
You asked for it, so here it is! Enjoy this week's Radio Trivia how you want it, when you want it, because NWR's Radio Trivia: Podcast Edition is back with the first "official" episode. We decided to keep the format introduced in our pilot episode, so surely you already have something to complain about in TalkBack.
Here's how it works. Download the MP3. Listen to it. We'll play three songs from a game that was released on a Nintendo platform, which could be a game on any system from the NES to the Wii. After the first two songs, we'll ask you a question about that game, which will serve as either a hint for those that don't know what the game is, or a challenge for those that already do. After we play the third song, we'll reveal the game, the answer to the question, and chat a bit about the game before moving on. Just as in live Radio Trivia, there are five games in all.
Radio Trivia: Podcast Edition is a test against yourself. How much video game music do you know? This is how you can find out. Even if you don't know one tune from another, you can still enjoy some great game music and learn a little about the best-sounding games ever made. It's a win-win for everyone!
This podcast was edited by Stan Ferguson.