Groove is in the heart, and also on the GamePad.
The latest in Ubisoft's hit series, Just Dance 4 continues the trend of making players shake, rattle, and roll to a set of popular dance music. The latest edition of the game will be available on Wii U at launch, so we're taking a look at the song list present in the game. Several of the songs listed below are not in the already released Wii version of the game, and some of them are even exclusive to specific regions.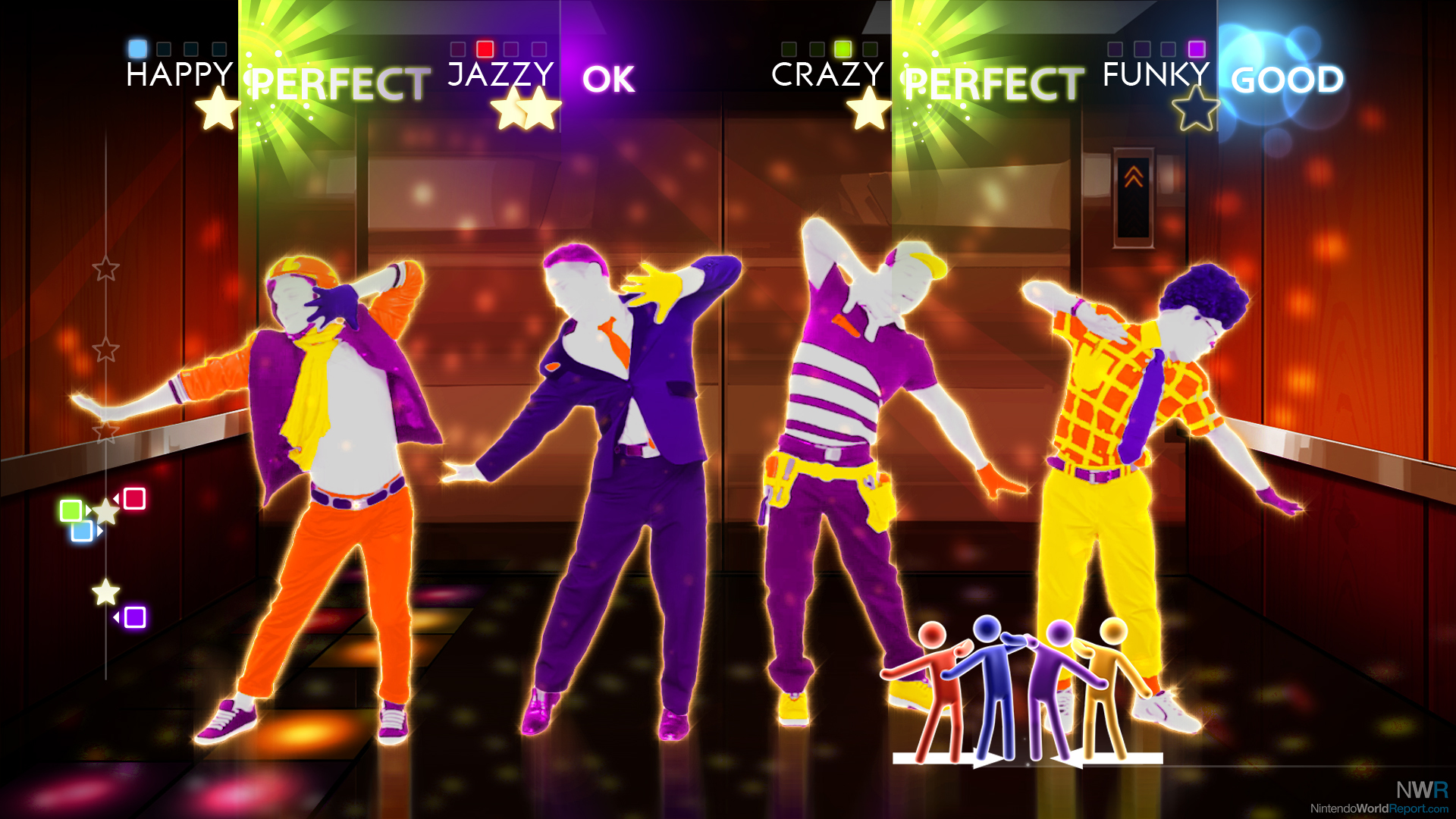 Coming to Just Dance 4:
• "(I've Had) The Time of My Life" by Bill Medley & Jennifer Warnes (1987)
• "Ain't No Other Man" (cover version) originally by Christina (2006) – Wii U exclusive
• "Asereje (The Ketchup Song)" by Las Ketchup (2002)
• "Beauty and a Beat" by Justin Bieber featuring Nicki Minaj (2012)
• "Beware of the Boys (Mundian To Bach Ke)" by Panjabi MC (1998)
• "Call Me Maybe" by Carly Rae Jepsen (2012)
• "Can't Take My Eyes Off You" (cover version) originally by Boys Town Gang (1982)
• "Cercavo Amore" by Emma (2012)
• "Crazy Little Thing" by Anja (2012)
• "Crucified" by Army of Lovers (1991)
• "Diggin' in the Dirt" by Stefanie Heinzmann (2012) – PAL exclusive
• "Disturbia" by Rihanna (2008)
• « Domino » by Jessie J (2011) – Wii U exclusive
• "Everybody Needs Somebody to Love" (cover version) originally by The Blues Brothers
(1980)
• "Good Feeling (Alice Version)" by Flo Rida (2011)
• "Good Girl" by Carrie Underwood (2012) – North America exclusive
• "Hit 'Em Up Style (Oops!)" by Blu Cantrell (2001)
• "Hot For Me" by A.K.A (2012)
• "I Like It" by The Blackout All-Stars (1994)
• "Istanbul" by They Might Be Giants (1990)
• "Jailhouse Rock" by Elvis Presley (1957)
• "Livin' la Vida Loca" by Ricky Martin (1999)
• "Love You Like a Love Song" by Selena Gomez & The Scene (2011)
• "Make the Party (Don't Stop)" by Bunny Beatz (2012)
• "Maneater" by Nelly Furtado (2006)
• "Mas Que Nada" by Sergio Mendes & The Black Eyed Peas (2006)
• "Moves Like Jagger" by Maroon 5 featuring Christina Aguilera (2011)
• "Mr. Saxobeat" by Alexandra Stan (2011)
• "Never Gonna Give You Up" by Rick Astley (1987)
• "Oh No!" by Marina & the Diamonds (2010)
• "On The Floor" by Jennifer Lopez featuring Pitbull (2011)
• "Oops!... I Did It Again (cover version)" originally by Britney Spears (2000)
• "Rock N' Roll (Will Take You To The Mountain)" by Skrillex (2010)
• "Rock Lobster" by The B-52's (1979)
• "Run The Show" by Kat DeLuna featuring Busta Rhymes (2008)
• "So What" by P!nk (2008)
• "Some Catchin' Up to Do" by Sammy (2012)
• "Super Bass" by Nicki Minaj (2011)
• "Superstition by Stevie Wonder (1972)
• The Final Countdown by Europe (1986)
• "Time Warp (cover version)" originally by Cast of The Rocky Horror Picture Show
(1975)
• "Tribal Dance" by 2 Unlimited (1993)
• "Umbrella" by Rihanna (2007)
• "Want U Back" by Cher Lloyd featuring Astro (2012) – Wii U exclusive
• "We No Speak Americano (cover version)" originally by Yolanda Be Cool featuring DCUP (2011)
• "What Makes You Beautiful" by One Direction (2011)
• "Wild Wild West" by Will Smith (1999)
• "You're The First, The Last, My Everything" by Barry White (1975)
In addition, several songs were unlockable via codes obtained from bags of Cheetos, but those codes are only known to work on the Xbox 360 and Wii version of the game. It's not known if these codes will work for Wii U. The specific songs that were unlockable on the Wii game were You Make Me Feel... by Cobra Starship featuring Sabi, and Brand New Start by Anja.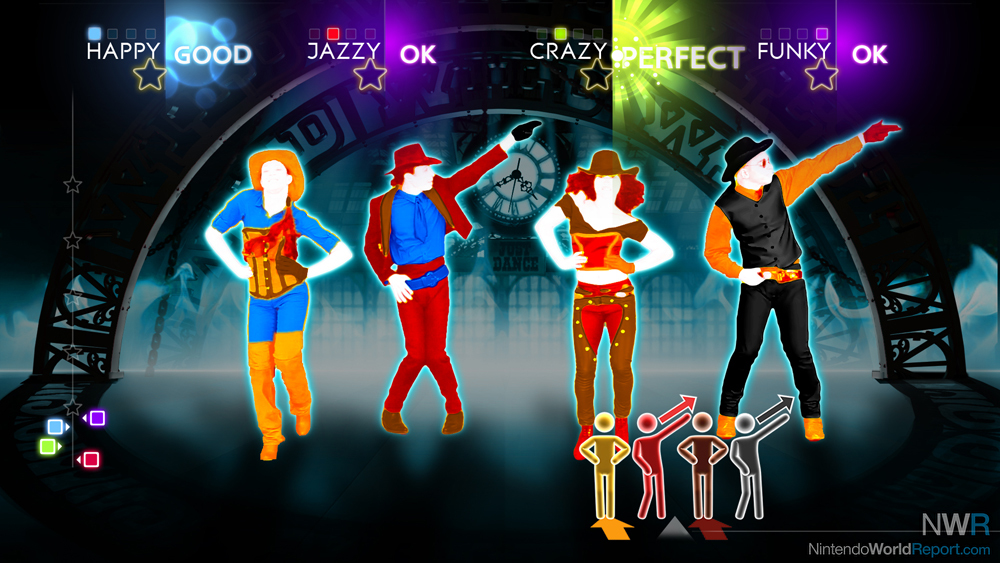 The game plays similarly to previous versions of Just Dance. Players are asked to mimic the dance movements of an on-screen figure to score points. The Wii U version of the game features a few bonus features, such as online leaderboards and a Puppet Master mode, which allows one player to manipulate the dance routines of the other players using the Wii U GamePad's touch screen.
Several modes featured in previous versions of Just Dance have been removed in Just Dance 4, including Speed Shuffle and Simon Says. In their place, a dance battle mode has been added, and the Just Sweat mode has been expanded. The Just Sweat mode now features personalized workouts. In addition, the game will feature DLC consisting of new songs and characters.