The Wii's last story is almost upon us.
In a 2007 interview with GameSpot, Hironobu Sakaguchi, head of the Japanese development studio Mistwalker and father of the Final Fantasy series, expressed interest in creating a game similar to Gears of War, the popular third-person shooter series developed by Epic Games. Fast-forward to 2011, and Sakaguchi's interest finally materialized into a game, albeit one very different from the gritty shooter that inspired it. Titled The Last Story, perhaps as a nod to Sakaguchi's previous involvement in the Final Fantasy series, the action RPG melded both Japanese and Western game mechanics, and released to critical acclaim in Japan. Now, more than a year later and after a drawn out fan campaign, the game is finally coming to North America. But aside from a wonderful pedigree, with Hironobu Sakaguchi as director and Nobuo Uematsu as composer, what exactly makes The Last Story worthy of all this attention?
The Last Story follows the main protagonist, Zael, as he and his fellow mercenaries look for work on Lazilus Island. However, in what could be considered a staple of the genre, Zael and friends find themselves wrapped up in local politics and catapulted into an adventure that takes them far beyond their initial hopes for employment and into the middle of Lazilus' environment of ongoing governmental corruption and warfare.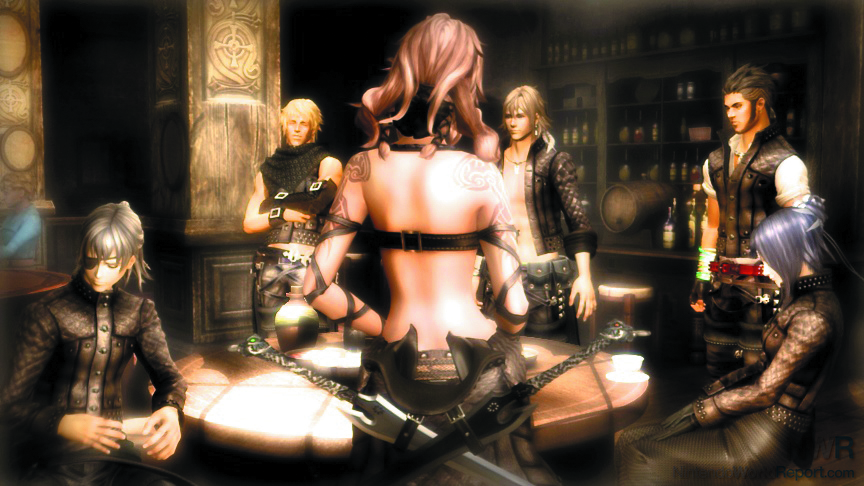 Yet, unlike the sprawling world present in the Wii's other recent high-profile JRPG, Xenoblade Chronicles, Zael's adventure takes place almost entirely in Lazilus City and the surrounding areas on the island. Nevertheless, Lazilus City offers numerous areas to explore, NPCs to interact with, and side quests to complete. Of course, the city also serves as the hub world for The Last Story's main quest, which is said to last upwards of 20 to 30 hours per playthrough.
During this time, you'll control Zael in a third-person perspective reminiscent of the Gears of War series, using either the Wii Remote and Nunchuk or the Classic Controller. This perspective doesn't change in battle; in fact, The Last Story's real-time battle system employs cover mechanics, a staple of the third-person shooter genre. You're also able to manually aim and fire ranged weapons, such as the crossbow, though melee attacks are performed automatically whenever you or an ally are close to an enemy. Elemental attacks and magic play a role in the game's combat, creating elemental circles that boost surrounded character's attacks. To help plan the perfect strategy, you are also able to give commands to your party members.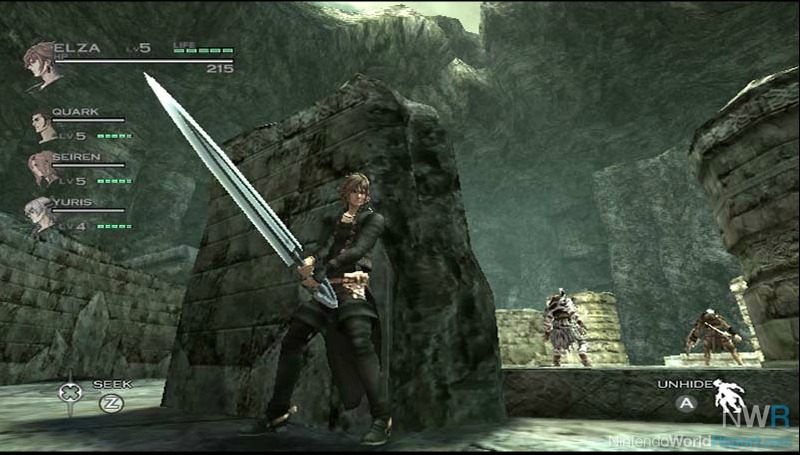 In addition to the game's main story, The Last Story features something rather unusual for it's genre—online play. Here, the game's unlikely inspiration shows through in two different multiplayer modes, versus and cooperative mode. In versus mode you can play as one of several characters from the story mode and duke it out with up to five other people from your friends list, or through random matchmaking. Similarly, cooperative mode also joins you with up to five other people, though with the objective to work together and down various bosses from the game's story. In order to do so, you'll even have access to gear you've collected in the main story. And to tie everything together, The Last Story also includes an online leader board ranking players based on their performance.
The Last Story has already been released in Japan and Europe; however, for those in North America, the game will be released on August 14, 2012.