Update: A frame-by-frame analysis raises more questions than answers. Flying Pikmin? Burning Turnips? Enemy death fakeouts? And why is Olimar missing?
Update:
Nintendo spent some time at their E3 Press Conference showing off the Wii U's Pikmin 3 to the world, but they didn't tell the whole story. The trailer they released reveals tantalising hints about even more unannounceed details about the game. Of course, the game is still under development, so what you see here may be subject to change, or we may not fully understand what we're seeing. For the orignally provided text preview including information not see in directly in the video, please scroll down.
New Pikmin
Nintendo's announced Rock Pikmin may look solid, but the fact that the one in front rolls and then leaps into the air suggests that looks can be deceiving.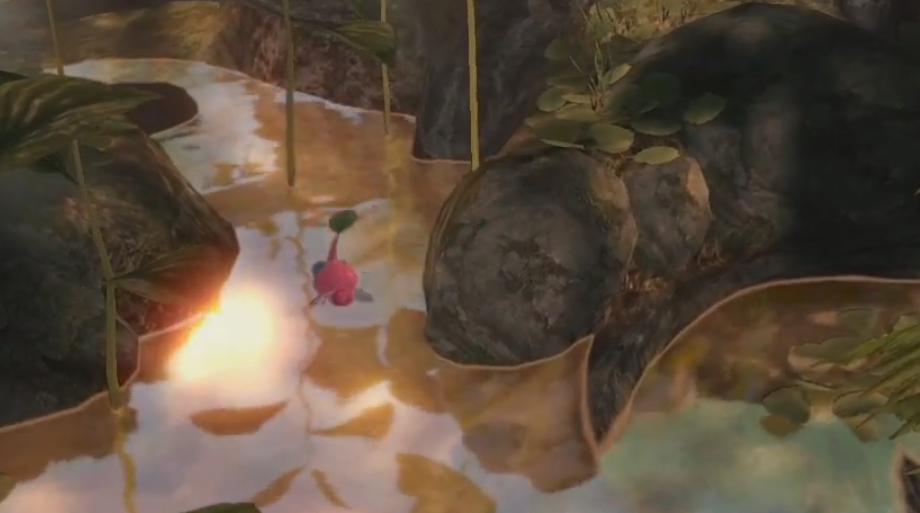 At the beginning and ending of the trailer there appear to be Pink Pikmin that fly and are carrying things...
New Enemies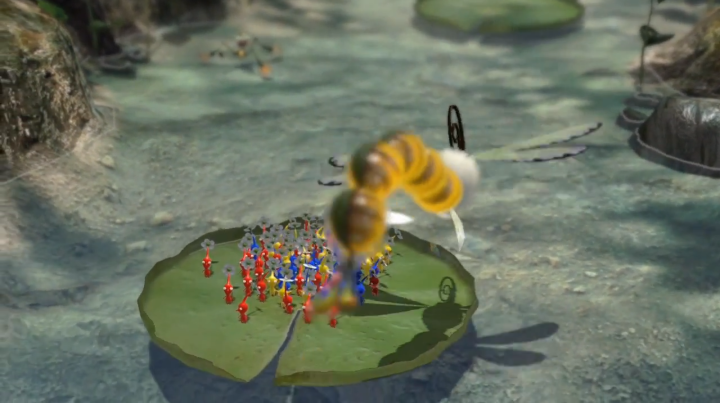 There's a water strider enemy in the background, and a new dragonfly-like enemy in the foreground. Also, the lilypad may be a new way to travel.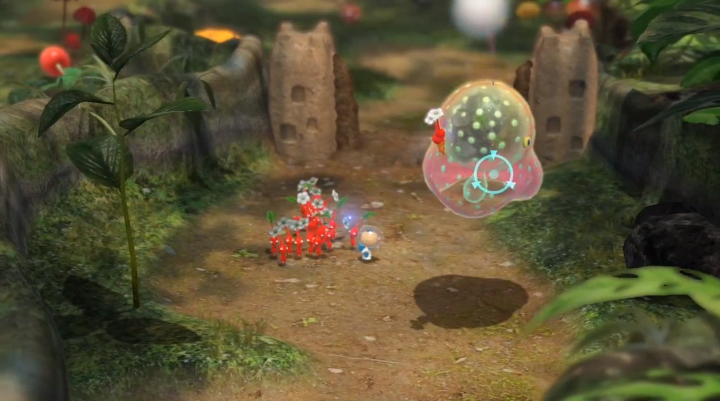 A floating/flying jellyfish/mushroom enemy?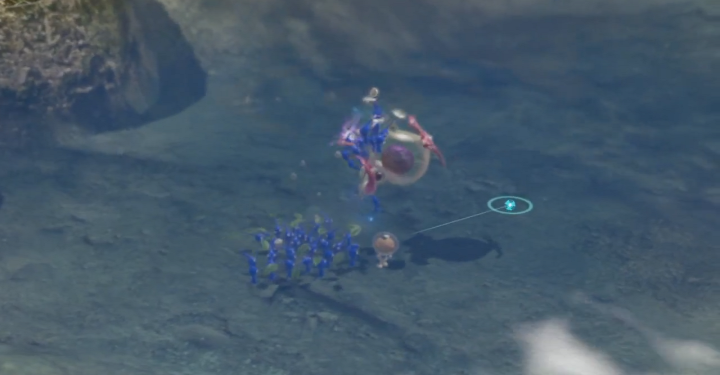 Pikmin brutally attack this squid-like water enemy.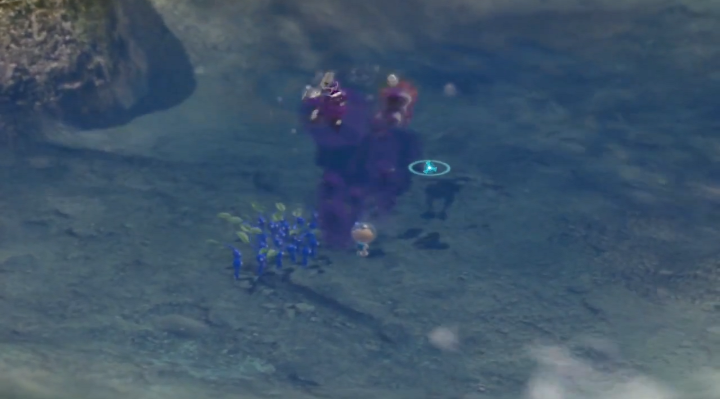 Can... can you do that in a Nintendo game? Rated M for GORE!!!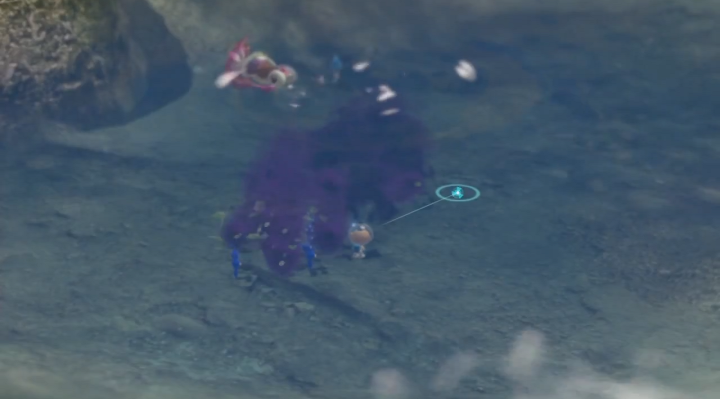 Ah-ha! It was really a clever trick by the enemy to escape! Also, Pikmin covered by its ink seem to be running around in a panic.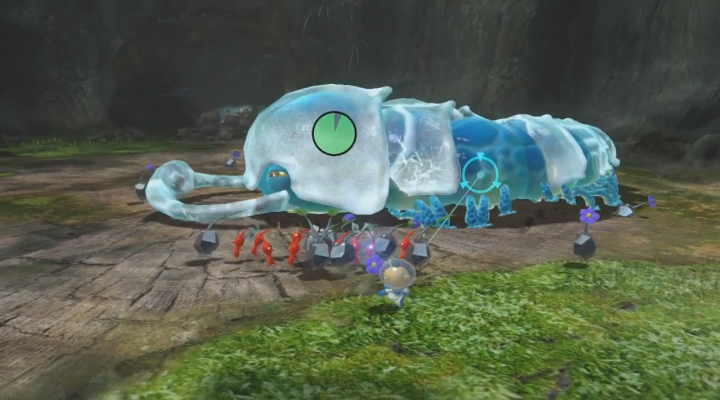 A new large multi-segmented armored centipede-like creature.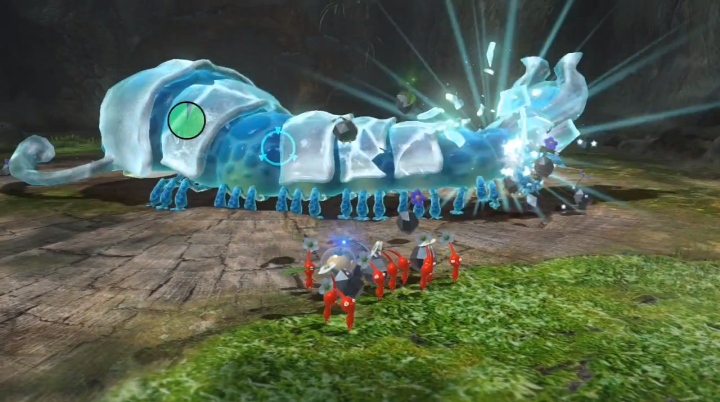 You break off its aarmored segments with rock Pikmin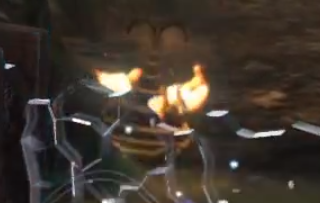 At one point in the video, what looks to be a... burning turnip creature? is on the other end of a see-through wall.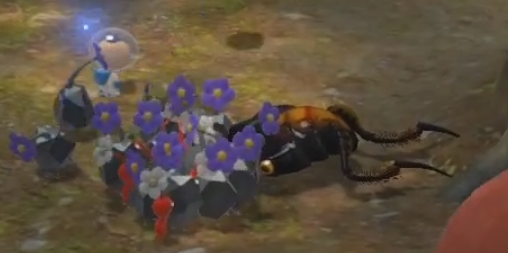 Seen dead in the trailer, this enemy looks to resemble a cricket...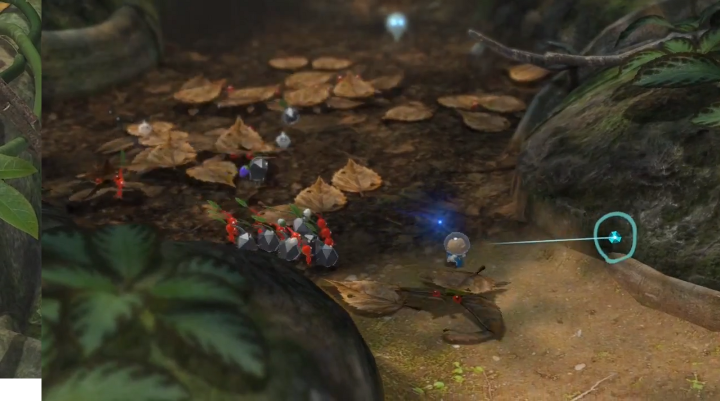 Are these new "dead-life" variants of the Skitter Leaf enemies from past games?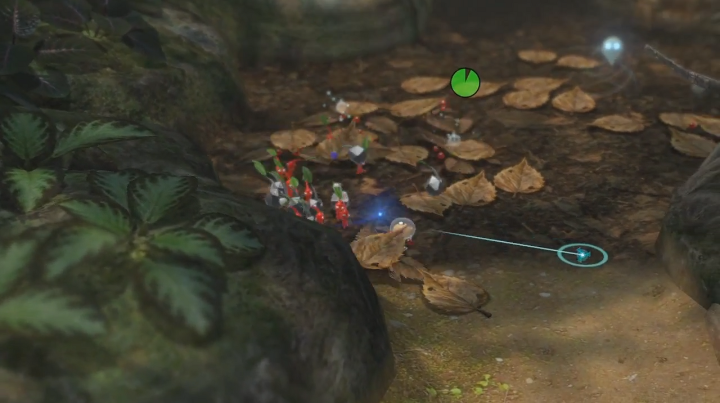 This enemy looks like a member of the Bulborb family, but with an ant-eater tongue. Notice the 50 Coin graphic at its feet? More on that later...
New Features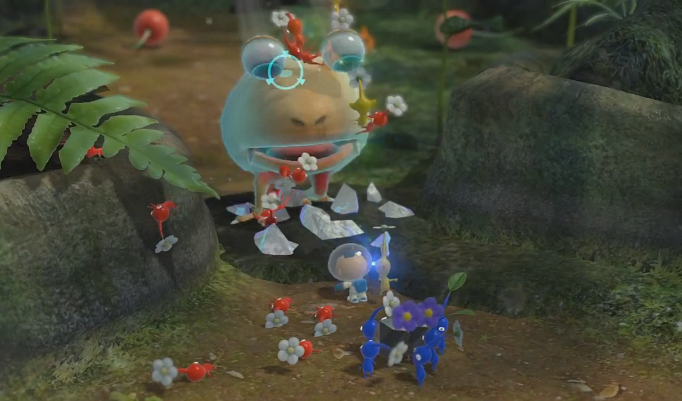 It appears that the enemies or objects you're targeting with your reticle glow a slight blue.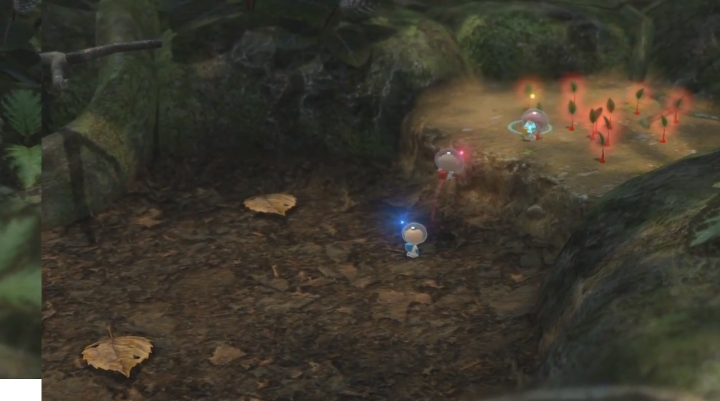 With four leader characters on the field, they can toss each other around to reach new heights!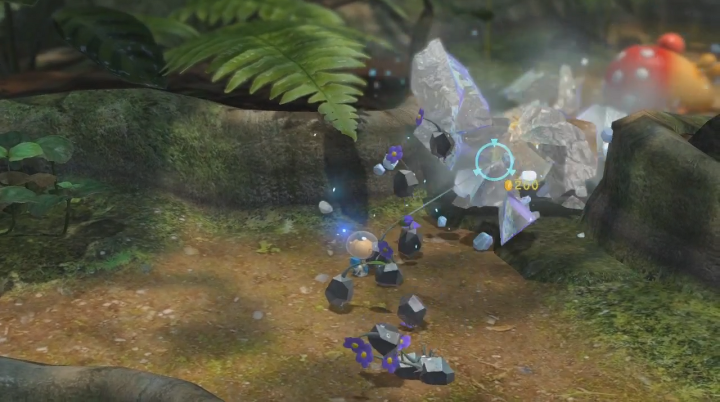 Challenge mode might be based around doing things to earn coins, like breaking this ice to earn 200 coins. A timer is on the upper right of the screen.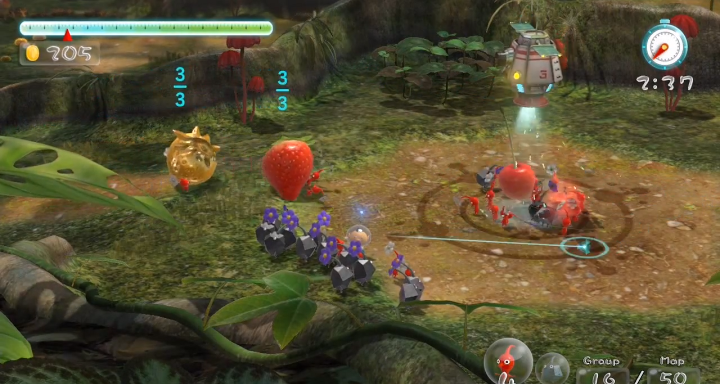 Challenge mode appears to put a coin counter in the upper left. Here we see a new spaceship that might be replacing the Pikmin Onions as your homebase. Cherries seem to be worth 20 coins, strawberries worth 50, and we're told that golden strawberries are worth 500!
New Objects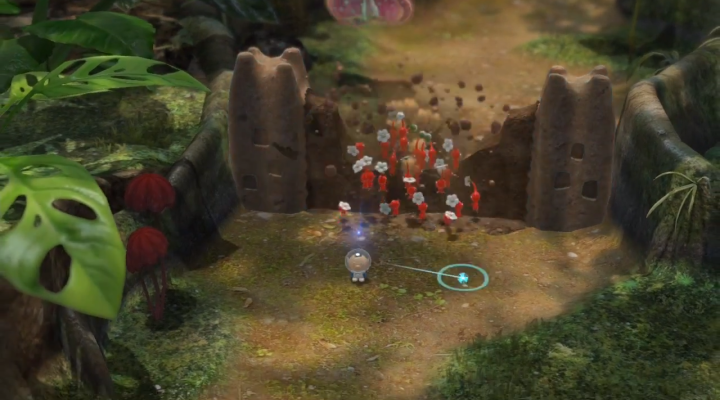 Doors apparently break apart with much more detail than in previous games where they just slid into the ground in a cloud of dust.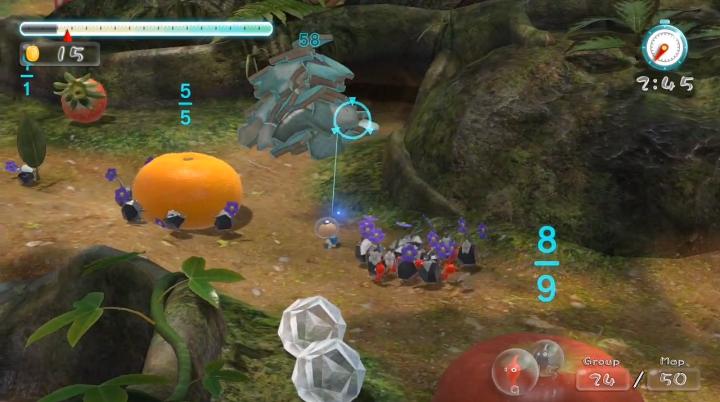 There are piles of ceramic tiles around the place with a number indicating how many are in the heap.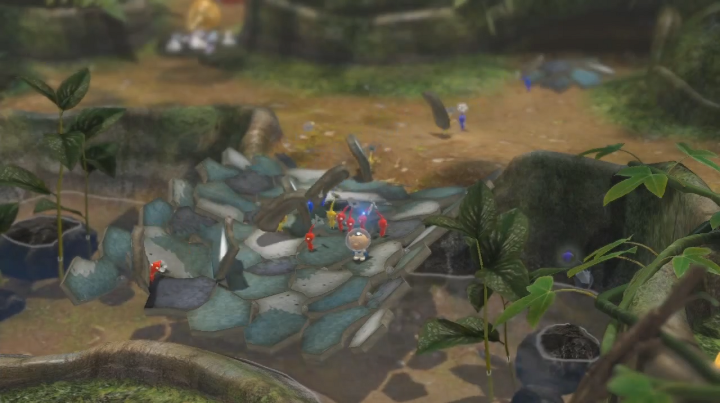 They're used for building bridges. The Pikmin carry them much like leafcutter ants carry leaves. Previous games just had Pikmin work on a single pile of twigs until a bridge was built.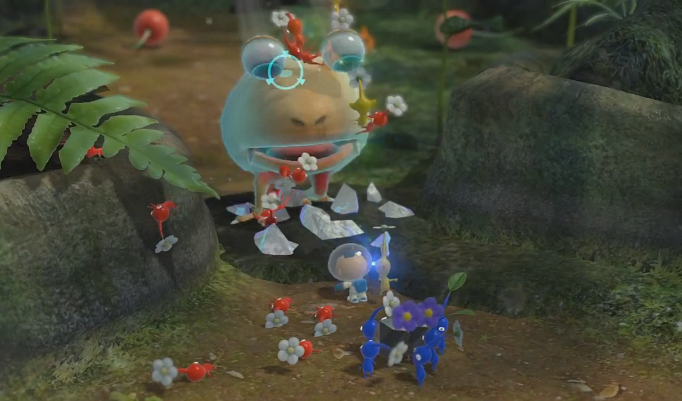 The new glass-like walls seem to require rock Pimin to break through.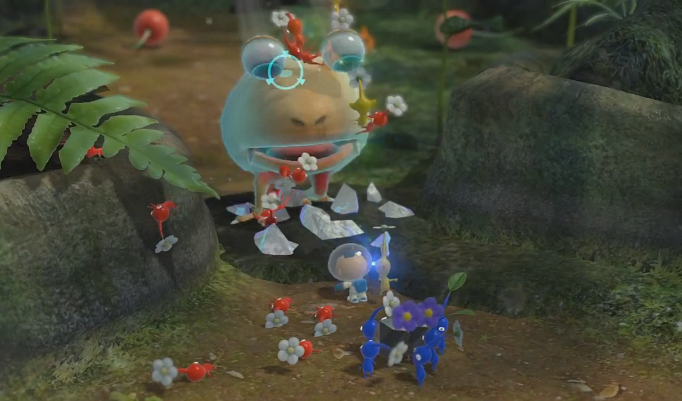 The glass-like walls explode with all the power the Wii U has to offer.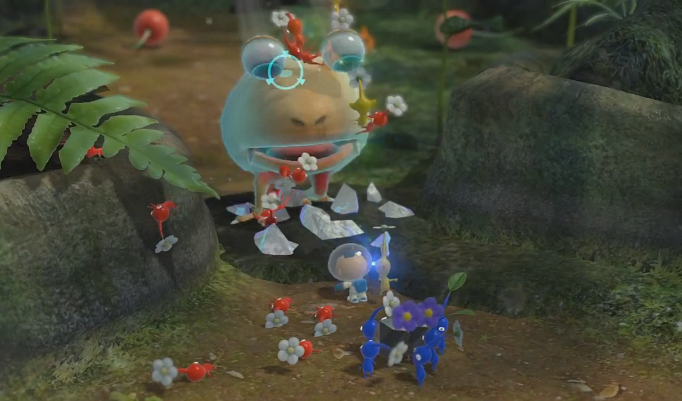 The glass-like walls are generally see-through and might be easy to miss if you're not watching for them.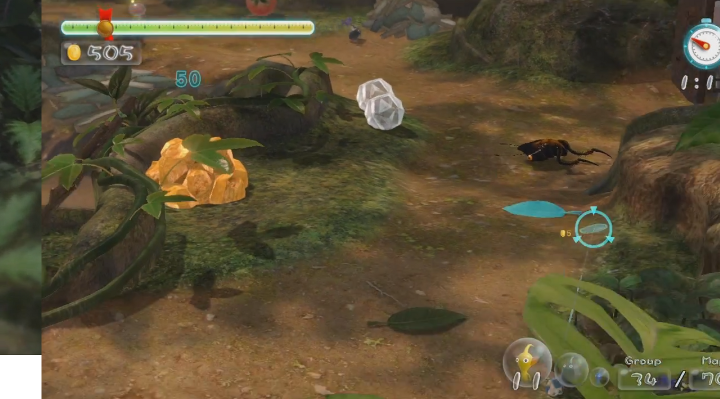 Here we see some new items: a pile of what appears to be gold bits, and two white/transparent rocks that we don't know the purpose of.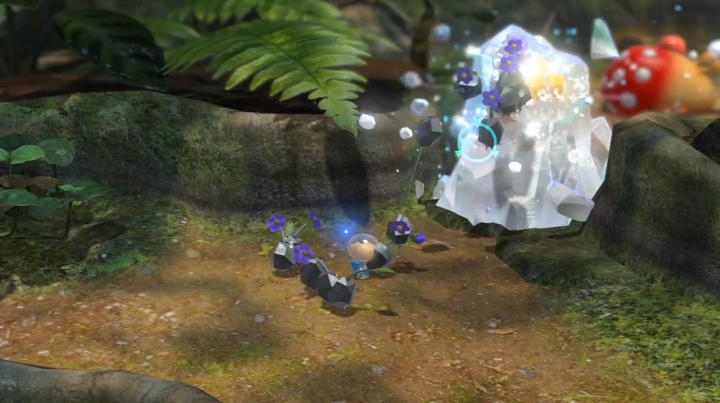 That orange is encased in ice or glass, looks like a job for the Rock Pikmin!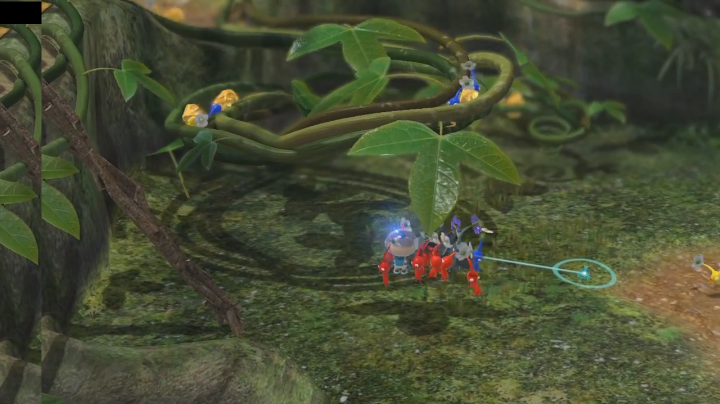 This vine slide allows Pikmin to descend in one direction quickly. Here they appear to be carrying the gold bits back to base.
The Original Text preview follows:
Nintendo's finally lifted the veil covering their return to the Pikmin franchise. The Pikmin franchise features unique gameplay where "leaders" (characters visiting the Pikmin planet in space suits so they don't breath the poisonous air, as explained in previous games) grow, corral, and command the multi-colored Pikmin creatures in their miniature world where even simple flowers and tree roots are significant terrain features. However, there's plenty of new tidbits hinted at by Nintendo's released assets on the game.
Like previous games, the Pikmin can be led to items and pick them up. Some items are tools that can be used later to solve puzzles (Nintendo showed footage of Pikmin carrying pieces of flat leaf-sized material like army ants to rebuild a bridge) and past games have let Pikmin pick up bomb rocks that can be used on enemies or obstacles. Of course, it will take multiple Pikmin to carry large and heavy treasures back to base, or to take down the large alien enemies of the Pikmin world. Pikmin 3 showed shots of the an entire Pikmin army floating down a forest stream on a Lilypad, demonstrating not only the scale of the world but a potentially new method of travel.
Nintendo claims that the intuitive controls allow for players to directly target enemy weak points or objectives to throw Pikmin at. The trailer shows how specific targets glow with a slight blue aura when targetted in order to show players exactly what they're going to throw a Pikmin at.
Unlike previous games, "real world" treasure like Duracell batteries or Soda cans weren't shown in Pikmin 3. Instead, all the giant "treasure" we've seen so far has been fruit. But the current trailer for the game revealed some gold fruit which might potentially be worth more than regular treasure. There's also what looks like chunks of actual gold rock that Pikmin can also retrieve.
At Nintendo's E3 Press Conference they also revealed that none of the four "leader" characters in the game commanding the Pikmin will be Olimar, the protagonist from the two previous games. Apparently, his absence is a "secret", opening the possibility that the story of Pikmin 3 might revolve around a rescue mission for character. The fact that Pikmin 3 will now allow four four leader characters on the field instead of just one means players can better manage their Pikmin, and a screenshot even showed one leader character throwing others up onto a ledge that was otherwise unreachable.
Nintendo also revealed a new Pikmin type, Rock Pikmin, in addition to the five original Pikmin types (Red, Yellow, Blue, Purple, White). Rock Pikmin (which do almost look like rocks with Pikmin eyes on them) were shown being thrown against hard barriers to break them down quickly, or used to crack through the hard shells of enemies.
Other new additions sighted in the trailer footage included transparent gates that might require the new Rock Pikmin to break through, a hovering spaceship pod that Pikmin return treasure to (could this mean that the Pikmin Onions that served as homebase in the previous games will not return?), what looked like ice encasing a fruit that needed to be broken down by throwing Pikmin at it, and vines that Pikmin can slide down quickly even while carrying stuff to allow them to get back faster.
Since the game will be coming for the Wii U, players can see an overhead map of the gameworld on their controller's screen that tracks the Pikmin's movement in real-time, likely a valuable feature since previous games have had up to 100 of the creatures on the field. Players are supposed to be able to quickly view different areas of the field by directly sliding their finger across the GamePad screen.
The game can also be played with just the Wii Remote and Nunchuk.
After completing a stage, Nintendo revealed that players have the option to view a replay video fo their game. They can fast-forward, rewind, or pause and review their performance and what they did right or wrong before potentially replaying the stage.
This focus on optimizing play will likely be rewarded in the game's new Mission Mode, where players are challenged to gather as much treasure in a level given a time limit.
The fact sheet for Pikmin 3 lists the game as supporting one player, so it remains to be seen if the multiplayer from Pikmin 2 will make a return.
Keep your eyes on Nintendo World Report as we continue to cover E3 and dig into the latest Nintendo news, especially when it comes to exploring the new worlds, creatures, and features of Pikmin 3, which is slated as a Launch Window title for the Wii U.