DreamRift couldn't decide whether to make Castle of Illusion or Epic Mickey, so they decided to do both.
A collaborative effort between Junction Point and DreamRift, Epic Mickey: Power of Illusion is positioned as the handheld experience the Epic Mickey series deserves, which, Junction Point founder and Creative Director Warren Spector concedes, Junction Point (developer of Epic Mickey and its upcoming sequel) was unprepared to tackle on its own.
"We knew we didn't have the internal capacity—or expertise, frankly—to do a Nintendo 3DS game," he stated in an interview published by Nintendo Power in April. Nevertheless, the developer maintained an active interest in creating a handheld version of the Epic Mickey experience.
In the search for capable developers to handle the project, DreamRift—whose previous projects include Monster Tale and Henry Hatsworth on the DS—stood out to Spector.
"And once you start looking at track records… I mean, Henry Hatsworth and Monster Tale are terrific games. So we got in touch with them and, interestingly, Peter [Ong] flew out here and showed us a pitch for a game that involved painting and erasing on the bottom screen of the N3DS with action-adventure platforming on the top.
"And I just sort of went, "Huh. Think this was meant to be?"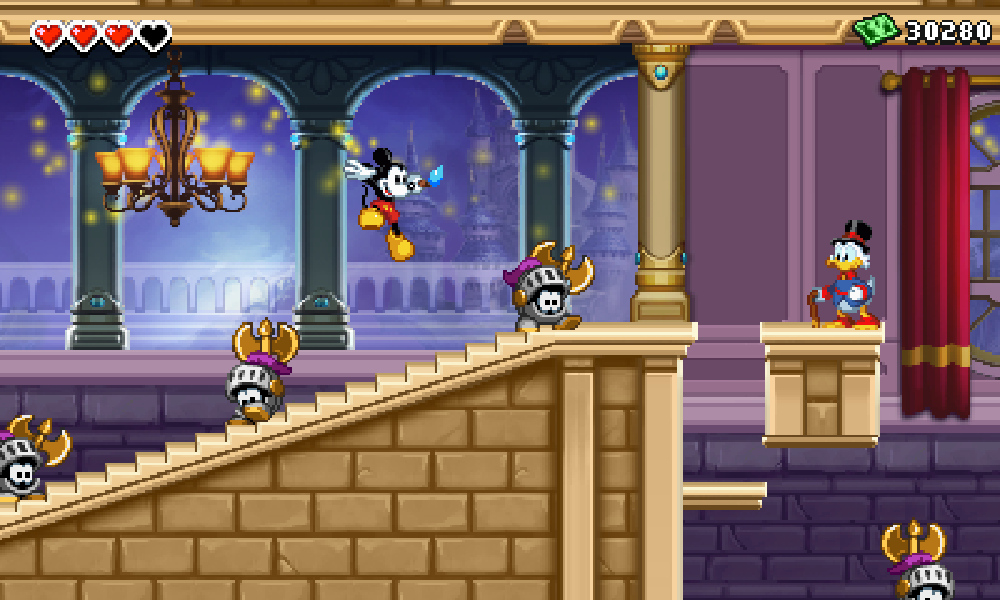 Like DreamRift's previous two projects, Power of Illusion is a 2D platformer. Rather than keep in line with the traditional platforming roots of its namesake and partial inspiration—Castle of Illusion Starring Mickey Mouse on the Sega Genesis—though, Power of Illusion takes from the fresher Epic Mickey series by incorporating its paint and thinner mechanics. As you progress through each level, there are opportunities to paint objects into existence by tracing them with your stylus; the more precise you are, the better the outcome. Erasing requires using thinner (also applied with the stylus) to cover a given object. Rather than skill, speed is required for this gameplay aspect, as there is a thinner meter that depletes as it's used. Castle of Illusion fans should feel right at home with Power of Illusion (some mechanics, like Mickey's classic bounce attack, are direct callbacks to the original), a trait DreamRift co-founder and Power of Illusion director Peter Ong feels strongly about.
"Our goal is for people who played Castle of Illusion to feel a similarity from the original game," Ong explained to Nintendo Power, "while at the same time we would like to take the incredibly imaginative and artistic approach of the first game and explore it further in order to give a more intimate look inside the castle."
Power of Illusion seems incredibly faithful to both Epic Mickey and Castle of Illusion from a story and presentation perspective. Taking place sometime after the events of Epic Mickey, the game finds Queen Mizrabel (the villainess from Castle of Illusion) stuck with her castle in Wasteland. Angry about her new location, she attempts revenge on the cartoon world by manifesting illusions of popular Disney characters (like Peter Pan and Scrooge McDuck) and stealing their essence. However, doing so draws the characters they mimic into the castle before trapping them there.
Mickey, tasked with saving them, is thrown into various Disney-based levels, including locales based on "Tangled," "Sleeping Beauty," and "Peter Pan." Between levels, players can explore to Mickey's fortress and visit its previously saved occupants. Although the room for each character starts rather barren, the spaces upgrade as players complete side quests for them. Like the original, completing these side quests sometimes results in rewards, and in Power of Illusion, players can receive things like sketches or health meter upgrades. The sketches you earn allow you to create and place certain objects at any point throughout a level, though the number of objects the player can bring in is limited.
Oswald the Lucky Rabbit returns in Power of Illusion, and like the upcoming console sequel, will be instrumental in helping Mickey complete his quest. There's no indication of a multiplayer component to accompany his return, though co-op of some kind does not necessarily seem unlikely.
Epic Mickey: Power of Illusion is set for release later this fall.