The DS sequels get some needed 3DS functionality.
The software revealed as Pokémon AR Searcher during the Nintendo Direct event last month now goes by Pokémon Dream Radar. Coming out the same day as the Pokémon Black and White 2 in Japan (and around the same time as the release of the sequels in other territories, as well), the game is intended to act as a downloadable companion on the 3DS—something especially interesting considering Black and White 2's release on DS.
Considering the Japanese title, one could correctly assume the game relies on the handheld's augmented reality capabilities to capture Pokémon, which can then be transferred to either Pokémon Black or White 2. The transfer process itself is entirely contained within one 3DS system, a relief considering the reliance on two DS systems needed to transfer Pokémon between Black/White and Diamond, Pearl, and Platinum versions.
The only question I have regarding Pokémon transferring is what kind of limit will be imposed on the player. For Pokémon fans who buy both Black 2 and Dream Radar on the same day, my guess is that Game Freak simply won't allow the broken prospect of unlimited captures and transfers, lest legendary captures become available to the player by the time they hit the second gym. My guess is that either one or three captures will be permitted daily, with some skill ladder determining that you need to be at a certain in-app "level" to get stronger captures.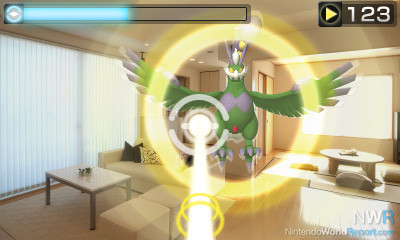 The most interesting piece of information out of the upcoming release is that the new forms of Tornadus, Thundurus, and Landorus (sometimes referred to as the Kami trio), called their Sacred Beast forms, will be entirely exclusive to the new application. While this is incredibly interesting, I suspect the chances of encountering these creatures will be slim at any given time, and may require a lot of in-game work before any of them even become available. We also don't yet know how many creatures can be obtained in the game, and outside of Ralts and the new forms, pickings on the subject have been quite slim.
Lastly, we now know Dream Radar takes place in an area called Dream Valley, and features Professor Burnett, whom the player assists with her research on the area. At the moment, I have no idea what to make of this, but considering the game's debut at 300 yen, I suspect the plot will simply act as a reason to be there within the context of the series.
Pokémon AR Searcher releases in Japan June 23, and releases in Europe and North America as Pokémon Dream Radar later this fall.