Mario's return to the handheld court comes with a few changes.
In an interview from 2008, Hiroyuki and Shugo Takahashi, the brothers heading up Camelot Software Planning, commented on the developer's relationship with Nintendo and what it meant for Camelot's future projects.
"We still do have a very close relationship with Nintendo. But one thing is, for example, if we would want to make a sports game that isn't necessarily a Mario game—well, if we made a sports game with Nintendo that wasn't a Mario game, players would immediately ask why it wasn't a Mario game. So there is a lot of things like that which we consider."


Starting with Mario Golf on the Game Boy Color and Nintendo 64, Camelot built a favorable reputation for its frequent, sports-based collaborations with Nintendo, often melding deep role-playing elements with a simple and cartoony interpretation of whatever activity the plumber and friends were added to.


The last Camelot Mario sports jamboree came four years ago in the form of a New Play Control! adaptation of the GameCube's Mario Power Tennis. Since then, the Japanese developer—also known for the Shining Force series of RPGs on Sega consoles and handhelds, and the two Golden Sun RPGs on the Game Boy Advance—revisited to the latter series, releasing Golden Sun: Dark Dawn for the DS in 2010.

In an interview with 1UP in late 2010 following Dark Dawn's release, Hiroyuki Takahashi touched on Camelot's reasons for returning to the Golden Sun series, and how the decisions affected development of other titles.


"We knew there were many requests from fans, and Nintendo always requested a new Golden Sun game, but we simply could not find suitable timing; after the previous [Golden Sun] title, we were developing Mario sports titles. In fact, we were planning to develop a Golden Sun sequel right after Mario Tennis Advance."


But, Takahashi noted, Camelot lost several team members before production could begin, and had to take time to train new hires.
"It wasn't reasonable for us to try and develop such a huge game like Golden Sun at that time."

After taking some time to expand, Takahashi said the company was finally prepared for the task of creating a new Golden Sun. The necessary delay in development on Dark Dawn had Camelot releasing the title at the end of 2010, just months before the release of the 3DS, a fact that might account for Mario Tennis Open's release date.
"The fact is," Takahashi noted, "that [Dark Dawn] took longer to create than we had originally planned, and we had no prior insight into when the Nintendo 3DS would be announced."


Timeliness aside, Camelot is once again helming a Mario tennis game on a Nintendo handheld, though from everything we've seen and heard of Open, the game might resemble a console Mario sports experience.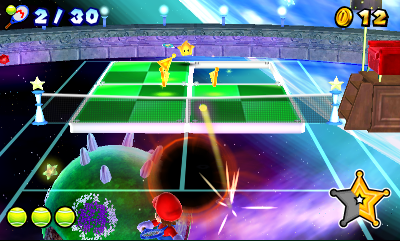 At its core, Open works with the same sort of Mario-flavored tennis mechanics as previous games, with a few 3DS-specific conceits. Alongside basic movement and shot mechanics, Open takes advantage of the touch screen by assigning sections of it to pre-programmed shot types, giving players constant access to an arsenal of useful moves. A second method of directing shots is also available, which eliminates the need for control over character movement and employs the system's gyro controls to aim shots.
The cast of playable Mushroom Kingdom regulars numbers 17 this time around, though a handful (including Dry Bowser, Baby Mario, Baby Peach and Luma) remain locked at the start; unlocking them requires players to complete Open's four Special Games. Each series mainstay falls into a preset specialization category (e.g., All-Around, Technique, Defense, etc.).


In addition to the static characters, players can import and compete as a created Mii. Through participating in Open's different modes, players acquire coins to spend on a number of stat-boosting rackets, wristbands, and other items. Each item imparts a different effect on the Mii's stats in a few different categories, and wearing a matching set provides yet another beneficial bump.
When asked about Camelot's inclusion of Miis in its 2008 game We Love Golf, the Takahashi brothers spoke about their use of Nintendo's avatars.


"I think maybe the problem is that a lot of developers are having relates to how they are trying to use the Miis in their games. Of course, our games as well—we have characters that we provide that players can select, but we feel that maybe the way we use Miis is rewarding enough that Nintendo felt it was worth it."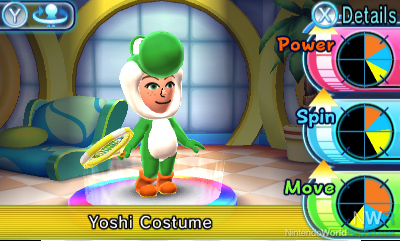 The quote highlights a few parallels between Camelot's Mii use in We Love Golf to Mario Tennis Open, and illustrates what Camelot appears to be aiming to accomplish—player specialization of a Mii for a certain style of play—by including them as blank template characters.


To achieve that end, players accrue coins in Open's assortment of mini-game style modes. Each of these skill-focused exercises teaches one or several tools of play (controlling high and low shots, for example, or working the ball around the court to make things hard on an opponent), and contributes to overall growth.


We've yet to see, however, if this cycle of playing the special modes to earn coins, purchase items, and apply those to the single player modes can work as a replacement of sorts for the RPG mode—a staple of handheld Camelot Mario sports games—Open lacks.


Speaking with Nintendo Power earlier this year, Hiroyuki Takahashi responded to an inquiry about the absent mode by declaring that, although Open is a handheld title, Camelot developed it as they might a console game.
"With aspects like download matches and online matches made possible by the hardware," Takahashi added, "the game has a feature set more similar to console games."


He continued by noting that an original RPG-style storyline might not support the inclusion of Mii characters, but touted the customization aspect of the avatars in Open as an RPG-like element.
In an interview from 2004, Takahashi commented on the lack of an RPG mode from Power Tennis on the GameCube, saying that those kind of elements "are best suited to a deep single-player experience." While Mario Tennis Open features single-player experiences in its Tournament and Exhibition modes, Camelot's main focus for the game might well have been making a fulfilling online component. Open features Exhibition and special mode multiplayer for up to four through local and download play, as well as online matches against friends and strangers, while its StreetPass functionality lets you play against or alongside AI representations of others and show off your Mii.


Mario Tennis Open releases May 20.