The new action-RPG aims for expanse on the 3DS.
In a year potentially seeing the release of both Diablo III and Torchlight II, room for another isometric role-playing game heavy with dungeon exploration and loot management might not seem likely. While the aforementioned pair will reign over the PC space, however, Heroes of Ruin looks to fill the same role on the 3DS. Though its game exists on a more limited plane than the other heavyweights in the genre, developer n-Space seems intent on imbuing players with a similar sense of depth in Heroes of Ruin.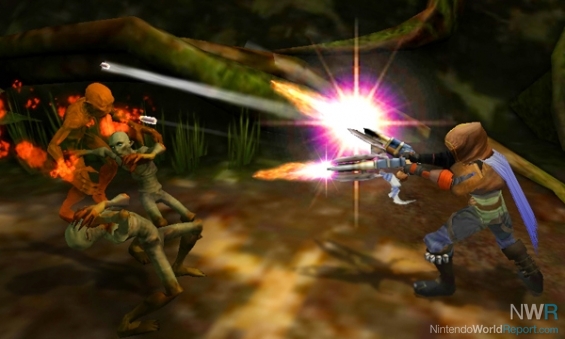 Players begin by choosing one of four mercenary characters vying to uncover the item necessary to removing the curse afflicting Ataraxis, ruler of the game's central city, and earn a hefty reward. Each character (the Gunslinger, the Architect, the Vindicator, and the Savage) carries a unique motivation for completing the underlying quest, and embodies one of the game's four classes: the Gunslinger excels in the use of firearms and all manner of ranged weaponry; the Savage relies on brute force and up-close attacks; the Architect employs a variety of spells to dispatch enemies; and the Vindicator moves through battles wielding a sword. Though the unique skills of each differentiate the characters' combat styles somewhat, each has a suite of standard actions, including normal and charge attacks, blocks, and dodges.
Additionally, each class has access to three skill trees. Referred to as the Sentinel, Warden, and Crusader branches, these lines of similar skills can be upgraded with experience to bolster a character's current powers or gain access to a handful of new abilities. Upon leveling up, a character also receives statistical bumps in three passive categories: Might (which governs the amount of damage dealt by the player), Vigor (a measure of a character's health), and Soul (the amount of "energy" a character holds).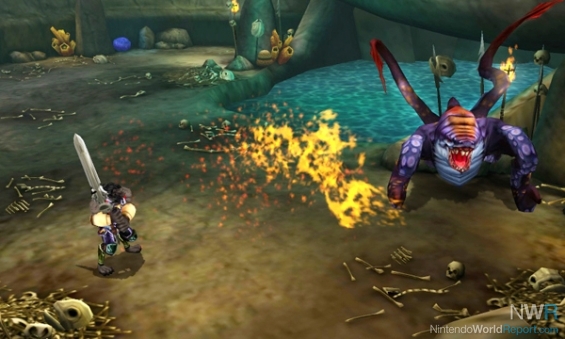 Though only a single character represents each class, player are able to customize their choice, first through variations in skin and hair color, and later by equipping acquired or purchased loot and items. An extensive randomization system governs the latter in Heroes of Ruin (including weapons), a feature that could presumably offer myriad paths of character customization, as well as incentives for thorough and continued exploration of the game's numerous areas and side quests.
In addition to the single-player component, Heroes of Ruin features several online and multiplayer systems. Up to four players can drop into a game and play together using Wi-Fi or a local connection, with the game automatically fluctuating the difficulty to account for the number of participants present. During cooperative play, the game also tracks and doles out experience based on the amount of time spent with a given companion. Heroes of Ruin also uses both StreetPass and SpotPass to give players access to the Traders' Network (a market in which players can buy and sell items with each other), and daily challenges and quests, respectively.
The release date for Heroes of Ruin is currently in flux. It was originally slated for an early 2012 release, but has been pushed back consistently. Right now, the 2012 part is the only thing we're sure about. It could be out by summer, or it could slip until fall. Who knows.