Write anything; solve everything!
Scribblenauts is an inventive game from 5TH Cell, the creators of Drawn to Life and Lock's Quest. It stars Maxwell, a young kid who is looking to collect Starites. The game's hook is that you can write anything you want and then have it appear on screen to help you solve each level. Players are presented with a number of challenges spanning 200 levels across 10 worlds. Each challenge has more than one written object that can be used to solve it. Naturally, you'd think there would be limitations to this, but it is hard to find many holes in the game when it boasts tens of thousands of words that can be jotted down or typed into the touch screen.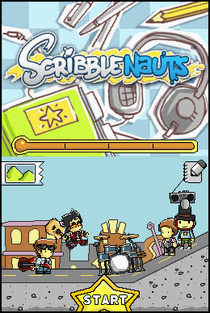 The game begins with an interactive start screen, a 5TH Cell staple, where players can write whatever they want and experiment with different words and objects. For example, the player can get a unicycle on screen, and then a panda. Then they can put the panda on the unicycle and ride the panda. Finally, they can get the panda to eat bamboo. The possibilities are only limited by your imagination. Even the word "lamer" produces a slow-moving kid with a dunce cap.
Each of the 10 worlds includes 22 levels with half of them in action mode and the other half in puzzle mode. Action mode shows you the Starite that you're trying to collect and tells you how many ways you can go to get there. In the level we saw, the Starite was on the other side of a wall and Max could either go over it, through it, or through the water below it. A trampoline or spring could help Max over it, while scuba gear could've helped him go through the water.
In puzzle mode, you don't see the Starite on screen. Instead, you must figure out how to get the Starite to show itself by figuring out the in-game hint. We saw two different levels. In one, a guy needed to be refreshed or cooled. Drink worked, and so did rain cloud. In another level, Max had to help the patient with their vision. Glasses are the most obvious choice, but bifocals, monocle, and magnifying glass all work as well. After the puzzle is solved, the Starite appears and the level is completed.
Each level also has an item par, with the majority of them having pars of 2, 3, or 4. Some levels even have items that you must use to your advantage in order to make par.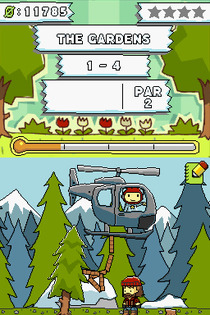 By completing levels, players earn merits and Ollars. Merits are simply collectible badges earned by completing specific objectives in levels, while Ollars are the game's currency that can be used to buy new avatars, songs, and extra levels.
The North American version can be played in various languages ranging from English and French to Spanish and Brazilian-Portuguese. The game also features a level editor where players can share their user-created levels over the Nintendo Wi-Fi Connection.
Scribblenauts is aiming for an E10+ rating and is due out this fall.