A Super Paper Mario demo at the Tokyo World Hobby Fair shows off this game's goods in a boss battle.
Last updated: 06/18/2006 by Michael "TYP" Cole
PGC reader torsodog recently uploaded a video of Super Paper
Mario from the Tokyo World Hobby Fair. The video features a playable boss battle and conveys more of the game's
mechanics and visual style.
As previously reported, the player can switch between a side-scrolling and 3D camera at will with R. The animation
accompanying this switch is a rectangle drawn around Mario by a mouse cursor. A depleting meter appears when in the 3D
view, suggesting a time limit on this secondary view. After jumping onto the lunging dragon Mario must fight along the
dragon's lengthy back. Tiny enemies appear on his back, which Mario can pick up and throw (Super Mario Bros. 2 style)
at the dragon's vulnerable antenna/horn by throwing his trailing partner like a boomerang. As the dragon takes damage
he takes evasive action by flying in a circle, forcing Mario to run to remain on screen.
Another video shows the player switching
between Bowser and Mario on-the-fly. Other interesting touches include objects drawn onto the screen (such as a door),
heart (hit) points and a score meter, and a menu of what appears to be battle items from the Paper Mario universe.
Super Paper Mario is set for an August 13 release in Japan, and will reach North American stores October 9th.
---
Last updated: 05/28/2006 by Evan Burchfield
Re-examining the press video and screenshots for Super Paper Mario, a few answers and a few more questions are unearthed.
Firstly, during the video, you can clearly see what is either a damage or experience point system being utilized. Whenever one of the three heroes attacks an enemy, the number "one" appears in the air. This could indicate the damage inflicted by Mario, and enemies with more health than "one" could appear later. This could also be an experience point system. Coins also appear from beaten enemies, further supporting the theory that items or services can be purchased, as in past Paper Mario games.
Visible in the press video and screenshots are two small, neon figures; one is obviously a butterfly, while the other is at times a flying bomb and at others apparently a fire flower. The best guess is that the butterfly is a sentient creature who carries items for our three heroes. Perhaps they will also aid in battle like in previous Paper Mario games, or offer advice a la Navi in The Legend of Zelda: Ocarina of Time. Their full usage and story significance should be revealed shortly.
Also seen in the video are two unique gameplay modes: one has Mario flying through space with a flamethrower, and the other has Mario walking and jumping on the left-hand wall, as though gravity has shifted to the left side of the screen. Combined with the giant 8-bit sprites, Super Paper Mario seems to offer a lot of diversity.
Finally, here is a screenshot comparison showing what the 3-D world looks like after switching from 2-D.
Typical 2-D: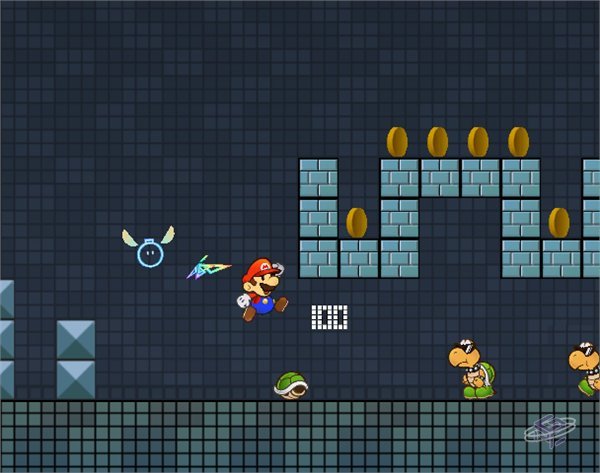 Switched to 3-D: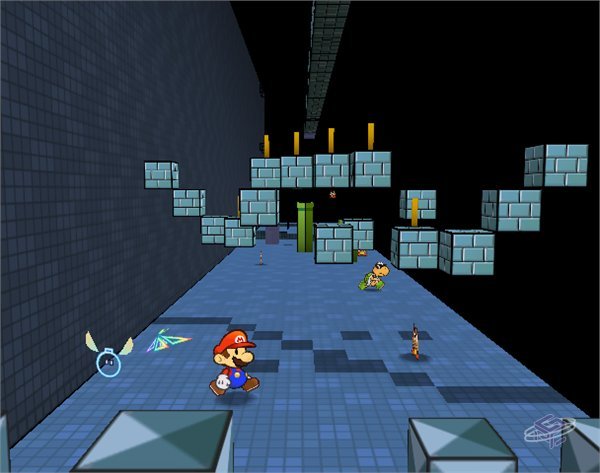 2-D: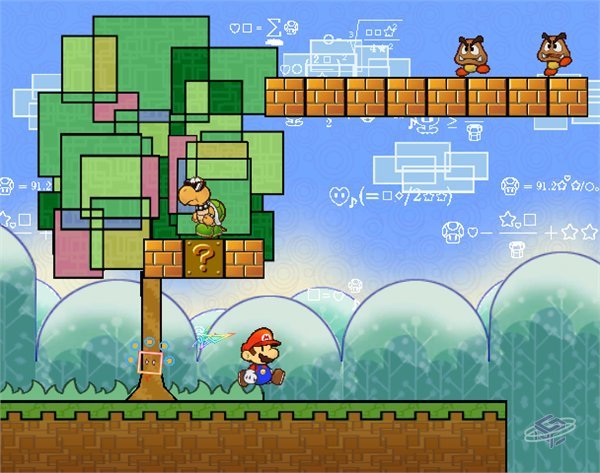 3-D: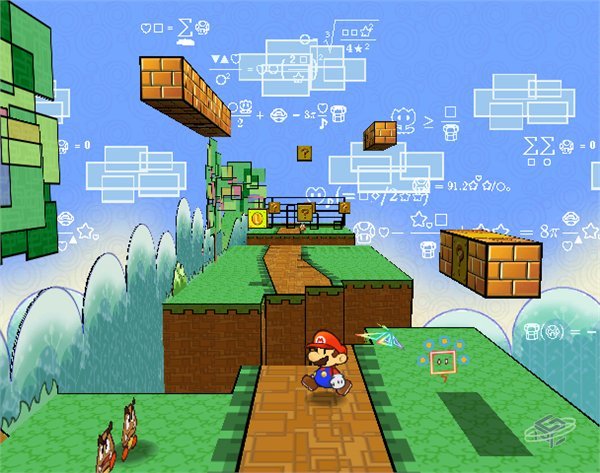 Once examined up close, it seems either your progression is impeded until you switch to 3-D, or by switching perspectives you can access secret areas and items.
Thanks to Scott and forum reader Vudu for the information.
---
Last updated: 05/11/2006 by Evan Burchfield


Super Paper Mario is sadly missing from the E3 show floor, and word is it's not even behind closed doors, but that doesn't prevent it from being one of the show's most talked about titles. Everyone has gone mad for the screens and video, and though we've seen just as much as you, we do have a few extra details.
First, in basic detail, here's what we know: the game takes place in the Paper Mario universe and has a side-scrolling emphasis. There are scenes in the promotional video of Mario, Peach, and Bowser jumping around, collecting coins, and landing on baddies in a traditional way. It also seems that Mario can, at whim, change into Peach and maybe even Bowser. One scene in the video has Mario climbing a ladder and when he reaches the top, he turns into Peach and floats down with his umbrella. The best assumption is that these three characters will have separate paths through the game, in a manner similar to past Paper Mario games, and that eventually they will meet up and combine forces.
There are also a couple shots of Mario turning into a giant character, but with 8-bit graphics. This seems to play similar to the giant mode in New Super Mario Bros. Finally, it is clear that plot and even some RPG elements will play into the game. This shot shows what is obviously a cinema scene and perhaps the setup for the game's plot, while this shot shows Peach roaming around town. Looks like she can enter houses and talk to people; buying items is likely, but unconfirmed.
One of the biggest mysteries about the game is what the heck is up with the 3-D perspective? Word from Nintendo is that the game is a 2-D platformer that can switch to 3-D on the fly. With the press of a button during gameplay, the perspective will change and you'll be on the same piece of land, just 3-D. The 3-D movement appears to be along the lines of Paper Mario games of the past, where left and right movement are more encouraged, while north and south are a bit more difficult. It's not apparent why you would go to the 3-D perspective, or if it would only work in some areas. It also seems, from the screenshots, that when you go into the 3-D mode that you are limited to your immediate area. No jumping over chasms or navigating the entire level headfirst.
Nintendo decided to make this game for the heck of it, apparently. When asked whether Intelligent Systems was done with Paper Mario RPGs, Nintendo merely said, "We just make what looks fun. And Super Paper Mario is a lot of fun."