They're Norwegian, wear red sweatsuits, love dark sunglasses, and produce funky electro rock music...and they're gamers. Massive Commodore 64 love inside.
Norwegian electro rock band DATAROCK are known for a love of technology, 70's and 80's pop culture, funky red sweatsuits, and dark sunglasses. With this in mind, it's no surprise that they also harbor an affinity for old-school video games and Nintendo in particular. Their signing to the EA-affiliated Artwerk label has allowed their music to appear in numerous EA games, including FIFA 08, 09, and 10, NHL 08, Madden NFL 08, and The Sims 2: Free Time, among others.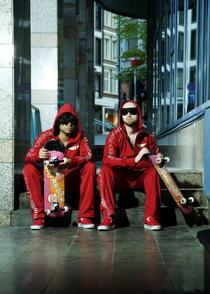 With the recent release of their second full album RED, DATAROCK members Fredrik Saroea, Kjetil Møster, Tarjei Strøm, and Thomas Larssen are ready to bring their love of BMX and Commodore 64 to the masses. NWR caught up with Fredrik as he and the band prepared to embark on their worldwide tour.
Nintendo World Report (NWR): Let's start off with a little background on DATAROCK. Tell us about how the band formed, your music, and your overall concept.
Fredrik Saroea of DATAROCK (FS): It formed through metamorphosis, our music is made of the matter called love, and the concept is trying to help carry the world to the other side of this recession.
NWR: Tell us about your new album, RED.
FS: It's a brand new year, and even though you're all either in the red, seeing red, on red alert, or being caught red-handed, DATAROCK's got good news for each and every one of you: the difficult second album is finally finished and it's the best thing to happen to mankind since the C64.
DATAROCK's "RED" is no less than a masterpiece based on the good old principle of artistic theft ("amateurs borrow, professionals steal"), and of course again we've dug ourselves into the data about the rock of the late seventies & early eighties: the art, the music, the films, the subversive & popular culture, the new theory, the new technology and all that new equipment. As I'm sure we all agree there's never been a more exciting period of time within the world's collective cultural history. The years between '76 and '83 are in all ways the peak of cultural evolution. The zenith, the rise, and the fall.
When starting to produce we decided to try and create a brand new trinity of inspiration. Fela Kuti, Afrika Bambaataa & Kraftwerk were to replace Talking Heads, DEVO and Happy Mondays, and all the equipment to go on the album had to be made before 1983. Of course, as Sophocles taught us long ago, one simply can't escape the natural course of events, so yet again that original trinity was right back in place. Gerald Cassale of DEVO even ended up helping out creatively in the process, by coincidence we ended up on a (?) shared stage with the Mondays on a number of occasions, and Talking Heads, well, I guess you all know we're pretty much just their little tribute band. No point in hiding the evident right, so one of the tracks is nothing but a tribute where we list some of DATAROCK's favorite Talking Heads tunes. The title's "True Stories" as in David Byrne's motion picture from 1986, and the video is all about paying homage to their classic concert movie "Stop Making Sense" from 1984.
We've essentially been working with the same guys and studios back home as we did on "DATAROCK DATAROCK", but this time we added a few stays with the Reverend over at Wendyhouse in London - some call it a house, we call it a home. For whatever reason this added a tiny bit of a new flavor, and though we're not quite sure where it all came from, somehow DATAROCK ended up doing something new. We got a little bit of West End, a hint of the Caribbean, a dash of West Africa and a whole lot of pulsating postmodernity. Was it the Commonwealth rushing through our wains (through our veins)? Was it just hanging out in that multicultural metropolis?
Another thing new is the fact that we finally decided to come clear on a very important issue: DATAROCK never was just a duo. Cult or sect would be exaggerating, and in danger of invoking the red fear we're not gonna claim we're the red army. DATAROCK is very much a collective though, and most of the associated members were involved since the very start of this insanity. Let me introduce you to a few of them right away:
Adrian Meehan aka Reverend Breverend: backing vocals, drums, percussion, production & programming
Amund Ose aka The Male Nurse: backing vocals and percussion
Andy Duggan aka The Scotsman: booking
Andre Holt aka Dr Dre: administration
Antoine Bouillot aka The Frenchman: art direction & video
Atle Øksendal aka The Gosu: graphic design
Audun Mathias Øygard aka Audiogarde: backing vocals & keyboards
Bent Rene Synnevåg aka Not Bent: photo
Brad Owen aka The Agent: booking
Edward Warren aka Right Said Ed: light design
Eirik Moberg aka Dengis: backing vocals, guitars, keyboards, percussion & programming
Erlend Fauske aka Politest Guy Alive: keyboards, production & programming
Fredrik Saroea aka Rock Steady Freddy: art direction, bass, design, drums, guitars, keyboards, management, percussion, production, programming, video &
Vocals
Frode Flatland aka Frodello Bordello: backing vocals, bass & percussion
Frøydis Moberg aka Lady In Red: day to day management
Gaute Tenold Aase aka Luft: art direction & graphic design
Jostein Steinsland-Hauge: production & programming
Jørgen Eidem aka Mensch: art direction & graphic design
Jørgen Træen aka Duperman: guitars, keyboards, production & programming
Kato Ådland aka Major Seven: guitars, keyboards, production & programming
Ketil Mosnes aka Ket-Ill aka Ketel One: backing vocals, bass, guitars, keyboards, production & programming
Kevin Kocher aka Money Maker Money Money Maker: management
Kevin O'Brien aka The Minister: vocals
Kjetil Møster aka Ketel Two: backing vocals, keyboards, percussion, programming, sax & tour management
Knut Aaserud aka Polar Circle Boy: photo
Kristian Stockhaus aka Stockhaus: backing vocals, guitars & percussion
Kristin Egset Kjøde aka The Lawyer: finances & legals
Lisa Ferguson aka The Manager: business management
Mads Maurstad aka The Kid: photo
Mats Andersen aka Video Man: graphic design & video
Meghan Richardson aka Day & Night: day to day management
Ole-Thomas Kolberg aka Northern Star Groove Alliance: backing vocals, drums & percussion
Pascal Forneri aka The Godfather: video
Philip Loveday aka The Solicitor: contracts
Sofie Kjøde Saroea aka The Big Guy: logistics
Stig Narve Brunstad aka The Mystical Casio Operator: backing vocals & keyboards
Tarjei Strøm aka LA Gear: backing vocals & drums
Thomas Larssen aka T-Man: backing vocals, bass & stage tech
Thomas Paulsen aka Mr Fix It: booking
Tom Mæland aka Bad Bikini: backing vocals, keyboards & programming
Tor Kristian Liseth aka TK: production management
Tore Landro aka God Of Thunder: backing vocals, graphic design & keyboards
Yngve Leidulv Sætre aka The Silver Fox: backing vocals, keyboards, production & programming
Ørjan Kjærstad aka The Radiologist: backing vocals & percussion
Øystein Fyxe aka Half Man Half Camera: photo & video
Øyvind Solheim aka Ike Andy: backing vocals, drums & percussion
...and the list goes on and on and on.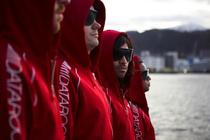 You probably wont believe it, but DATAROCK's already done close to 600 shows in more than 30 countries, and for that insane number of shows we've had to rotate the on-stage line up and share the administrative and creative responsibilities. If you've seen us twice it's pretty likely that you've seen more than four of the guys, put it that way. We're a few key members taking care of a lot though and whole lot of members taking care of a little, but only put together and joined forces we get DATAROCK as we know it. It's still pretty much a DIY affair. We're just a whole lot of selves to share the chores and get it done.
So there you go. A brand new album's finally out, the tracksuit's zipped up and DATAROCK's ready to wave that red flag for the second time.
The boys are back in town!
NWR: You definitely have a lot of 80's influences in your music, and Nintendo games are a huge part of 80's nostalgia. What are some of your favorite Nintendo games, and favorite games overall?
FS: Super Mario Bros. Those funny little f**kers.
NWR: Has video game music inspired or influenced the music you make today? If so, any games in particular?
FS: The Giana Sisters theme! Not exactly the latest game, but pretty new in our perspective.
NWR: Do you guys have a Wii or DS? If so, how do you like them, and what do you play?
FS: We've got pretty much everything out there, but we of course prefer the awesome modern classic, the ATARI plug & play all-in-one joystick! Can't stop playing! Just can't let go of that joystick.
NWR: Do you guys play video games when out on tour?
FS: Yes, the awesome ATARI plug & play - Jakks Pacific's ten classic Atari games in one classic Atari black and red joystick, for your pleasure only!
NWR: Who's the most skilled gamer in the band?
FS: Ket-Ill a.k.a. Ketel One. He's the man, man.
NWR: If you're familiar with it, what's the gaming scene like in Norway?
FS: Decent, with insane LAN parties like "The Gathering", OK writers, up and coming game companies, gamers in every fjord, and a long tradition of having fun in a gaming kind of way. I mean, just look at those vikings. That's like prehistoric live role gamers, you know. Of course we eventually had to develop a decent gaming scene.
NWR: What's it been like working with EA and Artwerk?
FS: I'd say pretty damn awesome.
NWR: Are there any EA games in particular that you're proud to have your music associated with?
FS: The various FIFA games, but also The Sims. Have you seen our little Sims video? Check it:
NWR: In your song Bulldozer you claim that "BMX is better than sex". Did you guys have BMX bikes back in the day? When I was growing up, this guy in my neighborhood had a really expensive BMX bike called a PK Ripper that I was always jealous of.
FS: We did indeed, but not the expensive ones. In fact, we'd like to find that kid and steal his f**king PK Ripper right now. Did you ever see Rad or BMX Bandits? That's way cooler than picking up a BMX just because of E.T. man. Really cool, man. Ice cold! Yellow BMX. Blue BMX. Or what about a Red BMX. That's what I'm talking about.
NWR: I'm always curious about the kind of gear musicians use. What are your favorite types of synthesizers, and do you use any old-school synths to get an authentic 80's sound? Any other notable gear that you're particularly fond of?
FS: We don't ever use soft synths, and all on this album it's all Juno-6, -60 and -106. But the one I'm really fond of is the Casio MT 64. That's the one on all our old tracks. Still bring it everywhere we go.
NWR: Commodore 64 games recently became available for download from Nintendo's Virtual Console online service. What are your favorite Commodore 64 games?
FS: MASK! Yeah!
NWR: Do you have any Commodore 64 game music (produced with the famous SID chip, which I love dearly) that you particularly like?
Fredrik goes on to list virtually every Commodore 64 game ever made. It's obvious that DATAROCK really loves the C64! – JL
NWR: Where can fans see where DATAROCK is playing in their area?
FS: If you go to myspace.com/datarock you'll find the basic info, but if you wanna go just a little deeper please enter www.c64.com.
Thanks to Fredrik and Jenny Jobring for the great interview!