Torus Games is working on a cute 3D side-scrolling platformer that is looking for a publisher.
Torus Games, are veterans of the game industry, originally founded in Australia in 1994,. They started making handheld games such as NBA Jam for Game Boy and Duke Nukem for Game Boy Color, and their latest Wii and DS project, Scooby-Doo! First Frights, is set for a September release.
They're currently working on an original IP called Little Monsters, a physics-based platformer featuring cooperative play and eight cute horror-themed characters. The game is early on and Torus is still searching for a publisher, but we got a chance to catch up with Head of Production Kevin McIntosh.
Before you read this, go check out the Little Monsters trailer.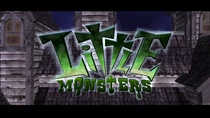 Nintendo World Report (NWR): What is Little Monsters?
Kevin McIntosh (KI): Little Monsters is a colourful 3D platformer featuring eight playable monster characters. Each monster will be unique in their abilities which will be used to defeat enemies, solve puzzles and progress through large 3D environments. The title features drop in/drop out cooperative play with both local and online cooperative modes. The playable demonstration was developed with the assistance of Film Victoria.
NWR: Where did the idea originate
KI: After our lead technical programmer's car broke down, we carpooled for a couple of weeks. We got to talking about original game concepts – he had recently attended his daughter's Eisteddfod where the kids were wearing glowing neon tubes around their bodies like skeletons. He started thinking about how fantastic it would be to incorporate childish, 'cute' monsters into a game, and things just flowed from there. I always credit his old car with the Little Monsters idea.
NWR: Are there any specific games that you have worked on in the past that have influenced Little Monsters?
KI: Our latest game, Scooby-Doo! First Frights, featured a lot of eerie environments that would be appropriate for Little Monsters in locations such as a castle, sewers, dungeon, abandoned fairground, and derelict cruise ship. There are also some similarities in combat and gameplay; like Scooby, Little Monsters includes two-player drop-in/drop-out cooperative play with the AI taking up the slack when there is no second player present. The environments in our Monster Jam titles were highly interactive and both Scooby and our Zoo Hospital titles were puzzle-focused.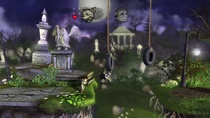 NWR: The physics and look of the game remind me a little bit of LittleBigPlanet. Was that game any inspiration to you? What games did inspire you?
KI: Little Monsters was an idea in embryo in early 2007, quite a while before LBP hit the shelves. However we were intrigued with the concept of LBP having cooperative problem-solving gameplay elements in an interactive 3D world with a side-scrolling camera perspective, which really fit with what we wanted to achieve with Little Monsters. We also drew a lot of inspiration from the LEGO series.
NWR: What are the different characters that you can play as in the game and why did you choose them?
KI: There are eight playable characters including a mummy, werewolf, witch, zombie, skeleton, and Frankenstein's monster (Franky). These are all highly recognizable archetypes of classic horror characters. Like most games companies, we run ideas past our own children for feedback and suggestions, and we found that kids aged 6-12 and above love the redevelopment of these iconic figures – they want to know how they have been used in this new concept and they feel a close affinity and familiarity with the characters.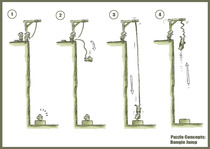 NWR: How does combat work in the game?
KI: Each character will have a specific melee attack; for example, Franky might punch, while Wolfy might bite or slap with his tail. It is light combat with some automatic combination moves as you chain together hits. We also have special abilities for each character that can be used in puzzles. For example, Wolfy has a wolf roar that will momentarily stun a bunch of enemies, but can also push objects from distance or blow wind into a sail for example.
NWR: How does the humor fit into the game?
KI: The humor comes from the characters and their interaction in the world and with each other. Simple things, such as their idle sequences have them tightening bolts on their head (Franky) or blowing snot bubbles (Iggy). I would liken it to Crash Bandicoot; the humor is in the characters and in the story that is told predominantly between levels.
NWR: What is an example of one of the game's physics-based puzzles?
KI: The puzzles in the game will be based on physics such as pulleys, trampolines, bungee jumping, cogs, see-saws etc. Fire, water, and electricity are all interactive. We also have puzzles that are specific to the characters – in one concept, the zombie pulls off her head and drops it down a chute, where it hits a button to open a trapdoor further along the path. She can then drop down the trapdoor and retrieve her head.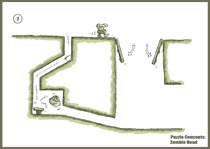 NWR: How important is it to have co-op in a game like this? How important is it to be family-friendly?
KI: Family-friendly games are easily the largest retail demographic – and they're a lot of fun! The cooperative aspect of the game allows parents or older siblings to assist young children during gameplay, and the option of players jumping in or out of the game at any time is well-suited to distractible small children. Also, anyone who has played the LEGO series of games knows it's a lot more fun with a friend. Games should be as accessible as possible, so we're moving away from the old model where you had to set up a specific multiplayer game from the Main Menu. Now, if you want it to be multiplayer, it is! And if you have to run out of the room for a moment, your character can progress in your absence.
NWR: You have the game running on Wii, Xbox 360, and PC. Is there anything drastically different between the versions? Are there any Wii-specific controls
KI: Currently Little Monsters is in a fairly early stage, so we don't have platform specific controls in there. We are planning to add these in once we have found a publishing partner that we can progress the development of the game. Some of the concepts that have been put together internally have had some Wii-specific controls. Next year could be interesting with the introduction of other motion sensing technologies.
NWR: The video seems to be set in one environment. What other environments will be in the game? Do you have plans to include any others?
KI: The gameplay video is set in a derelict graveyard. We plan on carrying the 'spooky' theme throughout this title with locations such as French catacombs, a Romanian monastery, Bulgarian castle, English moors, and Viennese village. Each location will be unique in its puzzles, presentation, and atmosphere.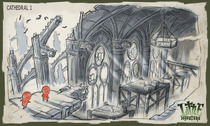 NWR: What was the song in the video? Is that the kind of music you would want playing during gameplay, or was it merely for the video?
KI: The song was chosen as an accompaniment to the video. The music in-game will be quite different, much more ambient! We put together two videos actually, one with ambient and the other with music from The Do. The track itself is called Queen dot Kong – check them out here.
NWR: Have there been any bites from publishers?
KI: We have certainly had a great deal of attention. I'm not at liberty to disclose any names; however we have had expressions of interest from highly prestigious publishers across different platforms and a variety of budgets. We're very positive about the prospect of securing a publishing partner in the near future
NWR: Any final words you want to pass on to our readers?
KI: I'd love to hear feedback from any of your readers about this type of game, whether they have ideas or simply want to register their interest and support. It's always inspiring to hear from the folks who are going to be playing your game and I know it will give the team a boost to hear a few words. You can reach us at info@torus.com.au.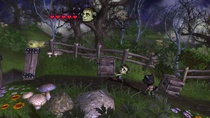 NWR: On your website you have College Slam for Game Boy listed as one of your first games. I played a lot of that game when I was younger. Are there any interesting stories from the development of that game or other games from that era (if there are still any people around from when the game was made)?
KI: It's amazing really, but we do have a lot of staff now who were around during those days. A lot of people move around in the industry; however we've kept a really strong group together over the years. Personally I joined shortly after College Slam; I do remember some of the development from the outside and the fact that the Game Boy Color was coming up and we had to bring our games to both Game Boy and Game Boy Color. I joined just when we were making the crossover. We were finishing up Beavis & Butthead for the Game Boy, and tackling projects that ran across both, like Hello Kitty and Yoda Stories. We were also doing the awesome title Duke Nukem for GBC and NBA Showtime. There are a couple of stories related to those projects.
Firstly, Duke Nukem was a project that became more than it started out to be. We were working with GT Interactive, and 3D Realms had the rights to Duke Nukem. Toward the end of Duke, 3D Realms stepped in and said "we need to have rumble support in the game," which extended the budget and timeframe. They also requested a bigger save cart and fought for Torus to have our credits listed first. They were very pro-developer being one themselves, and they seemed to have a lot of sway over GT at the time. I also met one of my production role models during the Duke Nukem project who encouraged me to head into production from QA at the time. I'm still in touch with him today.
Secondly, on NBA Showtime, which was my first project in any kind of production role and I was doing the design on it too. We were working with Midway on the title and they said that they could send through some reference material to help us create the game. I was looking forward to getting some character sheets or design from them, because it was based off an arcade machine they had available at the time. One day on the project, a truck turned up and it had a full size NBA Showtime game machine on the back of it! They had shipped the full unit over from the US. That game got so much use over the next few years; we wore out controllers playing it for hours. It really brought to light that we were doing mass market entertainment product and the cost of shipping over a full-size arcade machine was trivial in the long run.
Thanks to Kevin McIntosh and Torus Games for the great interview!