Warner Bros. Games Producer Josh Fleming talks to NWR about Scooby-Doo! First Frights.
Nintendo World Report talked to Warner Bros. Games Producer Josh Fleming about Torus Games' upcoming release, Scooby-Doo! First Frights, which hits Wii and DS this fall.
Nintendo World Report (NWR): What was it like to work with such an established license as Scooby-Doo?
Josh Fleming (JF): It was a blast to revisit characters that I grew up with, and it was clear that the development team at Torus had a lot of love for the characters as well. Everyone wanted to be extremely respectful to the franchise in order to make it feel familiar to fans of the characters, but also making sure it feels fresh to a new generation.
NWR: Why did you decide to go with younger versions of the characters?
JF: We wanted to visit the very early days of the characters. In our story, Mystery, Inc. has just formed, and the characters are still getting to know each other and gain confidence as detectives.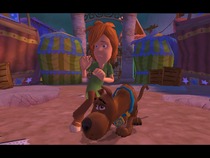 NWR: Are there any specific throwbacks to previous Scooby-Doo episodes/movies/etc.?
JF: The four stories that we tell in the game are all unique for the game, but we tried to capture much of the same feel of early Scooby episodes. I think that comes across clearly in the writing and voice talent.
NWR: Are there any plans to make sequels with the same style? Or would you consider showing an evolution of the Scooby-Doo characters in future games?
JF: I can't comment on a potential sequel, but we are very pleased with the development of this title.
NWR: How did you go about trying to capture the feel of Scooby-Doo?
JF: The first thing we did was re-watch episodes of the various Scooby-Doo series. We also brought in a writer who worked for the Scooby-Doo series for years.
We also made sure to cast voice talent from the actual Scooby-Doo series to give the game authenticity. It was great working with all of them, especially Frank Welker, who's been with Scooby-Doo since the beginning and is a legend in his field.
NWR: The co-op gameplay seems to be a big part of the game. Did you ever contemplate trying to make it online co-op? Why or why not?
JF: As an E10+ game, we were more focused on the social experience of having two people playing together in the same room. We spoke briefly of online co-op, but decided early on that we wanted to focus on keeping it simple so all ages could pick up a controller and play.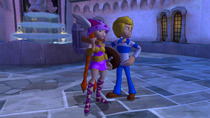 NWR: What are your favorite costumes/disguises for each character and why?
JF: Scooby has a ninja costume that gives him more abilities than normal characters, so he's a great character to have in all sorts of situations, and he has some terrific animations to go along with them.
We have a version of Shaggy in a Space Suit, and he has some very cool FX and animations, as well as a great overall look.
Valkyrie Daphne has some hilarious voice work for her callouts, and the wings on her helmet animate, which I always chuckle at.
Centurion Fred looks terrific in his armor, and comes across as an extremely powerful character.
One of Velma's costumes is an inflatable sumo suit, and she plays very differently than the normal version, and she has some great combat moves.
NWR: The breadth of characters and gameplay in the game remind me of LEGO Star Wars/Indiana Jones/Batman. Was that an influence to this game at all? If not, how do you feel about those comparisons?
JF: We didn't try to copy any of the LEGO games, but they certainly came up from time-to-time in conversation since they have been fun and successful. For any title, we try to learn from other games in the market, and figure out what worked and what could be improved upon.