Like a glove.
While on a visit to Nintendo's offices this week to play upcoming games, I had a chance to try out the 3DS XL. Given my previous underwhelming experience with the DSi XL, I was pleasantly surprised by the new larger version of the 3DS.
One of the biggest improvements of the 3DS XL over the original is that most of the sharp edges have been removed and everything has a softer feel in general. The back is rounded, much like an iPad or other modern electronics. The D-pad has softer edges, and even the Circle Pad has been rounded and rubberized more. It's simply much nicer to hold, and the weight is light and not lopsided.
The buttons have been improved as well. The bottom row of buttons are now separate plastic and the power button is now inset. If you've ever accidentally turned off your system during an intense Kid Icarus: Uprising match, you'll appreciate the improved button placing.
The screens, of course, are much larger and take up the bulk of the system's area. The top screen has three different viewing angles that click into place, which is a nice touch for instance when you want to play a game with the system placed on a table. The image is bold and bright, and I did not notice a significant difference in the 3D effect.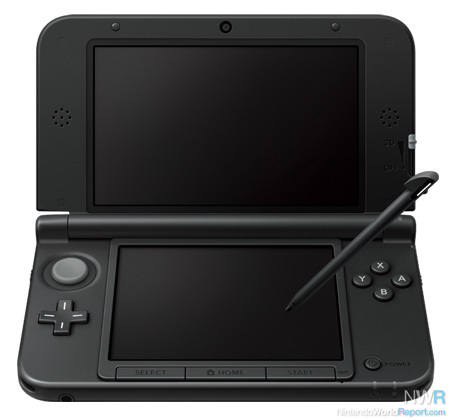 The plastic isn't matte like the DSi XL, but it also isn't glossy like the 3DS; it's just smooth. Overall, it still has a bit of a plastic feel compared to modern smartphones, but the construction is solid. When closed, you can still see all the buttons, unlike with the original 3DS. Other than that, the system seems much sleeker. The screen scratching issue should hopefully be resolved with the addition of spacers above the top screen.
I tried playing a DS game on the system. As expected, the larger screens magnified the fuzziness when the default scaling is turned on. However, playing with scaling off is sharp and a perfectly acceptable alternative -- because of the larger screens, the non-scaled DS image is essentially the same size as if playing on a regular DS.
Many of the 3DS XL's improvements are things that should have happened with the original model, but at least they're here now. Originally, I wasn't considering changing systems, but my hands-on time now has me leaning in that direction. I just hope it will fit in my pocket.