Hop aboard the party bus. Multiplayer is a blast.
After almost yearly updates, Mario Party took an extended break with the last game releasing during the Wii's first year. I'll admit that after my disappointing experience with the previous game, I was leery about a new Mario Party. However, the game makes a number of changes over its predecessors, which leads to a more streamlined and balanced, and most importantly, fun experience. Even the graphics were significantly improved.
The game I played took about 45 minutes, which I understand is around the average. There are seven boards to choose from (Toad Road, Bob-omb Factory, Boo's Horror Castle, Blooper Beach, Magma Mine, Bowser Station, and DK's Jungle Ruins), each with their own unique gimmicks. Gameplay has been simplified such that the goal of the game is now to collect the largest number of mini-stars. Along the board, there are mini-stars, which are awarded when passed, as well as purple mini-zstars, which are like antimatter, subtracting from your total.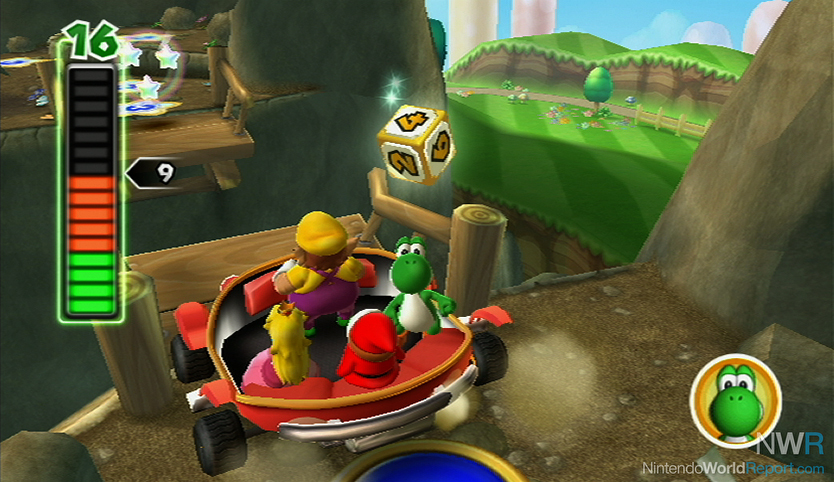 The boldest change is that players do not traverse the board individually. The crew instead pilots a vehicle, taking turns as captain. While this change might seem questionable at first, it's actually a huge advance for the series. For instance, unlike in previous iterations, players aren't penalized for continually rolling low numbers, where they are unable to progress. While the 6-sided die is standard, players can collect alternate dice, including a 1-2-3 die, a 4-5-6 die, a 0-1 die, a 10-sided die, and a slow die that essentially lets you pick the number of spaces to move. With everybody's fates tied together, rolling the die becomes much more strategic.
I played the Bob-omb Factory board. The namesake gimmick here appeared on the second half of the board. Occasionally, a Bob-omb would fall onto our buggy and would explode after we moved 10 spaces, obliterating half of the current captain's mini-stars. Thus, a bit of strategy and luck is necessary to avoid doom. Having a low-numbered die banked is also helpful.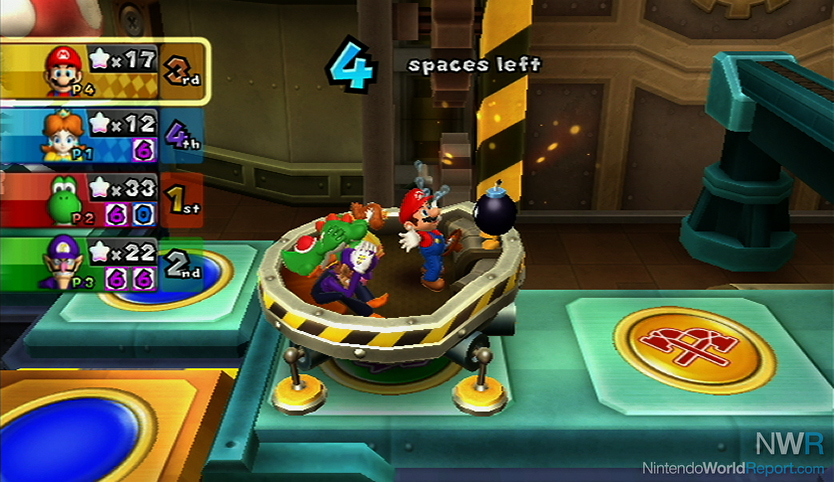 When it is time for a mini-game, the captain gets to choose from one of three possible games. The mini-games are a combination of skill and luck, but lean to the side of skill. Players are awarded a graded scale of mini-stars based on their ranking. Interestingly, the majority of minigames in Mario Party 9 do not use motion controls. Instead, most use the Wii Remote in NES configuration. As in previous Mario party games, players are presented with the option to see controls, but it jumping into the mini-game seemed quicker.
I played a variety of mini-games, including a level where we had to fling ingredients onto a pizza, a split-screen challenge where we had to jump up a series of clouds, a stage where we floated around in bubbles trying to collect balloons while avoiding spikes, another where we had to survive on a raft as Bob-ombs rained down, and one where we had to fling the most paint onto a canvas, just to name a few. I also experienced an intense 3 vs. 1 match where we had to try to roll boulders onto a player while he tried to make a delivery. The games were all very competitive, and included a mix of skill, strategy, timing, and luck.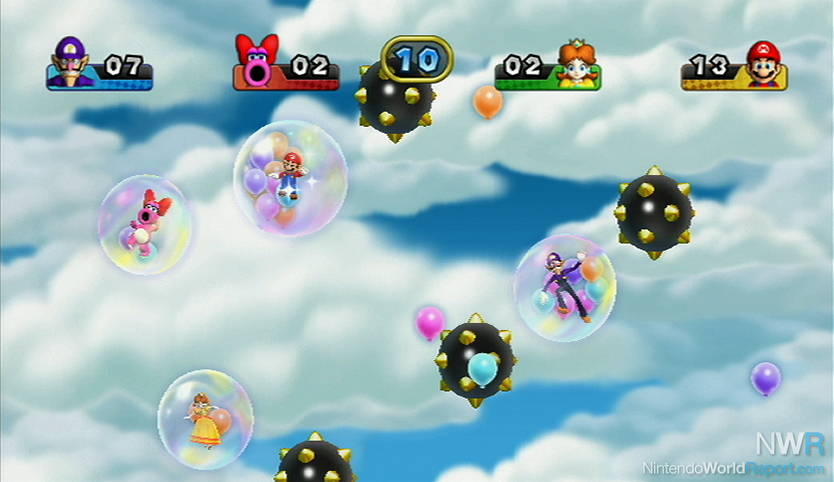 When nearing the end of the stage, Bowser explodes onto the screen to wreak havoc, replacing several spaces with Bowser tiles. This is where the game really got interesting. Here, it is in losing players best interest to try to trigger the Bowser Events, where Bowser will come on-screen and present altered challenges. These may include reverse mini-games, where the goal is to be the first to lose, mini-games where players' current mini-stars are put on the line, and other drastic changes to players' scores. I experienced a hilarious musical chair battle for survival, which culminated in an epic Peach vs. Daisy shoving contest.
There is a mid-boss and final boss on each board. Both boss battles involved luck masquerading as strategy. The mid-boss was Whomp. Players are aligned on a wheel and must choose whether to rotate by 1/4 turn or not. The person left under Whomp is crushed, while everybody else gets a chance to attack Whomp. The final boss was Big Bob-omb. Players must press one of four controller buttons to select a bomb to throw at the boss. However, if multiple players choose the same bomb, then end up running into each other and none of them gets the bomb. Bonuses are awarded for the person to deliver the finishing blow as well as the captain during the stage.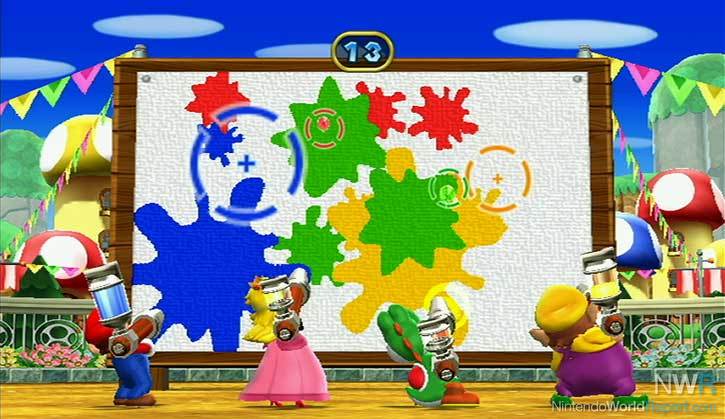 Even after beating the final boss, the game isn't quite over. Several more bonuses are awarded, which provide one last possible standings shift. After the game, a full panel of analytics appears with a turn-by-turn plot of star totals, and a breakdown of all of the various stats. It's surprisingly deep.
I didn't get a chance to try out the single-player story mode, but I understand that it's pretty similar to multiplayer. There are several standalone mini-games, as well. Also, in multiplayer, you're no longer forced to play against computer characters if you don't want to.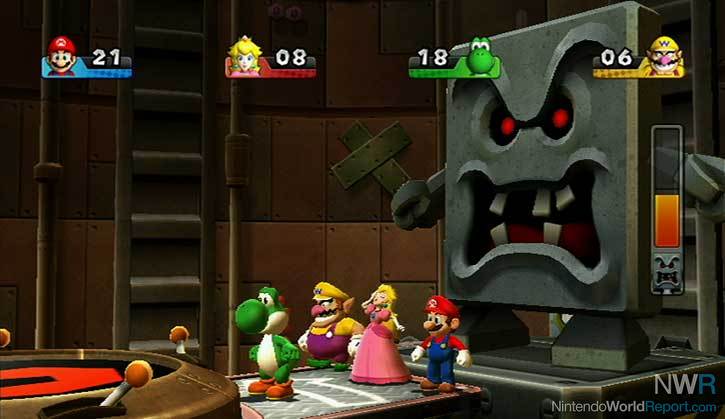 Mario Party already had a huge fan base, despite criticisms that the series had gotten stale. In the past five years, the Mario Party team (which is still made up of many of the same people who ran the series at Hudson) must have taken a good look at what they could do to improve the game, because Mario Party 9 seems to fix many of the issues that limited its appeal. While any type of party game will include luck-based elements, this game makes them feel less cheap and more deterministic, and the improved board part of the game doesn't feel like a chore. Overall, Mario Party 9 looks like a very fun party game and is a breath of fresh air for the Mario Party series.