Bravely Default's demo is meaty, offering nearly eight hours worth of content.
Before I give my impressions of the Bravely Default demo, I have to get one thing out of the way first. If the thought of buying Bravely Default has ever crossed your mind, if there's even a remote possibility that you'll be picking it up sometime in the future, play this demo. Not only will you unlock beneficial item packs for the full game, but the demo itself is completely original. Its quests and dungeons will not appear in the full release. Now that I've given you a reason to download it, here's a little of what you can expect.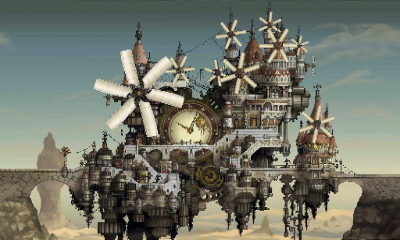 Bravely Default's demo doesn't waste any time in getting you straight to the crux of the game. After a brief cutscene you're given full rein to do whatever you want. Of course, the demo eases you into the game's mechanics, but it does this by giving you written instructions after you claim quests in the hub city of Ancheim. You can also buy items and talk to locals in Ancheim. However, the meat of the demo takes place in the overworld. There you'll run into several different types of monsters through random encounters. In fact, the first quests in the demo have you fight these monsters to collect a certain number of items. There's a few more of these fetch quests, but they usually act as introductions to familiarize you with a new area's monsters before you go for the boss.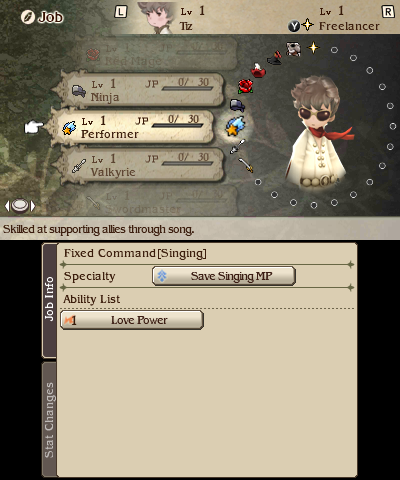 Each random encounter is tackled through the game's battle system, which is more reminiscent of older, simpler JRPGs than some of the more complicated, recent ones. Fights are turn-based, so you'll have some time to better plan out your strategy. Each turn you choose whether to attack, use an ability, consume Brave Points (BP), default, use items, or run, for each of your four characters. Each turn your characters use one of their BP, but a character's BP can be increased by choosing to default instead. Defaulting is similar to setting your character in a guard position, but in addition to taking less damage, they also gain an extra BP; otherwise, characters regain one BP at the end of their turn. Stockpiling your BP will allow your characters to attack more than once a turn with no repercussions. Each time you select the Brave option in the menu, your character will be given that additional turn. However, doing this uses up each individual's BP. If you haven't stockpiled them and you choose to use the option, your character's BP will become negative, and they'll have to sit out however many turns until it returns to one.
Aside from juggling the BP and Default systems, your characters also have several different jobs available to them. The jobs in the demo are what you'd expect from your typical Final Fantasy title. Knight, black mage, white mage, red mage: they're all there. Each job gains its own distinctive abilities as you level up. Unique to Bravely Default, however, is the ability to share a character's abilities with other members of the party. Each character can use abilities from one additional job. Likewise, you can switch jobs whenever you like, and characters retain the levels for previous jobs. This adds quite a bit of strategy for what would otherwise be a very simple battle system.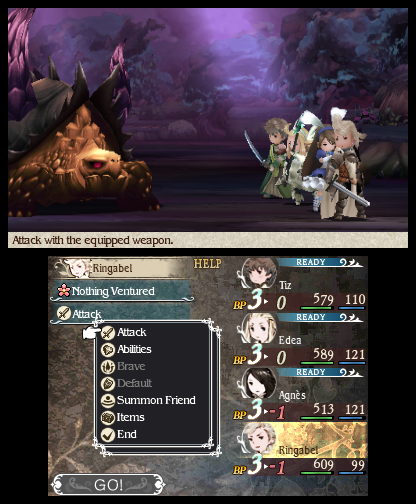 The demo also includes Bravely Default's StreetPass and friend list features. These include using StreetPass to rebuild the town of Norende, allowing you to purchase better items than are available in Ancheim, and summoning friends, using their abilities to help you in battle. Speaking for the demo, restoring Norende seems to be must if you want to beat bosses without exorbitant amounts of grinding. The game even warns you against proceeding against one boss before you have better weapons that can only be obtained from its shops. The problem is, however, that restoring Norende can take some time, especially if you're low on StreetPasses. With only one StreetPass in addition to the one I started out with, it takes me around an hour or more for each upgrade to the town, and I'm still in the early stages. This could turn out to be an issue, but the demo does specify that you'll have the option to use online friends as well in the full release.
Additionally, the demo also includes a brief AR movie. You'll have to download the AR cards from Bravely Default's website if you want to view it though. That aside, you can expect to use several of the 30 uses available to you with this demo. It should be more than enough to scratch that JPRG itch before Bravely Default releases for the 3DS in North America on February 7.